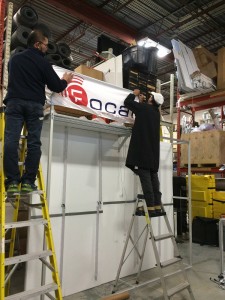 June 16, 2016 – There's no doubt that a well-designed trade show display is one of the best possible ways to show your business off to the world.  A display can show off your operations, services, or merchandise in the best possible light, housed in an attractive space which can surprise or delight your visitors.
A lot of businesses, understandably enough, handle all their own trade show design, and merely source the materials from one of the many vendors online.  This can often be the cheapest option… but is a trade show really the best place to go with the lowest bidders?  When you're potentially going to be up against rivals who've hired professional design services to put their booths together, a DIY job is usually going to show through.
However, when you order a trade show display from a full-service display company like Best Displays & Graphics, one which can oversee every element of the project, the final result is a lot different.  Even better, it may not even be as costly as you might think.
Five Reasons a Full-Service Display Company Makes Sense
Save time and effort.
When dealing with salaried employees, it's easy to assume you're paying the same amount for wages no matter what, and then ignore that when calculating costs. Consider the opportunity costs involved in sending several of your regular employees to work on a major design and build project.
That's going to cost a lot in time and effort, no matter how you calculate it.  Further, if they're inexperienced, there's a very good chance they will take longer than a professional, and make more mistakes along the way.  Those sorts of issues can make the "cheap" option end up being quite costly.
(And in the meantime, who's doing the work they'd normally be assigned?)
Get an experienced designer who understands display ideas.
The design and build of trade show displays is an art form, like any other form of public design.  Sure, they're functional and with a business motivation… but a booth that's attractive to the eye, and laid out with concern for visitor experience is almost inevitably going to be more successful.
Best Displays & Graphics have experts who have experience turning ideas into display realities.  They understand use of materials, and know when to use tension fabric displays, rather than banner stands, or tents.  They know how to use design to guide visitors around the display in efficient fashion.
These skills -and more- all add up to creating a display that's more guaranteed to make an impression.
Logistics?  No problem.
Another element of trade show display design that many overlook, or underestimate, is the logistics involved in transporting it safely, and seeing it properly re-assembled at the site.  A full-service display company will have the experience necessary to ensure the display arrives and is installed properly.
Have a single point of contact.
When a company hires a trade show display firm to handle their display, it means their management issues are greatly reduced.  Rather than having to wrangle a team of workers, the hired firm takes care of all that for you.  You have one personal point of contact to consult and work with on every issue with the display, from the initial vision to ensuring everything is set up properly on the day of the show.
This greatly streamlines the process from your point of view, and makes life far easier for whomever is assigned to overseeing the project.
More services bring greater discounts.
Most trade show display companies will offer scaling discounts, according to how many services a client purchases from them.  When graphic design, booth build, shipping, and installation are all coming from a single source, the client company benefits every step of the way.
When a company is already looking at having to hire out many of these services anyway, getting them all from a single source is likely to pay off with significant savings they simply couldn't negotiate when buying individual services.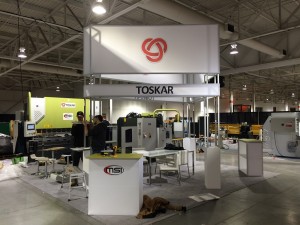 Best Displays & Graphics Does It All
Take a moment and look at our gallery of completed installations.   We're comfortable working with a wide range of industries, and can produce the perfect design to fit your business, no matter what that business is.
In the event you're ready to get a great all-in-one deal on a professional trade show display, give us a call to discuss your vision.