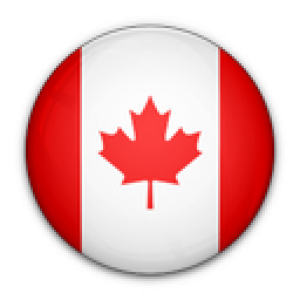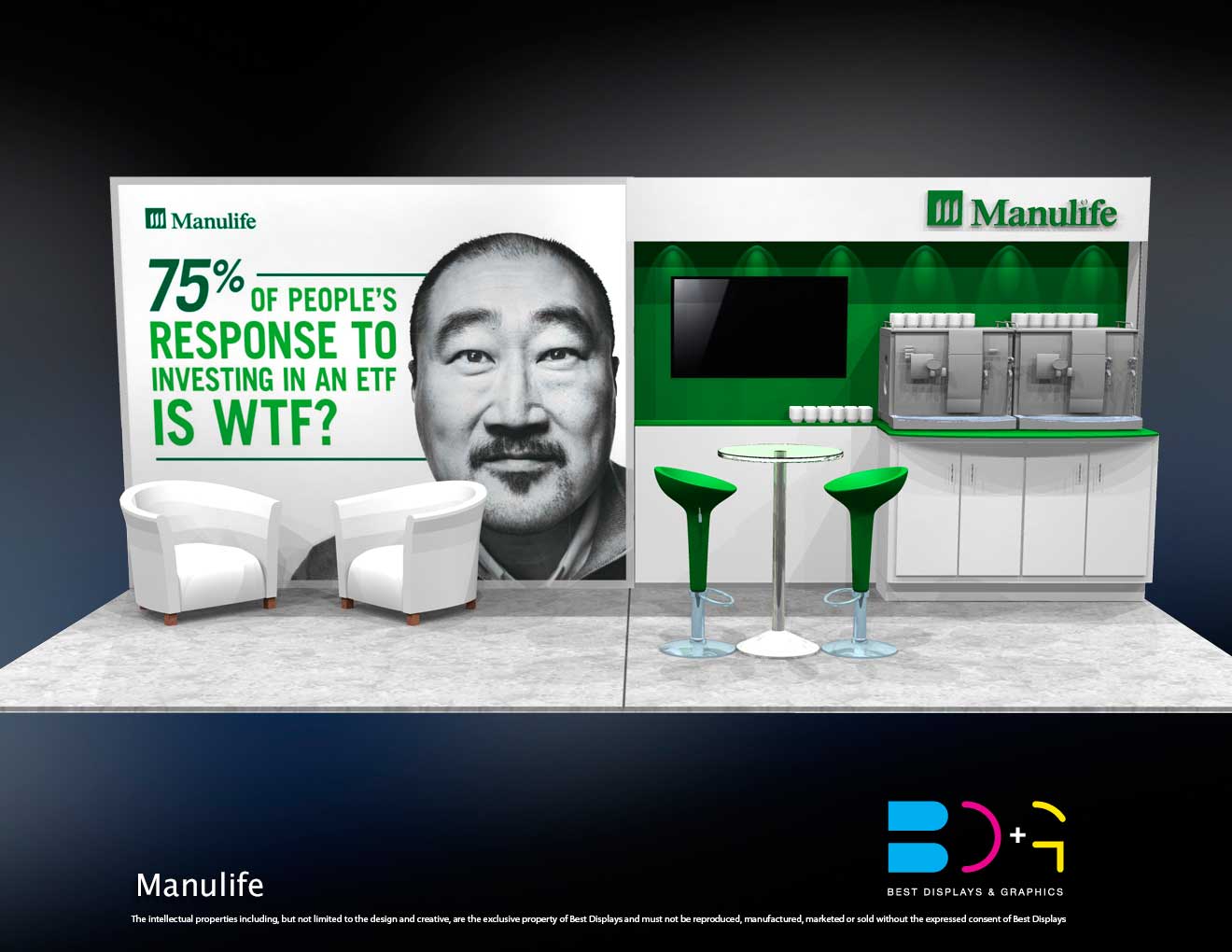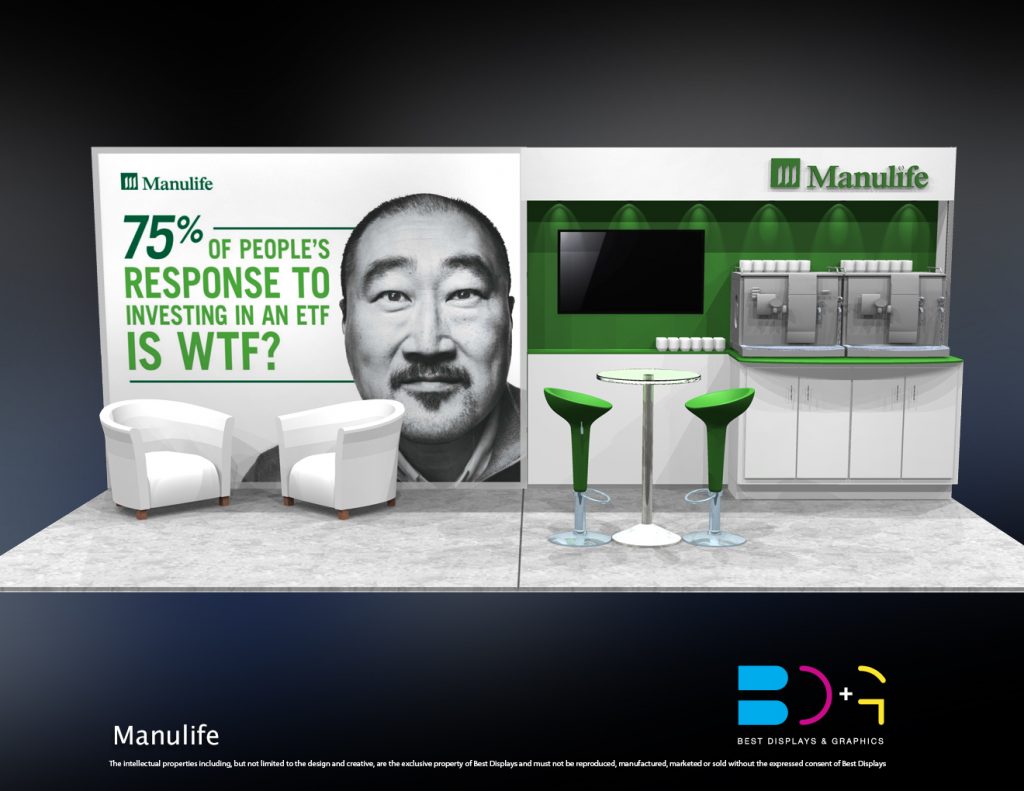 Engaging trade show exhibits
A 10′ x 20′ modular display offers the perfect canvas to create a remarkable and engaging exhibit that will leave a lasting impression on your target audience. 
At Best Displays & Graphics, we specialize in crafting 10′ x 20′ trade show displays that empower businesses to make a significant impact in the competitive world of trade shows.
Why Choose a 10' x 20' Modular Trade Show Display?
The 10′ x 20′ trade show display is a versatile and popular choice for businesses looking to make a statement at trade shows and exhibitions. Here's why:
Spacious Yet Manageable: The 10′ x 20′ size provides ample space to showcase your brand, products, and messaging while still being manageable in terms of setup and transportation.
Enhanced Visibility: The extra square footage allows for more creativity in design, making your booth more noticeable and memorable amidst the crowd.
Flexible Layouts: With a 10′ x 20′ display, you have the flexibility to create a layout that suits your brand's unique identity and the specific needs of the event.
Cost-Efficient: While offering more room to shine, 10′ x 20′ trade show displays remain cost-effective, catering to businesses of all sizes.
Key Features of Our 10' x 20' Modular Displays
At Best Displays & Graphics, we are committed to creating 10′ x 20′ trade show displays that effectively combine form and function. Our displays come with a range of features that will help your brand stand out:
Customized Graphics: We understand the importance of graphics in capturing attention and conveying your message. Our displays incorporate high-quality, eye-catching graphics that reflect your brand's essence.
Modular Design: We provide modular designs that offer adaptability, allowing you to configure the booth to match your unique requirements. Whether you need product showcases, meeting areas, or interactive elements, we've got you covered.
Premium Materials: Our displays are constructed using top-tier materials, ensuring durability and longevity. They are built to withstand the rigors of frequent trade show use, offering peace of mind for your brand's representation.
Lighting Options: Proper lighting can make a significant difference in how your display is perceived. We offer various lighting options to accentuate your products and messaging effectively.
Interactive Elements: Engaging your audience is essential. We can integrate interactive elements such as touchscreens, tablets, or product demonstrations, adding an exciting dimension to your display.
Why Choose Best Displays & Graphics?
Selecting the right partner for your 10′ x 20′ trade show display is a critical decision in your trade show journey. At Best Displays & Graphics, we offer several advantages that set us apart:
Experience: With over 30 years of experience in the industry, we have honed our skills in creating memorable trade show displays that leave a lasting impact.
Award-winning Design: We believe in the power of unique branding. Our team of experts will collaborate closely with you to design a 10′ x 20′ display that truly encapsulates your brand's identity and message.
Exceptional Customer Service: Our dedicated team is with you every step of the way, providing exceptional customer service and ensuring your trade show experience is smooth and stress-free.
On-Time Delivery: We understand the importance of deadlines in the world of trade shows. We commit to delivering your 10′ x 20′ display on time, allowing you to focus on your event without unnecessary stress.
Elevate Your Brand at Your Next Trade Show!
At Best Displays & Graphics, we combine years of experience, expertise, and commitment to help you create a display that will captivate your audience, drive engagement, and elevate your brand to new heights.
If you're ready to take your trade show presence to the next level, contact us today.
Get A Free Quote on a 10' X 20' Modular Trade Show Display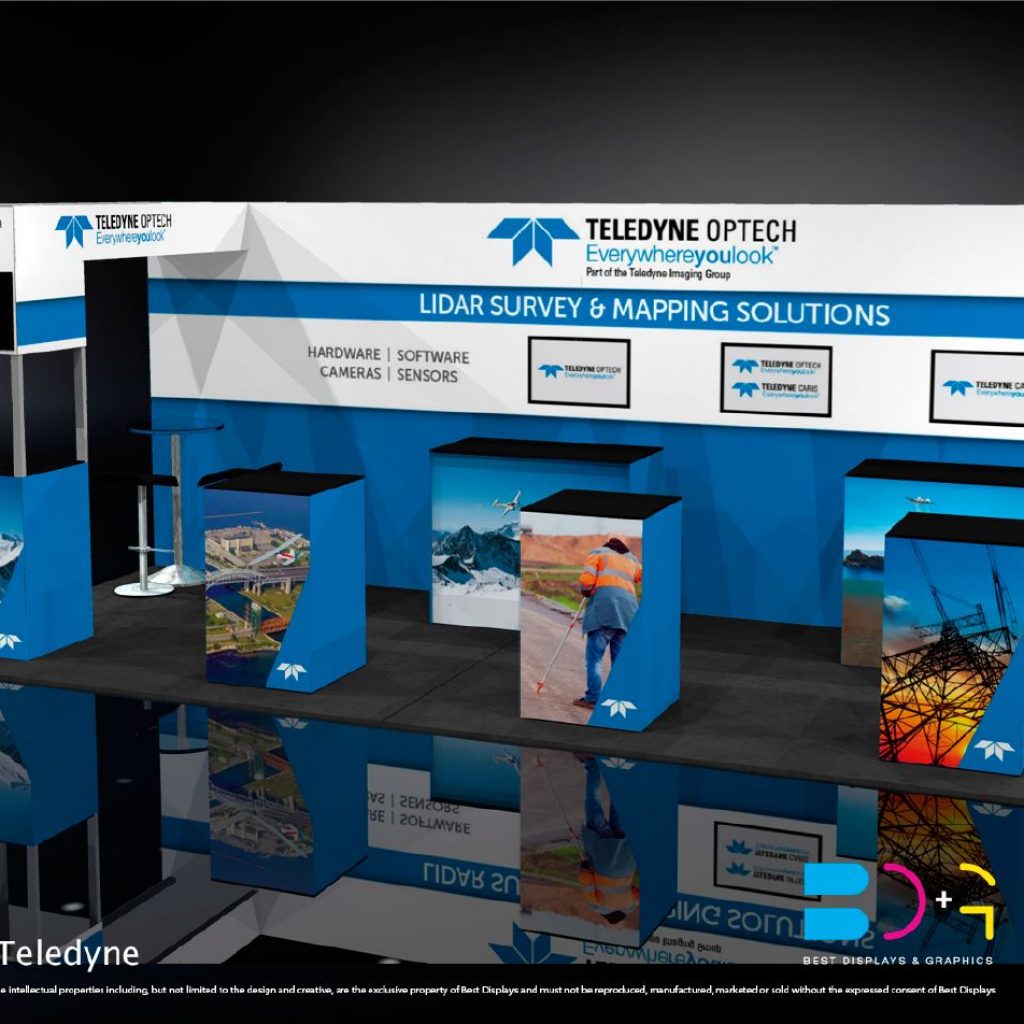 "*" indicates required fields