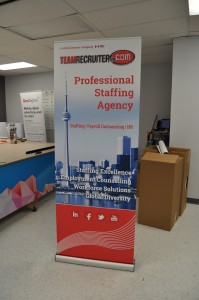 May 5, 2016 – After investing capital in high-quality banner stand displays and using guidance on banner stand design to ensure optimal communication of your company's core messaging, it's important your trade show staff are ready to take on the promotional work. In this latest post, we'll look at three conversation starters to get attendees talking at banner stand displays.
1. Have Your Heard of Our Brand?
By beginning with this introductory question, teams can make a quick sales pitch for your company and detail some of the offers you're currently promoting within your trade show. It's a question that allows teams to also learn more about the company's recognition in the marketplace, and discover whether they're making the right impression with their marketing work.
2. What Are You Searching for at This Event?
When approaching attendees, trade show display hosts can help respond to the attendees' requirements by asking them what they're searching for. This conversation can help frame the attendee's business objectives and the type of service or product they might require in the future. It's a way for your team to show they have the ideal solution to respond to the attendee's requirements.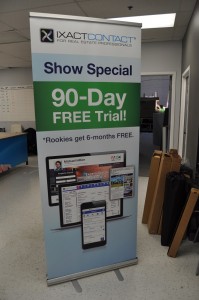 3. What is a Leading Business Problem in Your Organization?
When speaking with potential business clients, it's important that your team is able to isolate their largest challenges. By asking this question, you can help showcase your firm as a problem solver and a critical partner.
By taking a proactive approach to event communication, teams can gain more information on prospective clients and build an understanding that can drive future business relationships. To discover more about ensuring pinpoint communication at banner stand displays, speak with our trusted team today at 905-940-2378.