PREMIUM PORTABLE DISPLAYS IN ONTARIO, CANADA
Best Displays & Graphics provides a wide range of portable display solutions designed for trade shows, conventions, exhibitions, or any other event, which can be used indoors or outdoors.
Our team of experts is here to help with all your display needs. Our goal is to provide you with an experience that will exceed your expectations!
P

ortable

D

isplays

for

T

rade

S

hows

& E

vents

in Ontario, Canada
BDG's portable displays offer amazing packages that will showcase your products and services in the best way possible. It's an ideal solution for any business big or small looking to promote its brand or product and get more leads on the go!
Portable Displays are perfect for any events, fairs, tradeshows, conventions, expositions, meetings, conferences, seminars, parties, weddings, festivals, concerts, sporting events, corporate functions, school events, church events, and more.
There's no need to worry about being stuck at one location when you have portable displays from BDG. You can move them around as needed, so they're always ready for whatever comes next.
Start promoting your business today by contacting us for a free quote on portable displays in Ontario, Canada.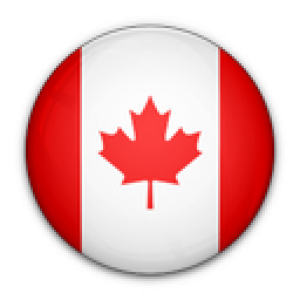 100% Made In Canada
Our Portable Trade Show Packages
Prepare for your next trade show or event with BDG's Best Pricing of the year! Save over 20% on packaged portable trade show displays!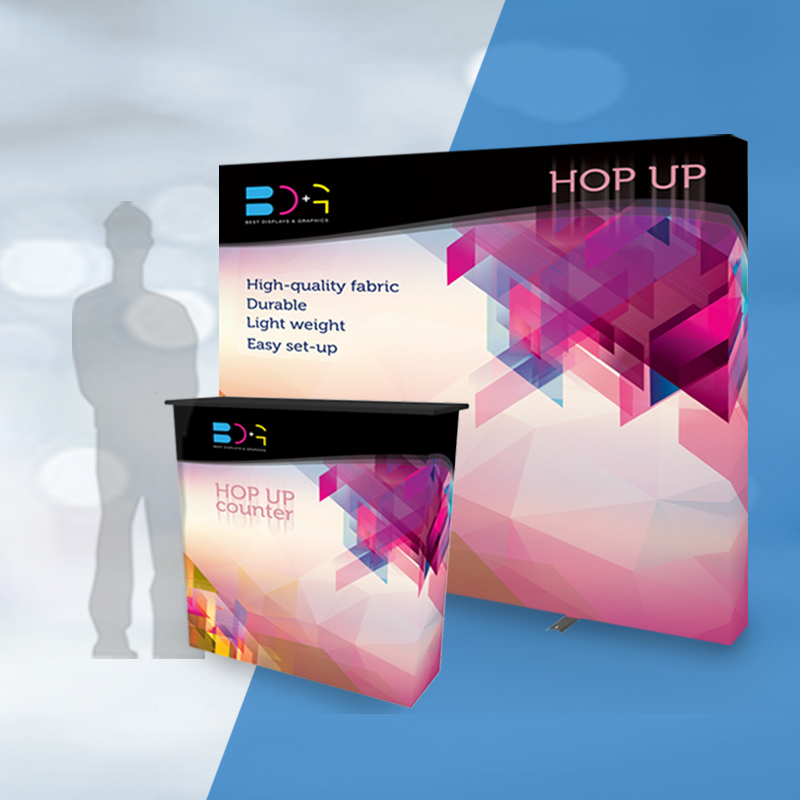 Package 1
Package Includes;
10′ Hop Up
Hop Up Counter
Vinyl Carrying Bag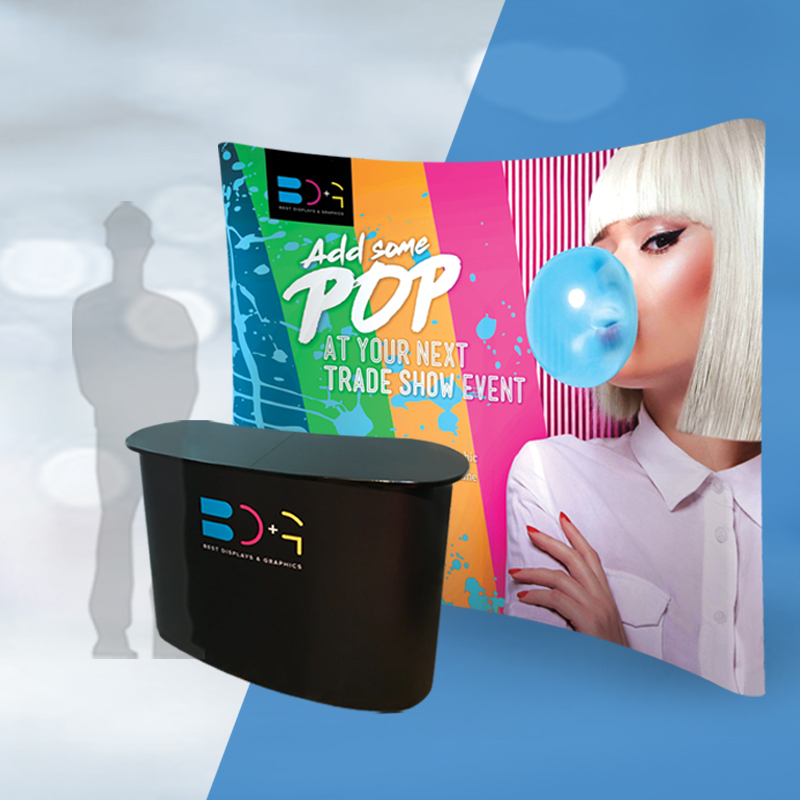 Package 2
Package Includes;
10′ Horizontally Curved Pocket Wall
Pop Up Counter
Hard Shell Case with Wheels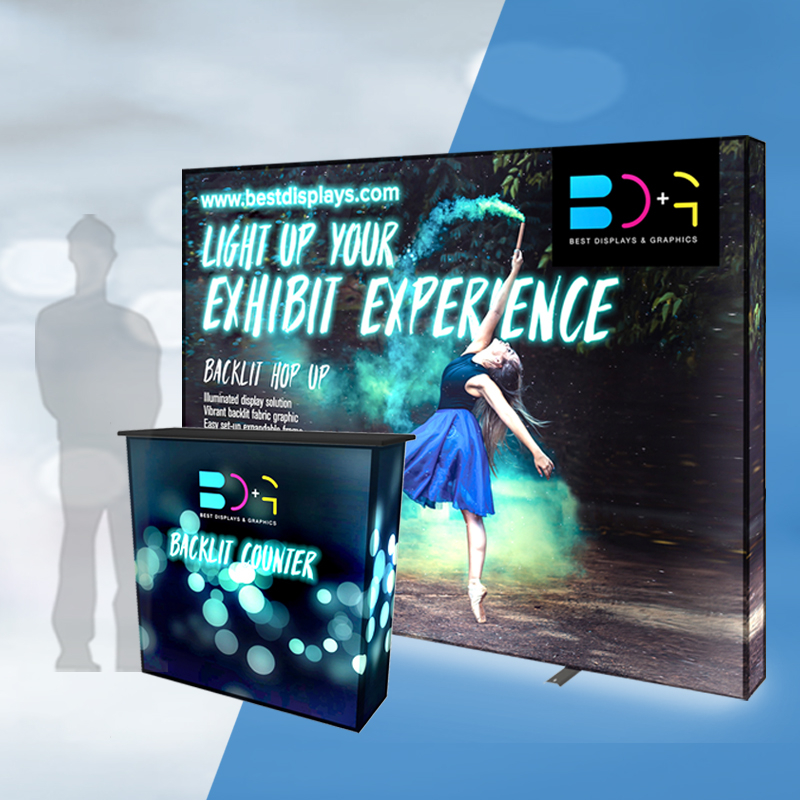 Package 3
Package Includes;
10′ Embrace Back Lit
Embrace Back Lit Counter
LED Lights
Hard Shell Case with Wheels
Contact us for pricing. Terms and conditions may apply.
With our portable trade show displays, you can have your trade show displays set up in just a few minutes! You only need to choose the package that works best for your budget and needs and we'll have it ready for you.
For pricing and availability, contact us now! Terms and conditions may apply.
Top Provider of Portable Displays for Trade Shows in Ontario, Canada
We do our best to provide you with a quality display that will attract more leads and increase your sales. Our team has years of experience in this industry and we can provide the best portable displays for trade shows in Ontario, Canada.
We have been working on these products for 30 years and we know how important they can be when it comes to promoting your business.
At BDG, we pride ourselves on:
Best Display & Graphics will work hard to ensure that your needs are met. From our initial contact through delivery, we strive to exceed your expectations.
Our designers have many years of experience working with customers across industries. They understand how to create effective designs that meet your goals.
Regardless of booth size, scope or budget, BDG will provide a tailored display solution that exceeds expectations and provides a lasting ROI for years to come.
Take advantage of our expertise and never settle for less than the best! Contact us today for a free quote on portable trade show displays in Ontario, Canada!
CHOOSING US MEANS YOU GET ACCESS TO THE

Features and Benefits of Our Portable Trade Show Displays
We aim to provide the best possible service in terms of portable displays. Here are the benefits that you'll get from our portable displays:
Quick and easy set up – no tools required.
Lightweight & compact for easy transport and storage.
Fabric graphics printed on high-quality 4-way powerstretch tension fabric.
Warranty and wheeled portable trade show display carrying case included.
Graphic replacement and hardware repair done in-house in Toronto, Ontario.
Available in sizes ranging from 6' to 30' wide.
We don't want you to settle for anything less than the best. That's why we offer an extensive range of portable displays at affordable prices. We also offer custom solutions if needed.
If you're looking for a reliable provider of portable displays for trade shows, then look no further. You've found the right place!
Highlight Your Branding with the Highest Quality Displays from Best Displays and Graphics, Ontario, CA
Don't compromise on quality when choosing your next portable display. We only use the highest quality materials and print techniques to ensure that your display is seen clearly by all visitors to your event.
With over 30 years of experience in the industry, we know what works and what doesn't. We'll help you choose the perfect display for your brand and your event.
If you need a pop-up display, banner stand, tabletop display, wall graphic, floor graphic, or any other type of portable display, we can help you find the ideal solution for your needs.
Whether you're planning a small one-day event or a large multi-day conference, we can help you make sure that your branding is seen by your audience.
BDG Accessories

We also offer the following accessories:
They are constantly bringing in new products, creative solutions, and unparalleled customer service.

Keystone Studios