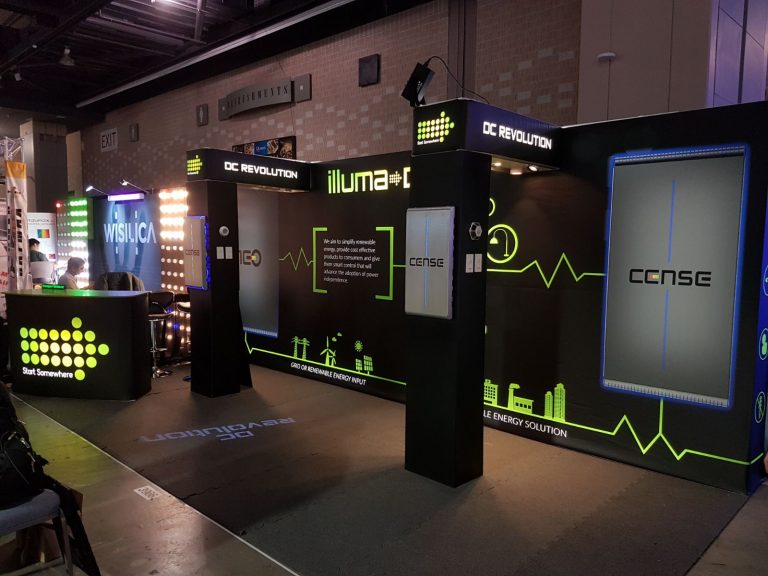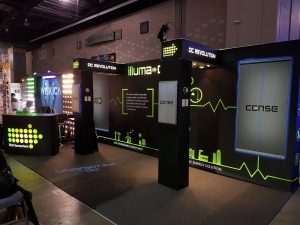 June 5, 2017 — When a client with innovative products comes to us, that means we must give them an equally innovative booth. In the case of iLLUMA-Drive, that ultimately meant adding another "Best Booth" award to our list – and despite working on a limited budget!
iLLUMA-Drive makes 'smart home' lighting and power solutions that focus on eco-friendliness, power reduction, and sustainability. Their systems combine cutting edge low-power lighting solutions with battery backups, and the ability to connect to any sort of power source whether it's on the grid or locally-produced.  
It's an interesting product, and when iLLUMA-Drive approached us about creating a booth for their appearance at the International Lightfair in Pennsylvania last May, we were super-excited!  
A Showcase for Light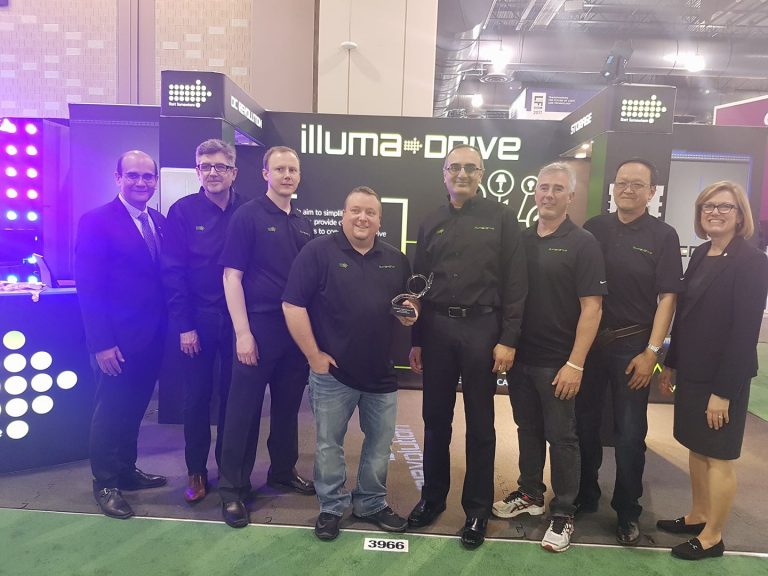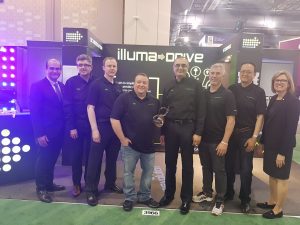 We love having opportunities to work with lighting.  In our opinion, it's one of the true "best kept secrets" of making a great trade show display, and many of our best designs – like our neon cityscape for Allanson – are based heavily around creative use of lighting. So, working for a company which is explicitly about lighting meant we got to work heavily in one of our favorite mediums.
As you can see, we used backlights throughout the display, making it truly eye-catching for show visitors. Likewise, the array of lights we set up behind the main counter was like nothing we'd ever done before.  In person, it was absolutely dazzling. Despite the show being focused on the lighting industry, our design was still one of the most eye-catching there.
Colour design was also a factor. We wanted something that looked cool and futuristic, which is why we decided on the combination of black with green, yellow, and blue neon highlights. This helped emphasize the lighting even further, since the black backdrop made such a stark contrast.
Plus, iLLUMA-Drive was able to supply most of the lights in their booth from their own stock, which greatly helped keep the price down. It also added to their sales pitches, being able to say that their own lighting was being deployed in the booth itself.  
The Design and Build Process
One thing that often surprises clients when they work with us is how economical we can be with manpower and materials, which is especially important on lower-budget projects. The design work probably took the longest. We spent around two weeks designing and fine-tuning the look of the display, before we arrived at something that both we and iLLUMA-Drive were happy with.
Then, despite the seeming complexity of the booth, it only took two men to set it up on-site. In fact, because we built most of it out of collapsible Fabframes with fabric graphics the entire display only required three cases for transport. And one of those cases was specifically for the lighting rigs the client provided!  Everything fit easily onto one 4'x4'x6′ skid.  
As part of our turnkey services, we provided full logistical transportation services as well. However, it was decided that iLLUMA-Drive would set up the booth themselves at the show. As usual for our designs, they were simple enough for iLLUMA-Drive to do it themselves.
It's particularly notable that our design won a Best Booth award because they were up against some heavy competition. Lightfair is the biggest annual event in the lighting world, and it regularly attracts the biggest names in the industry. iLLUMA-Drive are a relatively recent startup without a large budget, but they were up against competitors who had spent around $100,000 for their own displays which were quite massive and complicated. Needless to say, we are incredibly proud of what we accomplished for a vastly lower price.
In the End, Another Satisfied Customer
This was our first time working with iLLUMA-Drive, but it's probably not going to be the last. They loved the innovation we showed and said that they were "very pleased with the support we received from BDG both in terms of the product and customer service."
Best Displays & Graphics Can Help
Best Displays & Graphics can do the same for you! We're one of the most well-established trade show display specialists on Ontario, with over thirty years spent serving the trade show industry. In that time, we've created and built hundreds of displays, and we've racked up an extensive list of awards for our designs.
Our focus on customer satisfaction and on keeping costs as low as possible have made us a popular choice for brands across North America. Contact us today for a full consultation on your next trade show appearance!