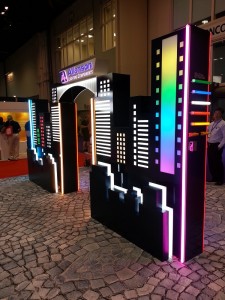 May 25, 2016 – Trade show displays should be as unique as the business they represent. Often, this can pose problems for display design companies, as Natalie from Allanson discovered when she began searching for a solution to their trade show display dilemma. After being turned down by other companies, and receiving a low-ball quote from another, Natalie came to Best Displays & Graphics.
Here's how Best Displays & Graphics expert team not only accepted the job, but produced a trade show display that looked great, met all of Natalie's requests, and fit within her budget.
A Truly Unique Idea
Natalie had a vision for the Allanson trade show display, one that would make the company stand out on the trade show floor. She wanted a double sided, custom, 3D backlit cityscape, that would highlight the lighting products of the company. This vision, however, proved too complex for many display companies to comfortably accept the job on the budget Natalie had. In fact, Best Displays & Graphics initially turned her down after learning of a low-ball quote Natalie was given; one that would have been impossible to complete, while still providing a high-quality display that would last.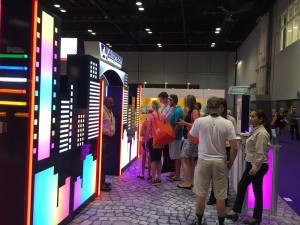 Laurie, a design consultant with Best Displays & Graphics, is not one to walk away from a challenge. Instead, she approached Natalie for additional information regarding the construction process from the other company. The story did not sit right with Laurie once she learned that the other company did not know how they would accomplish the design process. In all likely hood, they would have provided a substandard product that would need to be replaced quickly.
Working Out the Details
Instead of trying to beat the lower quote, Laurie worked with Natalie to develop a quote based on how Best Displays & Graphics would design and build the trade show display. Laurie's team carefully explained how they would construct Natalie's vision, what it would cost and why.
The Allanson project was both complex, and simple. Natalie wanted an easy to setup/take down, compact, light weight display, that would showcase Allanson lighting products. After discussing the options with Natalie, Laurie and her team designed and constructed a double sided 20′ wide, 3D nighttime cityscape, with cut out windows on both sides. The display was built in two sections, each 6′ wide by 12″ deep, and 8′ high. The two sections were connected with a 4′ bridge where the company logo sign resided.
Natalie, impressed with Laurie's vision and customer service, commented, "Laurie's approach and reaction to our request for building our unique booth in such a short time frame was incredible! She did not give up on helping us to find a happy medium that would fit our budget and would provide an excellent solution to bring our dream to life.  Laurie spent countless hours with us and never rushed us out of a meeting. Felt like she was part of our team as she helped with suggestions along the way and never said no."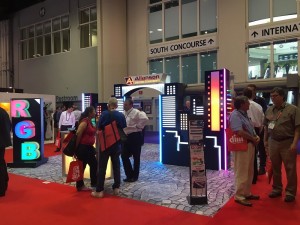 The Challenge
Designing Allanson's trade show display wasn't without its challenges. Not only did Best Displays & Graphics have to come up with a design that fit with Natalie's vision and budget, it also had to meet very detailed requirements, which included:
Portability – The trade show display had to be portable, light weight, and fit into a relatively small space for shipping and storage.
Tool Free Installation – Setting up and taking down the display had to be easy to do, with minimal tool requirements.
Zero Light Leaks – The display could not have light leaking through the seams of the acrylic.
Thinking Outside the Box
Overcoming the challenges of portability, and tool free installation, was relatively easy for the design team. Best Displays & Graphics specializes in light weight, compact trade show displays that are easy to assemble, and take down. For the Allanson project, it took well over 30 individual pieces of vinyl covered acrylic panels, that attached to the frame using magnets.
Leaking light, on the other hand, was the biggest challenge for Laurie and her team. Since Allanson's products included lighting, this was also a very important aspect of the project. Using Best Displays & Graphics blueprint system, they were able to create custom acrylic panels that fit together perfectly, and prevented light from seeping through the panel seams. By using opaque vinyl over the window sections, Allanson's lighting products were highlighted without leaking light.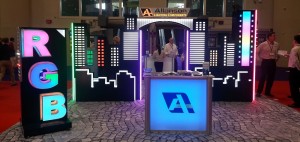 The End Results
Using a combination of experience, Best Displays & Graphics' blueprinting technology, and creative thinking, Laurie and her dedicated team were able to create a stunning, one-of-a-kind, nighttime city skyline. One that was portable, easy to assemble, and fit Natalie's budget.
At Best Displays & Graphics, meeting challenges head on isn't an option, it's a thrill. With Best Displays & Graphics blueprint system, it is possible to create just about anything you can envision.
Natalie, and the rest of her team at Allanson, were thrilled with the results, stating, "Loved the attitude and positive experience throughout the entire project. While other companies refused to accept the project due to its complex appearance, Laurie accepted the challenge with welcoming arms."
To learn more about how the experts at Best Displays & Graphics can help turn your unique trade show display idea into a reality, please contact Best Displays & Graphics today for a free quote!