When it comes to getting back to business in 2020, you might be keeping an eye on the bottom line. But continuing to attend trade shows is a great way to get new clients and connect with industry insiders. The team from Best Displays & Graphics understand that trade show displays and furniture can be costly, which is why we're proud to offer affordable trade show furniture rental solutions.
But if you're not sure whether or not renting furniture for your next trade show will pay off, we've collected some insight for you below, so read on!
Wide Range of Products
When it comes to renting your trade show booth or furniture, doing so can provide you with a wealth of options, making it easy to find the perfect solutions to suit your needs. Whether it be a leather couch or a speakers' podium, renting products for your next trade show is ideal. Additionally, Best Displays & Graphics also offers fabric displays, banner stands, and more for rent!
Cost-Efficiency
Many businesses are watching their bottom line as a result of the COVID-19 pandemic, which is why renting over buying is often a great route to go. Investing in rental furniture for your next 2020 tradeshow can be much more cost-efficient. You'll easily find solutions to fit every type of budget for small to mid-sized businesses, as well as bigger companies.
Invaluable Expertise
Another great reason to work with a trade show booth and furniture rental company is that they'll have a wide range of experience helping customers just like you. They'll be aware of the latest trends in the industry and be able to equip you with the perfect furniture for your needs, providing a lasting return on investment. If you need custom rental products for a specific event or are trying to boost attendance, the team from Best Displays & Graphics can help.
Convenience
When it comes to convenience, renting your 2020 tradeshow booth or furniture can certainly make things easier on you, especially when trusting your needs to Best Displays & Graphics. That's because, in addition to being easy to pack and carry from place to place, we also offer setup and breakdown services so you can focus solely on attracting new customers.
Flexibility
Another advantage of working with a furniture and booth rental company is that there is a certain amount of flexibility that comes with rentals. For example, you can easily make changes to furniture, adding and rearranging as needed, without dragging the high cost of ownership behind you at each tradeshow. It also enables companies to try new booth and layout ideas and see how they work, renting first to ensure they're successful.
Reduced Fees
When it comes to renting tradeshow booths and furniture, you'll have reduced fees. This is because you won't have to pay to store your tradeshow equipment when it's not being used throughout the year. Additionally, if you choose to invest in a company that offers setup and takedown services, you won't even need to pay to transport the booth or furniture.
Easy Customization
Tradeshow booth rentals are easily customized nowadays and can be adapted to suit a wide range of needs. You can add inventive graphics or custom infill panels to your display, as well as accent pieces and colors and logos to highlight your brand. Even though it's a rental, it doesn't mean it can't be customized with a few bells and whistles.
Advanced Technology
Purchasing things like LCD displays and touchscreens for your 2020 tradeshows can wind up being quite an investment. However, renting your booth and furniture can provide you with advanced technology at a fraction of the cost.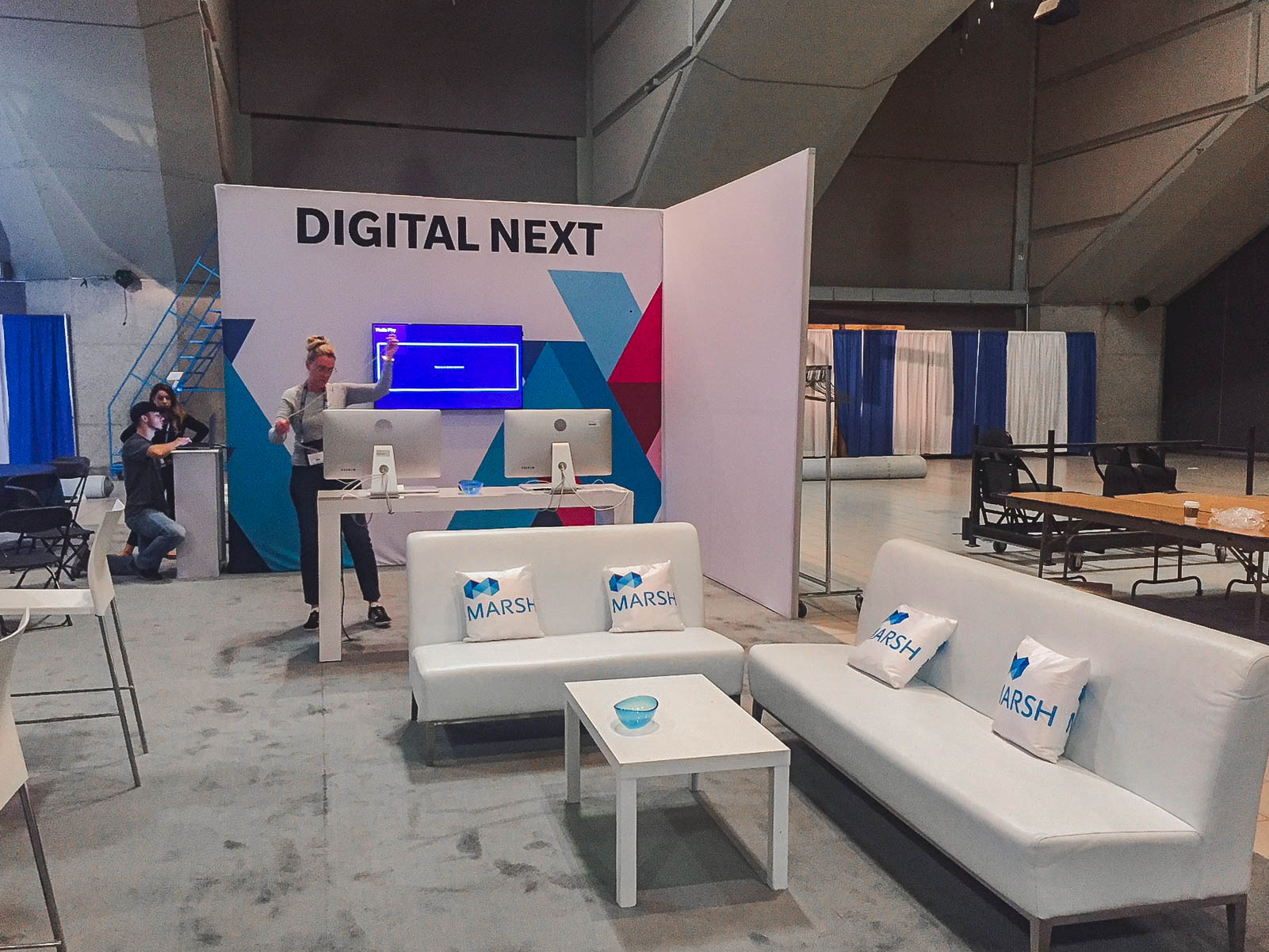 Contact Best Displays & Graphics today for tradeshow furniture rentals & more!
If you want to be prepared for your next tradeshow in 2020, the team from Best Displays & Graphics would love to hear from you. In addition to our booth and furniture rental solutions, we also offer experienced design services, custom display construction, and social distancing signs and products.
To learn more about our offerings, contact us online today or call (905) 940-2378