When it comes to your 2020 tradeshow appearances, it's important to look your best, which is why you might want to consider using a portable counter display table. It's the perfect way to greet customers who enter your exhibit. However, there are many more benefits to portable counter display tables, which is why the team from Best Displays & Graphics has gathered some insight for you here.
Below you'll find some more advantages to investing in a portable counter display table for your upcoming 2020 tradeshows.
They Can Be Easily Customized
One of the foremost advantages of having a portable counter display table at your next 2020 tradeshow is that they can be easily customized to suit your needs. You can select a design and material centered directly upon your brands' needs. Some of the most common materials you can choose from will be wood, glass, vinyl, etc. You can also choose different layouts, colors, and prints to match your brand's color scheme and create an eye-catching design.
They Offer An Added Edge
Having a counter display table can give your company an added edge at your next tradeshow. This is because they can also double as presentation stands and product display units. A display table can help you strongly communicate your brand's image, letting you use it as a sort of shop front; it'll be the first thing attendees will see! What you display can help start a conversation around your brand and catch the eye of passersby.
They're Cost-Efficient
Another benefit of investing in a portable counter display table for your 2020 tradeshow is that they can be extremely economical. They're made of lightweight material making it easy to transport back and forth from place to place. Should you need to ship it, the light material it's made with will help cut back on shipping costs. Additionally, many tradeshow display booth and counter manufacturers will offer a variety of display counter tables that span every budget range, making it easy to choose the most cost-efficient one for your needs.
They're Extra Portable
One of the reasons that portable counter display tables are so popular is because of their portability. They're designed to not only be easy to transport but also put together and taken down with minimal work, meaning you can take it along with you to all of your 2020 tradeshows without the need to hire additional staff for setup and takedown purposes. They're also designed to be reused again and again. You can carry your brand along with you anywhere. Additionally, they're extremely versatile, meaning you can place them anywhere within your tradeshow display to ensure you're comfortable and your display looks its best.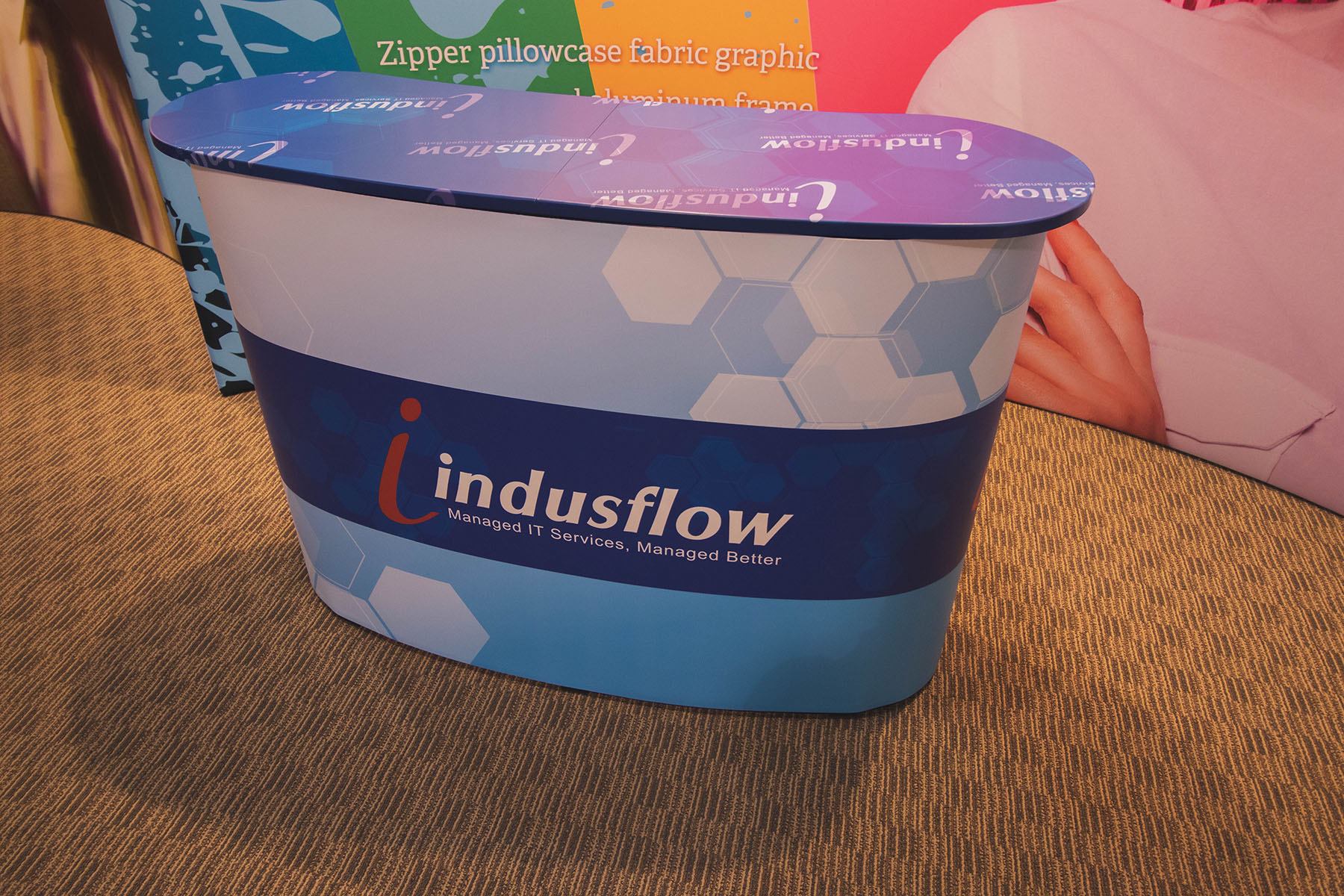 Contact us today for more about portable counter table display options!
Portable counter display tables are great tools to showcase your brand, promoting awareness, and helping you garner the leads and attention your company deserves. By showcasing the right promotional items and having great, eye-catching graphics, they can make your next 2020 tradeshow a success.
In addition to our portable counter display tables, we also offer a range of modular tradeshow display solutions of every shape and size. Our experienced design team is also equipped to offer custom tradeshow display solutions, as well as AV and technology displays, and more. If you're having trouble bringing your next tradeshow booth vision to life, we can help!
For those going back to business these days, we also offer a range of social distancing signs and products to help ensure that you and your customers remain safe and healthy amidst COVID-19 concerns.
To learn more about how Best Displays & Graphics can help you, contact us online for a FREE quote or call (905) 940-2378.