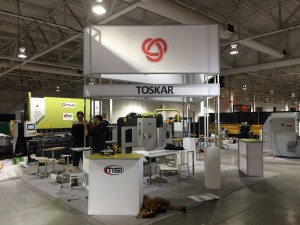 April 28, 2016 – By customizing your trade show displays with engaging graphics, interesting colours and compelling content, you can draw in qualified buyers from across the event floor. But with so many event processes to plan in the coming weeks, you might not have time to establish your display customization process. Let our experts guide you with our four keys to success with custom trade show displays.
Focus on Function
The design of the display will be the factor that compels event audiences to visit your area, but your teams require functionality within a compelling design. Make sure you integrate the latest digital display systems to highlight products and services. And customize the display to give your teams room to greet guests and sit down with them within the company's branded space.
Examine the Visitor's Needs
Who are your most important event leads? Are they specialists within the IT sector looking to invest in your product? Are they a clothing manufacturer looking to use your packaging systems? Make sure your displays are refined to attract and engage that qualified buyer. You'll see significant returns with this level of precision.
Limit Elaborate Design Techniques
While elaborate designs might be suitable in industries where multinational companies are competing for attention, small businesses require custom trade show display areas that are built to promote a specific message with simplicity. Think simple. What are your qualified buyers searching for and how can you explain your expertise within your design?
Get Teams to Approve the Design
There should be a team of professionals behind the display design customization process. And each person should have a significant understanding on design elements. Building a design based on this foundation of expertise will help minimize branding missteps.
To discover more on the keys to effective trade show displays, speak with our team today at 905-940-2378.