Streamlining the installation and dismantle of your display booth for upcoming events can help your company to save time and spend more moments with your target customers. But it's a process that must be completed professionally while keeping your display booth in its optimal condition. In our latest post, we're highlighting how to streamline the setup and dismantle of a display booth.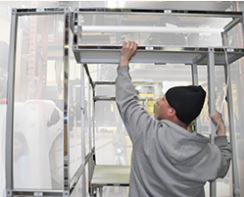 Use CAD Drawings
When working with your display booth, you will need to have access to CAD drawings in order to complete the set up and dismantling process. The drawings act as instructions and will help to explain which pieces you'll need to build your ideal system. Make sure that the CAD drawings are received from the manufacturer of the display in the weeks before the event. This will give you the time you need to go over all of the drawings and the instructions to ensure you're ready on event day.
Commit to Staff Training
Staff members who will be hosting your trade show display should be trained in how to manage the setting up and dismantling of the booth. Work with your team so that they have a clear picture of what to expect at the event. Allow them to ask questions if they need further instructions on the setting up and dismantling process. Request a demo from your suppliers and have your selected install team attend.
Double Check all Tools
Before you begin the installation, make sure that you double check that you have all the tools and equipment sent by your supplier. Run a quick inventory check of the products that should be included in your trade show display, and then work with your team to check off all the tools on the list. Repeat this process should also take place during the dismantling process to ensure nothing was lost or damaged during your show. Make sure that you have at least two team members double checking that all tools and display pieces are counted.
Consider Outsourcing to BDG
One of the best ways to save time and resources at your upcoming trade show event is to outsource the entire setup and dismantling process to our team at Best Displays & Graphics. Our experts offer a comprehensive and affordable service designed to ensure that your booth is kept in exceptional condition from the set up to the dismantling process. Our work can help to give your team more time working with your customers at the event and help drive that lasting return on investment.
The team at Best Displays & Graphics has decades of experience helping business owners set up and dismantle their trade show booths at events across North America. To speak with us today about your event requirements, call now.