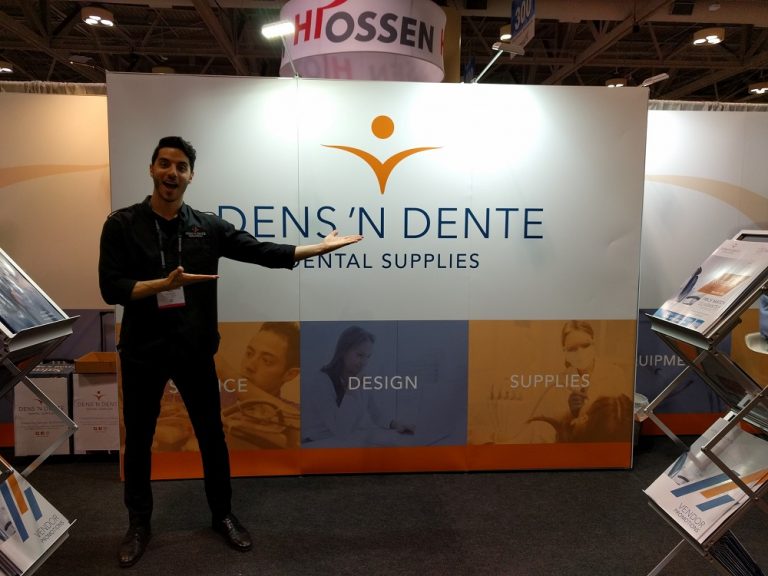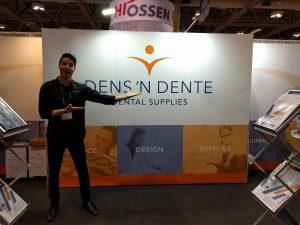 July 4, 2017 – When Dens 'N Dente – a local Ontario dental supply company – approached us about building a display for their appearance at the Ontario Dental Association's 2017 Annual Spring Meeting, we knew we had to bring our A-game.  The ODA ASM was celebrating its 150th annual convention, and over 12,000 visitors from across North America were expected to attend.  It would be their biggest show ever.  As a company proudly "Created for Dentists, by Dentists" it was vital they stand out and make their presence known.
At the onset of the project, they let us know we would be working with a relatively small budget. But that's exactly the sort of challenge we enjoy here at Best Displays & Graphics and, as always, the client was thrilled with the results.  In fact, we're already working on their next design!
What Dens 'N Dente Were Looking For
In this case, Dens 'N Dente had some fairly specific needs and requirements for the booth.  The biggest is that they had recently rebranded with new colors and logos, so they wanted to be certain to show them off to best effect.  They also needed flat-screen televisions on the back wall to show off their services.  In addition, they wanted the overall feel to be extremely 'clean' – understandable for a medical supply company – and with room to show off some of the products they carry. 
In particular, they wanted two bridges on either side of the display, which terminated in columns that also could double as shelf space for their products.  That was one of the reasons we got their contract.  We had the hardware to accomplish this, while other suppliers they contacted did not. 
Otherwise, it was to fill up a 30'x10′ space, and they wanted much of that to be open floor space.  There was a counter off to one side for performing product demonstrations, a few small display cases, and a couple literature racks.  That still left plenty of room for meet-and-greet.
Putting Everything Together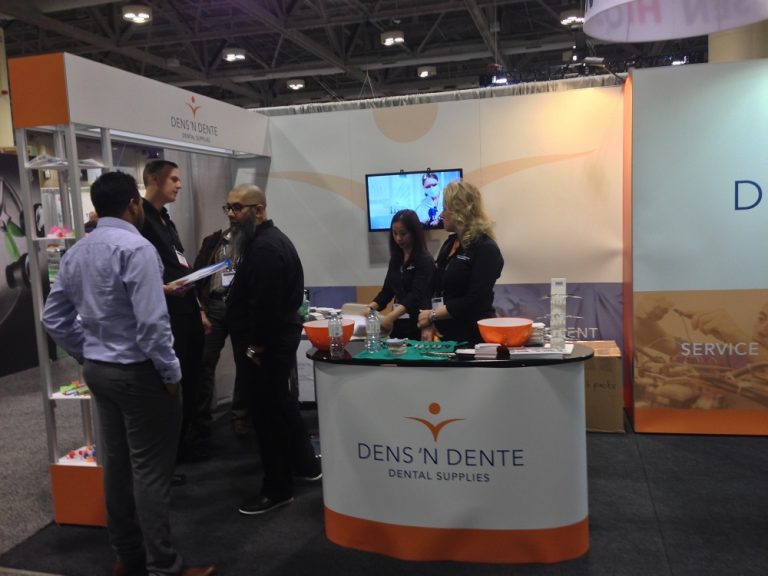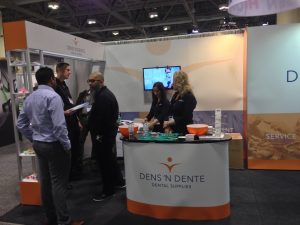 We chose to build the majority of the booth, particularly the huge back wall, from Blueprint framework.  The modular nature of Blueprint makes it one of our go-to solutions for rental booths, since it can be disassembled and reassembled quickly and easily, over, and over.  It easily accommodates electronics as well as custom-printed graphics, so those were the only original item that Dens 'N Dente had to purchase.
The booth itself only took two days to build, and could be transported in two cases for the hardware and three cases for all the custom graphics.  In this case, we handled logistics, transporting all the materials in our van as well as doing both setup and teardown.  As with many of our clients, they found that they could save considerable money by making use of our turnkey services instead of hiring labor ad-hoc.
Of course, it's rare for a trade show to go off without a hitch, and this was no exception.   In fact, we had a bit of a panic-inducing moment early on the morning of the show, when we discovered that A) the television monitors weren't working, and B) the service we'd hired to deliver some rented tables and chairs hadn't shown up.
However, we've been to enough trade shows to keep our heads.  The TV problem turned out to be a minor wiring issue, and a couple phone calls got the furniture problem sorted.  They were able to open the booth as scheduled, ready to wow the convention-goers.
In the End:  Smiles from All the Dentists
Dens 'N Dente were happy with the end results, saying afterwards:
Dens 'N Dente chose to work with Best Displays due of the ease of designing the booth, without compromising the company's vision. Above other companies, Best Displays provided solutions to create exactly what Dens 'N Dente wanted while meeting the prescribed deadline. … While at the event, Dens 'N Dente received excellent customer service from Best Displays.
They were so happy that we're already working on their next booth.  They wanted to rent the booth for ODA ASM specifically to see how it would work out, with an eye towards purchasing a more permanent touring booth if things went well.  So now we're currently designing a modular 20'x20′ for them!
If you want to make your next trade show appearance shine, contact Best Displays & Graphics today!