A trade show display company can have a significant impact on your event marketing and success. The quality of your trade show products, booth, and how you utilize them to promote your brand is of the utmost importance when evaluating your trade show options. Only by partnering with true professionals can you ensure the right results for your brand. Our team at Best Displays & Graphics has worked with companies throughout North America in building outstanding trade show displays.
In this guide we'll highlight our services in greater detail and explain the benefits of choosing to partner with Best Displays & Graphics.
We have over three decades' experience in the trade show industry and can offer guidance to help you achieve your marketing objectives. Our experience means there's no size or budget we cannot accommodate. Building the perfect display every time to address your company's needs and engaging your target audience.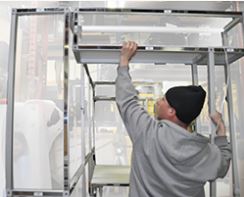 Our comprehensive selection of services makes us one of the leading specialists for all your events. We offer graphic design services that ensure your trade show display stands out from the crowd. Our install and dismantle services means your team has more time to practice pitches and engage with customers. We can also store your product for you, keeping it in immaculate condition ready for the next event. We offer affordable, timely repair services for those older displays that continue to provide marketing returns for your company.
We can work with you to help you consolidate the cost of your marketing campaigns. Our rental services are an example of our commitment to cost-efficiency. Through Best Displays & Graphics, you can rent furniture, as well as a full trade show displays. Or opt to rent the framing and purchase your graphics to ensure that ideal impression on event day. Our rentals can help boost your event presence and keep your brand on target for the years ahead.
Our facility is over 11,000 square feet and features a full, on-site vinyl graphics printing space, as well as a full-service showroom. In addition, our building area can be used to test display functionality prior to your event. This expertly-designed facility helps us meet the challenging requirements of our clientele and allows us to continue to grow as a brand.
Best Displays & Graphics is your local leader for trade show display products and services. To discover more about our company, its history, and its future, call us today.