December 2, 2014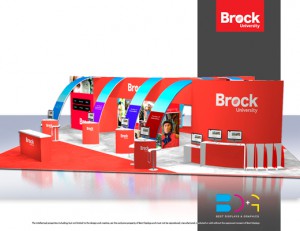 In September 1964, Brock University opened its doors for the first time to provide Niagara residents with a nearby University that they could call their own. Named after the brave Major General, Sir Isaac Brock who died at the war of 1812, today Brock University is home to over 17,000 full time students and 600 faculty members. Sir Isaac Brock's famous last words, "Surgite! Push on!" remain the motto for students in all of their academic studies.
At Best Display & Graphics, we provide countless clients, like Brock University, with full turn-key services to help them stand out in competitive fields. To separate themselves from all the other academic institutions that attend trade fairs, Brock University asked that we create a 45' x 45' display that not only clearly communicated their course options and campus branding, but that was also visually attractive to the on looking prospective student.
The Design
Before getting to work on the design, our head sales representative for this project, Geoff, and our graphic designer, Robin, collaborated together with Beth Natale at Brock University to understand the unique booth requirements that were necessary for an innovative, functional, and attractive display.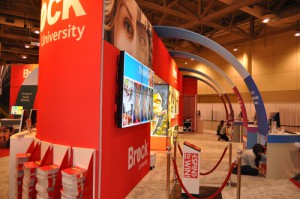 Together, they decided on a 45' x 45' Fabframe display that was to be held together with tension fabric and featured impressive backlighting. Once the final design was approved, our specialists at Best Display & Graphics began building it. The entire project was built in-house, but due to the size and number of graphics required for the campaign it took approximately 2 months to fully build and test the display before we could be sure that everything was perfect.
The Debut of Brock University's New Fabframe Display
The first university fair that Brock University debuted their booth at was in Toronto in September of 2012. The entire display required 6 pair of hands and a day and a half to assemble, but the overall effect that the booth projected made the entire process worthwhile.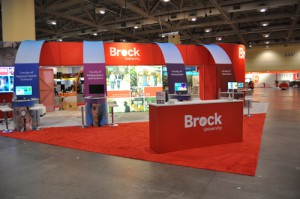 Despite the large size of the booth, the nature of the tension graphics and the Fabframe's compact ability to break down into smaller parts, made storing the display both easy and inexpensive. When Brock University isn't showcasing their display at various University trade fairs in Canada, we take care of their storage requirements by keeping it year-round in our warehouse.
Brock University's Feedback on their Overall Experience of Working with Best Display & Graphics
According to Beth Natale, the design of their Best Display & Graphics exhibit has been used at the Ontario Universities' Fair for 3 cycles since it was first created. Every year, the display continues to produce fantastic results thanks to the superb design and aesthetics that were creatively customized to accommodate Brock University's wish list for functionality and traffic flow.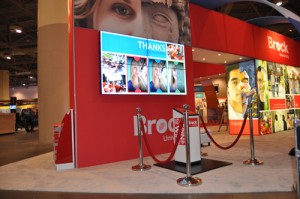 In addition to the booth's aesthetic appeal, the Brock University team was also pleased with the outcome of the project because of the value that they received from the entire investment. Beth has gone on to add that working together with Geoff and his team from the very first introduction to concept refinement, initial build installation, event monitoring, dismantling, and storage has been a fantastic experience. Largely, this was explained to be due to the fact that the Best Display & Graphic's team was creative, responsive, and committed to customer satisfaction every step of the way.
Another reason many clients, like Brock University, choose Best Display & Graphics is because of the materials we use. Our frames and fabric images are lightweight, compact, and versatile to allow for maximum flexibility while requiring virtually no transportation or storage fees.
…
University trade shows are one of the most overwhelming settings to make your school stand out in; every school is working with a high budget in order to attract prospective students. Best Displays & Graphics helped imagine a design and colour scheme for Brock University that was one-of-a-kind and set them apart from every other institution by bringing their brand to life in a memorable way.
In 2015, Best Displays & Graphics will be releasing more new products than ever before. To learn more about Best Displays & Graphics' full line of products and services you can contact them by email at sales@bestdisplays.com, over the phone at 905 940 2378 or directly at their Markham office and showroom address:
Best Displays & Graphics
7676 Woodbine Avenue
#10 Markham, Ontario
L3R 2N2