Modular display systems make for a great framework for a trade show display – and the right accessories can make them even better! Accessories allow you to add features to your display that will entice more visitors to your booth, allow your staff to work efficiently, or both.
Whether they're functional items, or there to enhance the overall look and ambiance of your booth, the right modular display accessories can significantly enhance its impact. Here are some of the must-have ideas we recommend for just about any booth.
Five Great Accessories for Your Modular Display
Counters, podiums, and kiosks
Counters and similar freestanding accessories are extremely practical, offering multiple uses, while also helping to make a trade show display feel more professional. A good counter creates a centerpiece for your booth, while also being a great way to show off your branding. It creates an easy spot for event staff to greet guests, or have discussions, while also offering some easily accessed storage space for items like marketing materials.
There's just something about a counter which encourages guests to step on up and say hello!
Carpeting might seem like a minor consideration at a trade show, but it can do a lot for your booth. An attractive carpet will add considerably to the overall visual appeal of your display, while also showing that you've taken care to think about the details in its design. Your staff will appreciate the carpet as well – it can significantly reduce the strain on their legs and back, from standing all day.
iPad Stands and Literature Racks
Stands and racks are another great way to encourage visitors to interact with your booth, by creating distinct "stations" they can visit. Tablet stands offer so much potential, due to the versatility of the devices: they can show videos, give access to catalogs, capture the visitor's contact information, and much more.
Literature racks are perfect as "self-serve" options for visitors who prefer not to interact with staff. They aren't flashy, but a couple of literature racks are a good addition to any booth.
We love playing with lighting at BDG. Strong lighting design is one of the easiest and most cost-effective ways to create a booth which is truly eye-catching. From backlights giving your products an etherial glow, to mood-specific LED lights creating color combinations within the booth, you can never go wrong with extra lighting.
Let's face it: everyone loves staring at big screens. Simply having a video playing on a big, bright, high-resolution display will guarantee increased attendance within your booth. Better yet, modular display systems can easily accommodate a wide variety of audio/visual systems, allowing you to put on a great show.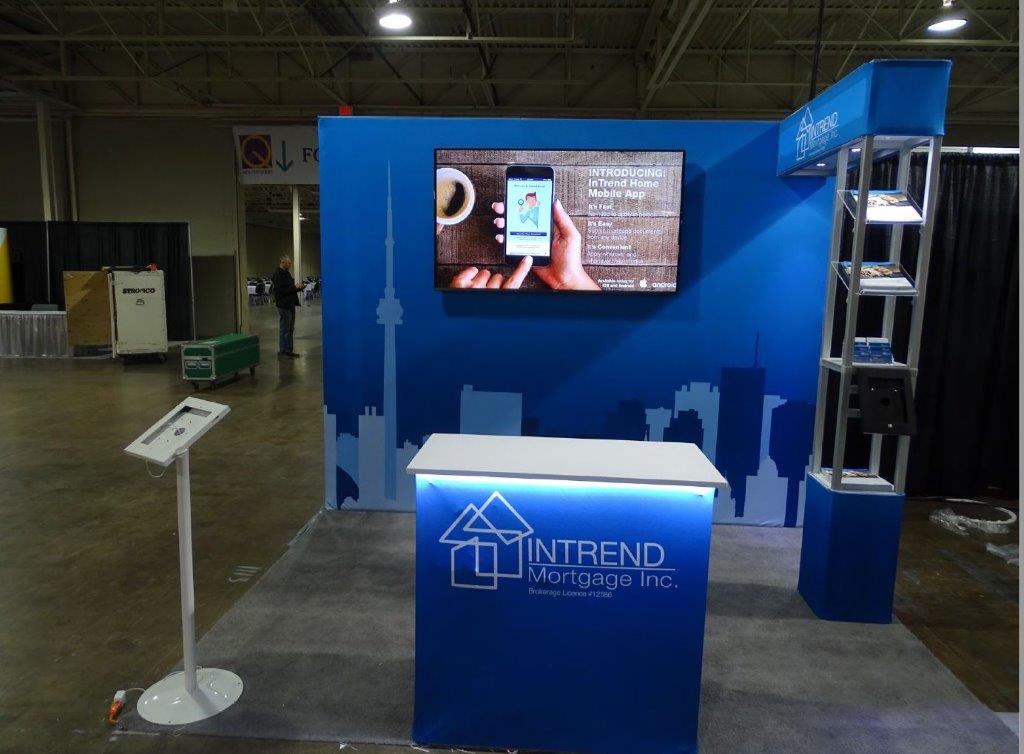 Get Booth Ideas & Products for Your Events
Best Displays & Graphics is dedicated to creating great booth designs, while still working within our clients' budgets. We want to help you wow your audience! So complete your modular display with only the best accessories, and contact us today for a free quote.