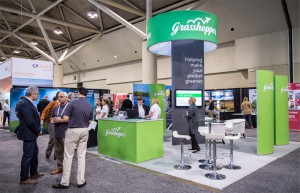 January 22nd, 2015
When it comes to providing quality services, no job is too big or too small and should be handled with the same care. Our specialists at Best Displays & Graphics know this, which is why they are always working to the best of their abilities to ensure that every customer is a satisfied one. From a wide range of products like trade show booth displays, pop up displays, banner stands, truss displays, tension fabric displays, custom displays, conceptual design renderings, drug identification kits, table-top displays, tabletops, flag banners, literature racks, flooring, and more, Best Displays & Graphics has all the right products to make an impact at any tradeshow affair. They also have a wide range of services including setup, dismantling, and storage of their products.
Recently, Best Displays & Graphics worked together with Grasshopper Solar to create a display that met their specific display and marketing needs. The overall result received rave reviews and left the end client more than satisfied.
What is Grasshopper Solar?
Grasshopper Solar is the leading provider of solar power systems and solutions in Ontario – a reputation that they developed by offering competitively priced and expertly engineered solar power systems like the Grasshopper Solar GS Series. With Grasshopper Solar, companies are able to earn a profit while using green, renewable energy that is good for the environment.
In addition to products, Grasshopper Solar experts also offer a wide range of services from:
–          Free initial consultations
–          Lease agreements and financial models
–          Pricing, design, installation, and commission
–          Guaranteed price security from FIT/microFIT programs
–          Regular Servicing, maintenance, and more.
The CanSIA Show
In 1992, CanSIA was created as a non-for-profit national trade association to represent the solar energy industry. Every year, they hold a conference attended by thousands of people looking to learn more about the solar power industry. Last year from December 8th 2014 to December 9th 2014, Grasshopper Solar was one of the exhibitors at the CanSIA Solar Show and they asked Best Displays & Graphics to help them build their display.
This was Grasshopper Solar's first year exhibiting at the show, which is why it was of the utmost importance to create a big first impression and help showcase their industry-leading position. In order to have visibility and impact while retaining control over the installation process which is why they requested the following specification from Best Displays & Graphics:
–          A tower with circle structure
–          Ample room for one on one conversations with visitors
–          The flexibility to use part of the exhibit in different settings with different size and height restrictions
–          Reception space and storage
Why Did Grasshopper Solar Choose Best Displays & Graphics For the Job?
In addition to being able to fulfill all of their specific requirements, Grasshopper Solar chose Best Displays & Graphics because after researching different options and initially considering renting the elements for the exhibit, they decided that it wasn't very cost-effective. When they started looking to actually buying a display, they wanted to find a product that was flexible and could be easily set up, repurposed in many different settings, and would not take up a lot of space storage; Best Displays & Graphics' Blueprint seemed to be the obvious choice.
Find Out More about Best Displays & Graphics' Services
Grasshopper Solar chose Best Displays & Graphics for a large number of different reasons and were happy with the end result. According to Grasshopper Solar, "Our experience with Best Displays & Graphics has been a great one; we appreciated Reid's hands-on approach, the team's responsiveness, and everyone's commitment to making things work." Countless other companies have worked with Best Displays & Graphics and were left more than satisfied with the end result. To find out more about Best Displays & Graphics' commitment to every job they perform or for more information about the different services that they have to offer companies contact them by visiting their website at //www.bestdisplays.com/, by email at sales@bestdisplays.com, over the phone at 905 940 2378, or directly at their Markham office and showroom address:
Best Displays & Graphics
7676 Woodbine Avenue
#10 Markham, Ontario
L3R 2N2