Nowadays, it takes more than simply showing up to wow potential customers, especially when it comes to trade shows. A trade show will gather your team and most of your competition and put you all together under one roof, so being able to really catch the eye of visitors is essential. That's where amazing custom trade show booths come into play, like the ones from Best Displays & Graphics.
Let's look at a few things that will really help your booth stand out at the next trade show.
1. Creative Giveaways
One great way to generate a buzz about your product or services at any trade show is to give visitors something they'll be able to take home with them. Think about having your giveaway be something unique that won't end up in the trash, like a useful household item that also displays your contact info or a pen drive with your company logo.
2. Innovative Displays
When it comes to creating an amazing custom trade show booth display, it's important to always think outside of the box. Try developing a trade show booth design that includes attractive visual information, like your branding strategy, as well as important info about your company. Enlisting the services of an experienced design firm is one of the best ways to develop a display structure that's unique to your products/services and communicates your vision.
3. Lighting
Employing inventive lighting techniques is another great way to get trade show visitors talking about your company. You can employ LED and colored lighting to grab the attention of your audience and help walk them through your booth space. Backlighting, spotlights, and other techniques are also a great way to do something a little different with your booth design.
4. Audio Visuals
Set a tone for your trade booth space by adding a little audio and visual technology to the overall experience. This could be something as simple as providing interactive sound effects or songs when guests enter, to having videos of customer testimonials playing in the background. The more you can educate your audience about your company, the better the returns will be.
5. Technology
If you want to really engage your trade show audience, considering employing some of today's cutting-edge technology to make the experience more immersive. For example, if you own an interior decorating firm, why not have a 3-D design booth displaying your most recent projects. You can employ a touch screen to enable visitors to move about in the virtual rooms you've created. Even displaying your products/services on a touch screen can give your audience the push to spend a bit more time in your booth than competitors.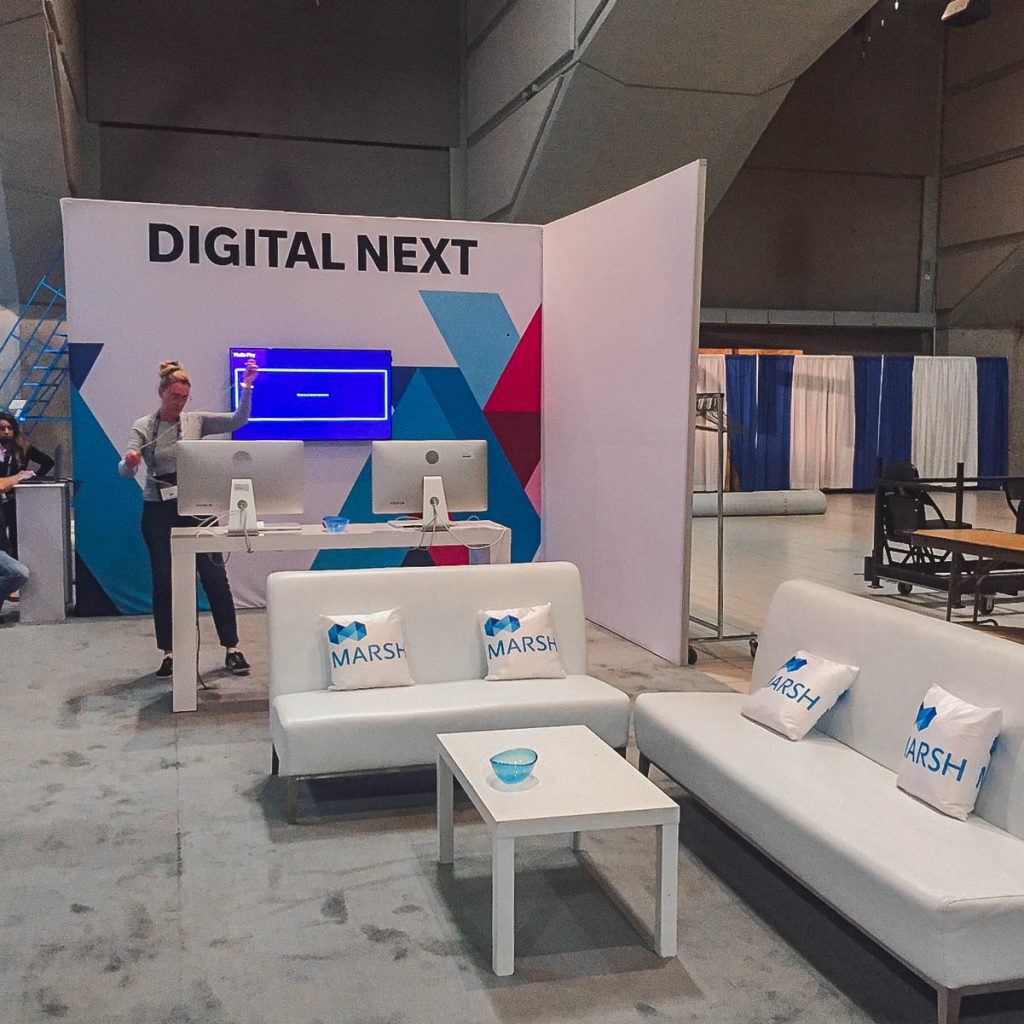 Let us help you create an amazing custom trade show booth!
Want to really wow potential clients at your next trade show? The team from Best Display & Graphics can help bring your vision to life. To learn more about how contact us today online for a free quote or call (905) 940-2378.