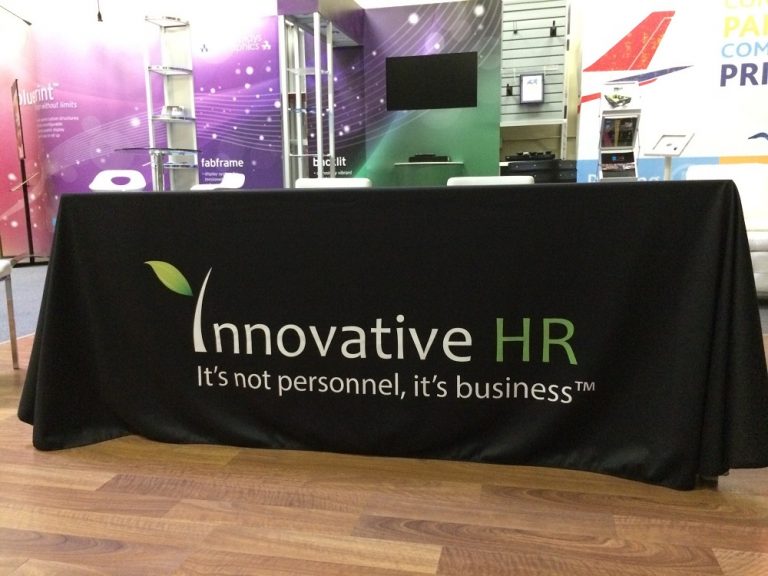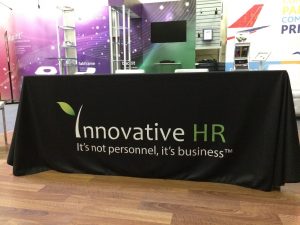 July 18, 2017 – Just as in choosing an outfit, or laying out a building's interior design, the accessories are what tie it all together. One of the biggest differences between the best trade show displays and all the rest is their use of accessories to improve visual appeal, subtly guide visitors around the display, and add features/functionality.
Let's talk about some of the best accessories you can add to your booth, and how to use them to the best effect.
5 Great Accessories to Enhance Your Trade Show Display
Literature Racks
Even in the digital age, there are still plenty of people who prefer having physical materials on-hand to read. Don't underestimate the number of brochures and pamphlets you need to have available! Literature racks are simple, unobtrusive, and do exactly what they're designed to do – make literature easily accessible.
They're generally best used in pairs and can be good for creating the appearance of a doorway in the front of your booth. (Plus, passers-by can still grab literature even if they aren't stopping for a chat.) They can also be used to flank almost anything smaller than them, such as tables or podiums, to draw extra attention.
Banner Stands
Banner stands are one of your best options for adding flair to a display. They can be used as a combination of posters and flags near the outer edge, drawing visitors in, or placed within the booth to fill up space with something of visual interest. More advanced banner stands can even incorporate flat-screen displays and display videos or product demonstrations. These are usually better placed towards the back of the display, so the flashing screens lure people towards them.
Larger banner stands could even be used as separators if you want to create the impression of your booth having multiple sections without using actual wall dividers.
Table Throws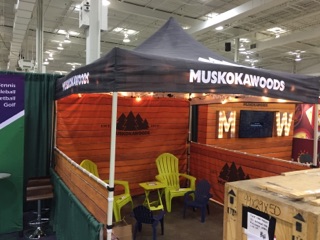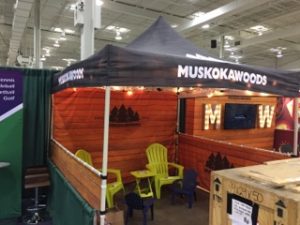 Thanks to modern digital printing, your logo or other design elements can be put on just about anything – and that includes your table throws. They only have one use, but they're great for taking a plain table and making it look like a much more impressive display piece.
Plus, since they totally cover the table, that means you can go with the cheap option and save a little money since no one's going to see the table itself.
Tents
Tents aren't only for outdoor use! In an indoor booth, they're another great and inexpensive way to carve out a smaller space within a larger display setup. It's an effective way to create a more intimate setting for product demonstrations. They work especially well with items that are best seen in lower light conditions since trade shows tend to be bright.
Lights
Great lighting is one of our own secret weapons and one of the ways we're constantly putting together award-winning displays. It's very hard to go wrong in adding a few extra spotlights to draw the eye toward booth elements you want to make prominent or adding subtle backlighting to your pop-up displays to make them really pop.
Another wonderful use for lights is strip lights on the ground, which are highly effective for carving out 'paths' around your display – especially larger ones. Most people will follow the lights around and not even be aware of them, so you can make a structured experience without resorting to overt signage saying, "Go here!" Plus, they can add even more distinctive lighting elements to your booth.
Just Remember…
Don't overdo it. You don't want your trade show display to look like a cluttered curios shop. There should be enough accessories to make your display look fleshed out, but not so many that they start inhibiting people's ability to move around your display.
This is particularly important to remember if you're going to do direct sales at the show. It's tempting to fill up your display with things to sell, but it really is a case where "quality over quantity" is better. Pick the best items to show off, rather than trying to include half your stock.
Need More Help Putting Your Next Trade Show Together?
Best Displays & Graphics has decades of experience creating superb trade show booths – including plenty of award-winners – and we're here to help you as well! From creating individual custom accessories to full booth designs and builds, we provide all the services you need.
Contact Best Displays & Graphics today for a full consultation!