December 22, 2016 – 2016 has been an amazing year for us here at Best Displays & Graphics, one of our best.  We've seen new team members, new clients, and an entire new spinoff company – and that's only the tip of the iceberg!
So, we wanted to take a moment to talk about the major changes that have happened at Best Displays & Graphics, and how that's going to affect us going into the future.  We're proud to already be one of Canada's top sources for exhibition supplies and equipment, and the future is looking even better.
A Brand-New Venture
Certainly, the biggest news of the year is that we've created a new spinoff company, using much the same talent and expertise as Best Displays & Graphics, but with a different focus: Best Wedding Backdrops.
There are plenty of businesses out there creating decor items for weddings, but very few are actually targeting backdrops and similar equipment to make for personalized weddings.  Most are still pushing the same 'flowers and lace' motifs.  This gives us an excellent opportunity to expand our brand, while presenting a relatively unique service to wedding planners across the country.
The same expertise and set of in-house design teams that allow us to make great trade show displays works just as well for weddings.  We hope that in years to come, Best Wedding Backdrops will become a go-to source for wedding planners looking to give their weddings truly creative and individualized finishing touches.
New Team Members
The Best Displays team grew by three this year, and we couldn't be happier about it.  They are:
Darlene, 

the newest member of our admin team, helping manage accounts and keep customers happy.

O'Neil, 

the latest addition to our shop team, tasked with crafting display items, and

Dalida, 

our new dedicated AutoCAD specialist with loads of experience behind her.  
We're absolutely thrilled to have them with us, and look forward to many great years creating terrific trade show and wedding displays!
New Customers
A big part of the reason it's been such a huge year here at Best Displays & Graphics is that we've gained plenty of new clients – ones likely to stay with us for years to come.  This isn't even a complete list, but many of the major newcomers include:  Phonak, AGM Renovations, Allanson, Canadian Thermos Products Inc, Cardinal Golf Club, Diamond Marketing, Inago Corp, Innova Global, Maple Leafs Sports Entertainment, Masters Swimming Canada, MultiGen Healthcare, Ontario Speed Skating Association, Palm Kay Development Company, PartyPix, Save the Children, Global Bronze, and many more.
Even better, working with these new clients has allowed us to further expand our service offerings, and pick up some new awards along the way!  Here are some of the highlights:
AGM Renovations
Nothing says "success" like bringing home awards!  Our booth for AGM Renovations took the Best Booth Award at the 2016 GTA Home & Reno Show.  The booth we crafted for them was truly a home-away-from-home, the perfect venue for pitching home renovation products, and with a real emphasis on spectacular lighting.  Everyone who saw it was wowed. 
Allanson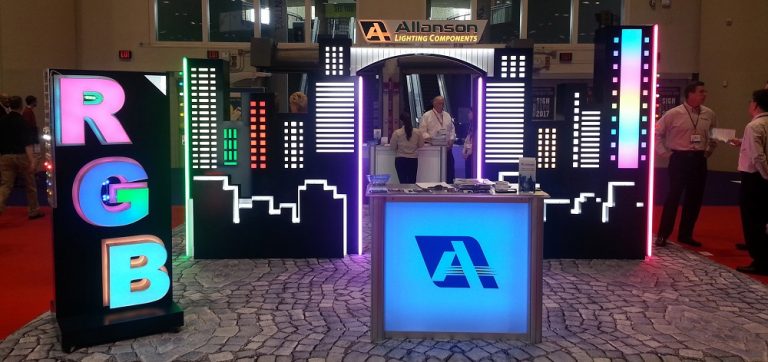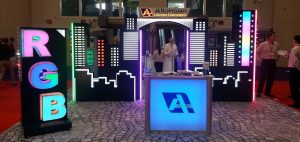 Our booths are like children, but if we had to pick a favorite from 2016, it would probably be our stunning backlit cityscape for Allanson, an LED lighting effects company.  It was a marvel to walk through, and pulled off a lot of major engineering challenges "behind the scenes" that visitors would never know about.  Like how, despite its seeming complexity, it can be easily torn down and reassembled multiple times, with minimal tools.
Global Bronze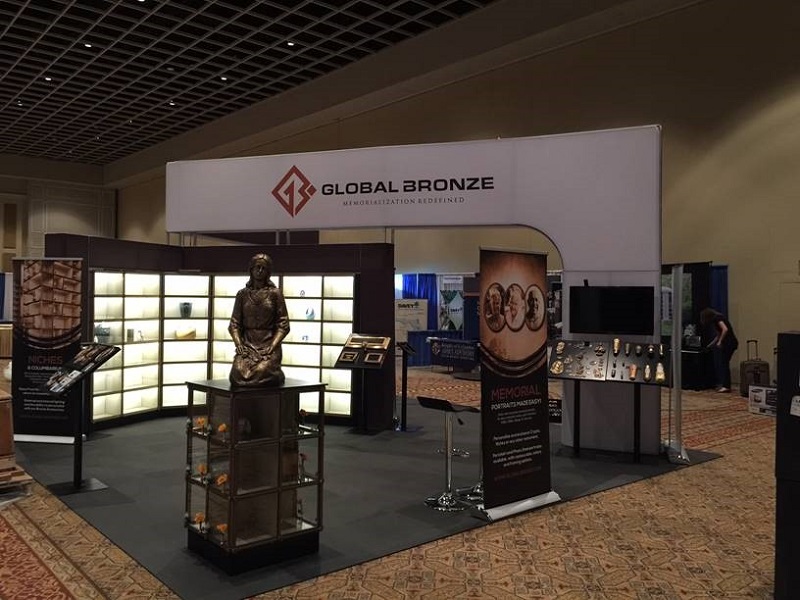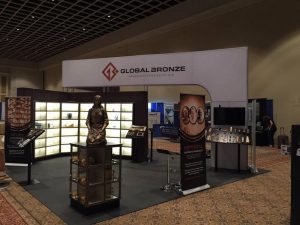 Speaking of engineering challenges, how do you build a booth showing off a product that weighs up to 500 pounds per cubic foot?  Very carefully, and with all the work hidden!  Our booth for global bronze was understated and tasteful, to fit the company image, but with a lot of custom engineering work allowing them to display plenty of product.
Phonak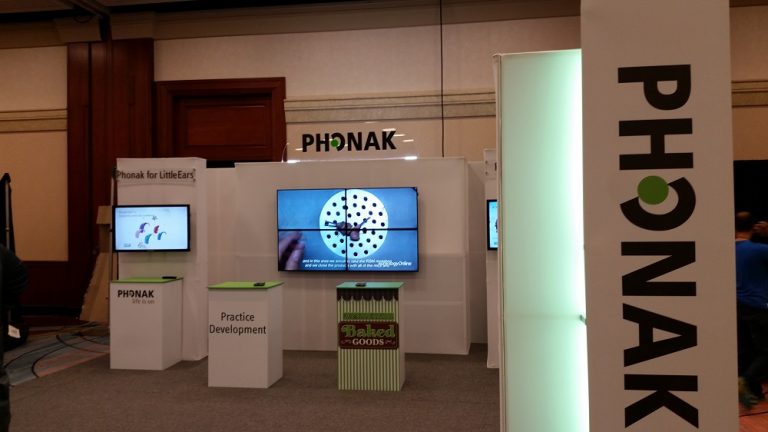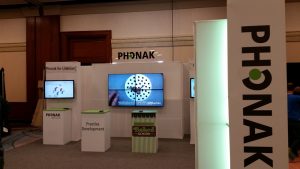 Phonak became our first major experiment in extensive use of touchscreens.  After all, when you're designing for a hearing aid company, you want to focus on the visual and the tactile!  Despite the large number of electronics involved, including some tricky backlighting, there were no visible wires or other support structures.  
Onwards To 2017
All in all, we're very happy with how 2016 has gone for Best Displays & Graphics, and we're looking forward to an even better 2017: new customers, stronger relationships with existing clients, and even more awesome challenges for us to overcome.
If you have a unique exhibition display challenge waiting to be realized, contact us to make it happen!