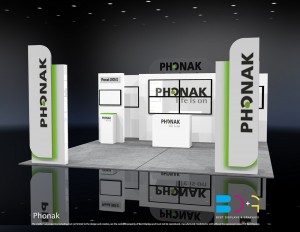 June 2, 2016 – When we (Best Displays & Graphics) were approached by hearing aid experts Phonak to build a trade show display for the annual Association of Hearing Instrument Practitioners (AHIP) exposition in Niagara Falls, we knew it would be an interesting challenge.  The project turned out to be even more interesting once we discovered that Phonak wanted the display created so that the products demonstrated could be changed for different shows in the future, requiring a level of modularity which is one of our key features to our custom displays.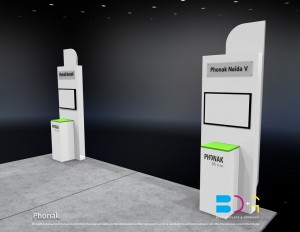 However, Phonak picked us thanks to our portfolio and the great things they had heard about our commitment to customer satisfaction. (It's all true.)  So we had to make sure we gave them exactly what they wanted.  In the end, they were ecstatic with the results, and they got a terrific display they can repurpose for many shows to come.
We even made a quick video, showing off the display, prior to the show's opening.  So let's take a look at how it was done…
Creating A Vision for Hearing:  The Phonak Display
Phonak wasn't looking for anything too fancy or out-of-the-ordinary, but still wanted a design that would be unique and eye-catching, while still leaving plenty of room for walk arounds.  The central element is that it needed to integrate multiple stations used for demonstrating their products which, again, had to be re-usable for different products in the future.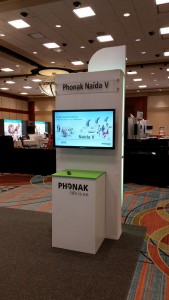 For the demo stations, we went with touchscreens.  It stood to reason that a hearing aid booth could receive visitors who were, in fact, hard-of-hearing, so we wanted to make sure they could still interact with the booth in a purely visual\tactile way without a strong audio emphasis.  Touchscreen displays in the four demo stations were a perfect way of doing this, creating a "self-serve" interactive experience that didn't necessarily require talking to a representative.  Plus, touchscreen tablets running a slideshow-style presentation are easy to reprogram for future use.
For the labels like "Phonak For Little Ears," we used plastic stand-outs which are visually appealing to visitors, but would be extremely easy to swap out in the future.  Just a few turns of screws and the plastic plates would pop off of the demonstration tables, ready to be replaced.  The various booth elements were easy to construct, using our aluminum extrusion framework with fabric over top, to create a solid look.
Those were the easy parts.  Then things got more interesting.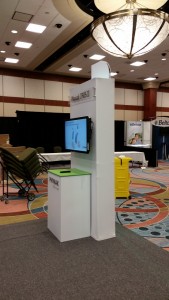 Adding Visual Flair:  Screens, Lights, and Floating Signs
One big element that Phonak really wanted was to make it look like their logo was floating above the back of the booth, without visible support elements.  In the video, it's fairly easy to see that it's a plastic sign thanks to the lights reflecting off it, but when the trade show was in full swing and the lighting was lowered, the effect was extremely realistic.  We also added upwards-pointing lights beneath the logo which both drew attention to it and -in real life- helped disguise the plastic backing.
The four-screen display in the center rear was another major element.  They wanted a big video screen to catch visitors' attention, but huge screens are extremely costly.  By using four smaller synchronized screens in this way, we were able to save quite a bit of money while still giving Phonak the big display they wanted.
In this case, it was also our first time attempting linked screens like this! While it took a lot of tests to get the images to line up properly, in the end, it was flawless.
However, the detail we're proudest of were the floating Phonak signs flanking the entrance of the display.  Standing nearly seven feet high, they had to be lightweight enough to be held up by minimal support structures, while still appearing sturdy.  Also, they couldn't have any visible wiring leading to the lighting effects behind them.  The detail was a serious design challenge, but we pulled it off, and they looked fantastic.
Another Satisfied Client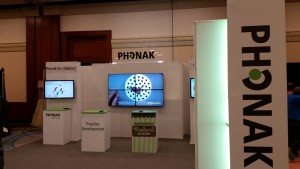 All in all, the booth was a big hit.  The large amount of floor space allowed a lot of visitors to explore the booth at once while chatting with staff, and the four demo stations were constantly seeing use.  It was a relatively inexpensive project, but one which created the professional style which Phonak needed to firmly establish themselves as hearing instrument experts.
Or, as they stated: "Best Displays & Graphics perfectly executed our vision and helped us create a beautiful booth that we are very proud of."
We can do the same for you!  Contact us for a free consultation.