April 22, 2015
Every April 22nd, people from across Canada and all over the world celebrate the main source of our sustained existence: the Earth. In our over-populating and ever-advancing technological world, it can often be easy to fall into wasteful habits and while most individuals make the effort to participate in Earth Day, it is important to remember that the Earth needs our help all year round.
If you are currently living in Toronto there are plenty of activities that you can participate in during Earth Day from clothing swap/shops to making environmentally friendly art or just simply recycling.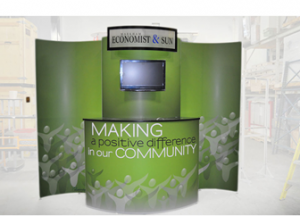 But individuals should be continually looking for new ways to become more environmentally friendly, especially if they are managing a company.
At Best Display & Graphics we know that companies can often have a hard time going green, especially during trade shows when they must construct displays to showcase themselves and their unique brands. Fortunately, because we work in the display-fabricating industry, we have familiarized ourselves with many different techniques that can be utilized to make our displays, banners, and other products more green-friendly.
Tips for a More Environmentally-Friendly Trade Show Experience
At Best Display & Graphics, we know that there are thousands of conferences that happen every year and although companies may prefer to update their displays annually, this is incredibly environmentally unfriendly. To reduce the thousands upon thousands of displays that are trashed every year, Best Display & Graphics encourages companies to think about creating exhibits that will be relevant for many years to come. In addition, we also offer repair, maintenance, and storage services to keep your product in excellent condition. Our facility is over 11,000 square feet big which makes it easy and inexpensive to store your display whenever you need us to.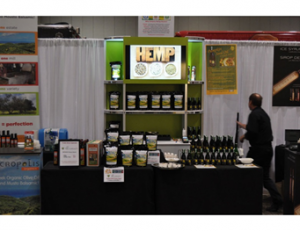 Other tips that can help your company go green at your next conference can include anything from:
Using LED Lights Rather than Halogen Lights
For a long time, halogen bulbs were commonly used in the home, on cars, outdoors, and on displays. Today, we know that halogen lights are not only terribly inefficient but also dangerous. Halogen lights can get really hot, cause fires, and even health problems like migraines. That is why we recommend switching to LED lights, thereby drastically decreasing the amount of power your display requires.
Recycling & (If Possible) Eliminating Paper
When exhibiting at a trade show, it is common for companies to hand out papers outlining the nature of their business and the uniqueness of their brand. The problem with this is that these papers are often abandoned without a second glance. At Best Display & Graphics we encourage businesses to instead collect the emails of interested passers-by. In doing so, you will be able to electronically provide information to those individuals that are actually interested in reading it. If you are not ready to completely cut out your paper trail, try reducing it or using recycled paper. Additionally, collecting emails as a means of replacing paper hand-outs also makes lead-gathering a lot more efficient.
Choosing to Use the BDG Blueprint/Fabframe
At Best Display & Graphics we offer businesses the option of using our incredibly efficient and Canadian-made Blueprint and Fabframe displays. These displays are made from recycled aluminum and feature a lifetime warranty/modular features that allow for the hardware to continually be reused in different booth configurations to minimize waste. Additionally, the Blueprint/fabframe display is also very lightweight which helps to reduce carbon footprint, as it is made from recycled aluminum.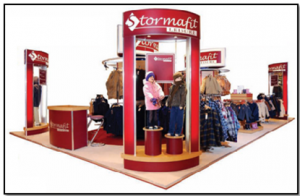 Printing Graphics Using Eco-Solvent Inks
At Best Display & Graphics, our team not only creates banners, popups, and other types of displays but also the graphics to go on them. Instead of using just any type of ink, our specialists encourage printing graphics in eco-solvent because it dries quickly and doesn't require any special ventilation or environmental equipment.
Using Lightweight Materials
Using lightweight materials will not only make it easier to set up and disassemble your display, but it will also reduce carbon emissions when shipping.
…
We only have one Earth and that is why it is in our best interest to do what we can to preserve it. Best Displays & Graphics is the best choice for all of your trade show design needs in Canada. If you are ready to design a display or a meeting space, contact Best Displays and Graphics today for a free quote. To learn more about Best Displays & Graphics' full line of products and services or guidance on how to create the best trade show marketing strategy you can contact us by email at sales@bestdisplays.com, over the phone at 905 940 2378 or directly at our Markham office and showroom address:
Best Displays & Graphics
7676 Woodbine Avenue
#10 Markham, Ontario
L3R 2N2