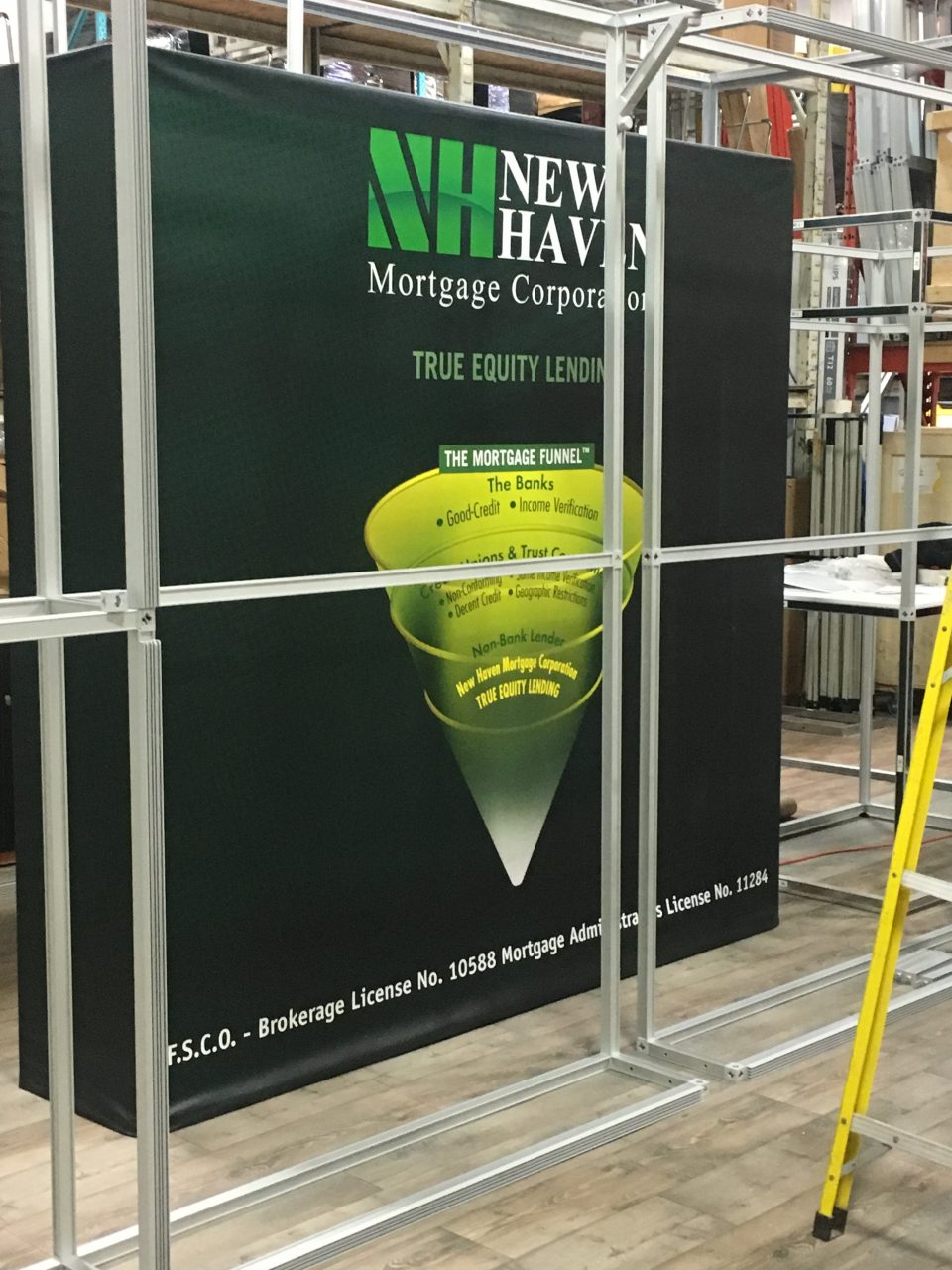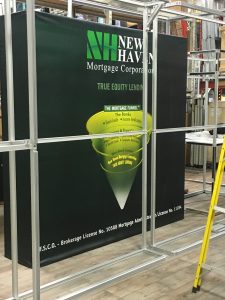 April 7, 2017 – Here at Best Displays & Graphics, we take each client as they come and focus on delivering the best solutions whether their needs are large or small. Sometimes we're called upon to create full-scale trade show displays or even fill up floor space at the Ford factory HQ… and sometimes a client just needs one perfect piece of display equipment to fit their long-term exposition plans.
That's exactly what happened when New Haven Mortgage Corporation, a private equity lender, approached us. Rather than needing a full display setup, they simply wanted one large-scale piece with custom graphics that they could use as the backdrop to their future trade show displays for years to come. But we gave the job just as much thought and effort as other, larger-scale jobs and they were extremely pleased with the results.
Designing An 8′ Display for New Haven Mortgage Corporation
New Haven's needs were clear from the outset. They'd been using the same trade show booth setup for about eight years, and they wanted to shake things up. People were starting to notice that it was always the same graphics and design plus, of course, trade show equipment will start to show wear and tear after a while. It happened to be perfect timing to coincide with the launch of their new Equity "A" Program.
So, they wanted something that would stand out, but while still being easy to set up and -of course- not too much of a strain on their marketing budget. It needed to be a piece they could reuse for several years to come. And, in particular, they wanted something that was backlit, so they could present at a wider range of shows and times of day. Along with that, they also needed custom graphics and -hopefully- assistance assembling and disassembling it.
Despite these seemingly modest requirements, they had a challenging time finding a display vendor who could meet their requirements. Then they heard about us from another of our clients, and as it turned out, we had just the thing: Backlit Fabframe displays.
Creating the Right Fabframe For New Haven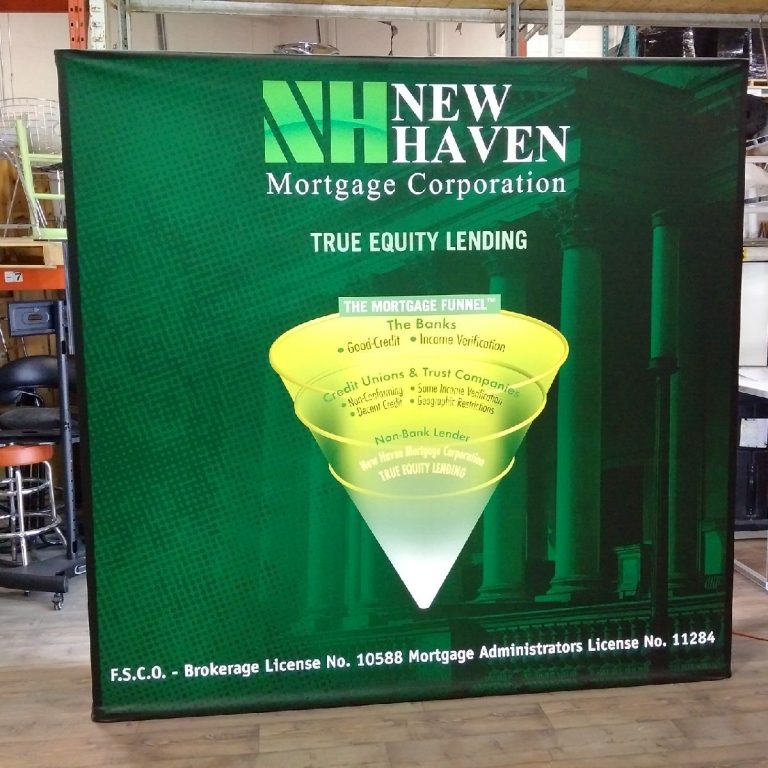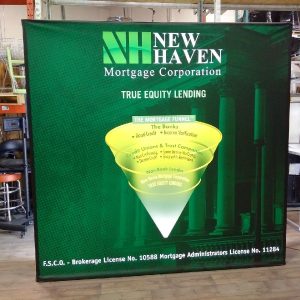 Fabframe was an excellent choice for New Haven thanks to its design properties. Fabframe uses lightweight aluminum frame pieces that fit together with simple tool-free connectors. It's a tension display, meaning that a simple piece of fabric or vinyl can be stretched over it. So, everything is extremely lightweight and easy to transport. Disassembled, a complete Fabframe design can often fit in a single duffel bag and be easily carried around.
Fabframes also work perfect with backlighting. There are numerous solutions for placing lights on the top or bottom, or attaching them to the interior sides of the framework, depending on the effect the client wants. LED bulbs are often the preferred solution here, since they're bright but still lightweight and with low power draw.
We took advantage of this when designing their graphic as well. It wasn't anything fancy, mostly their logo along with a graphic representation of "The Mortgage Funnel" which illustrated their services. However, since we knew they'd be back-lighting it, we could be a little tricky. Under normal lights, the graphic appears to have a fairly flat black/dark-green background. However, with the backlights on, a faint picture of a bank in the background becomes much clearer.
It's a nice effect, and adds some eye-grab value.
To top things off, New Haven was able to take advantage of our turnkey services. Along with designing the graphics and putting the initial frame together, we're also providing them with storage facilities when it's not in use, as well as assembly\disassembly services at their future trade shows.
This is exactly the sort of "everything you need" service which creates an extensive list of happy customers willing to make referrals!
Best Displays & Graphics Can Make Your Trade Show Come Together
In the end, they were more than happy, saying: "Whenever they needed Drew he was there. Happy to revisit everything, very hands on, very informative about the products."
That combination of knowledge, customer-commitment, and hands-on work is a large part of what separates Best Displays & Graphics from other trade show display providers. Whether you're in need of something large scale, or you simply need a single iconic piece which you can use for years to come, we have the perfect solutions to fit your needs and budget. And with our value-added services, we'll relieve a lot of your headaches too!
Contact us today to consult on your next trade show display.
For more information regarding New Haven Mortgage Corporation, please visit www.newhavenmortgage.com or call them toll-free at 1.866.996.8226 (x214).