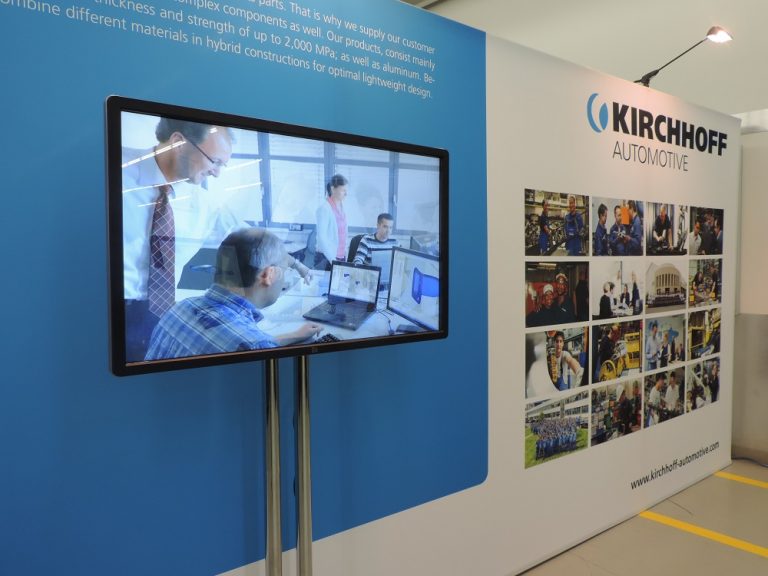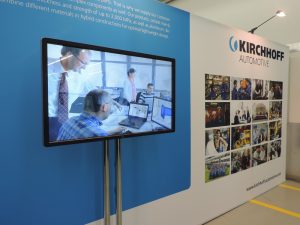 March 2, 2017 – When we say, we can handle trade show-style displays of any size, we mean it – and we can keep them affordable!
This is what we were facing when we were approached by representatives from KIRCHHOFF Automotive about a special event they were attending at Ford's Dearborn, MI, headquarters. We'd worked with KIRCHHOFF previously on some smaller-scale setups for their corporate showrooms, but nothing like their new challenge.
If you haven't heard of them, KIRCHHOFF Automotive are specialists in the design and manufacture of car body systems, including the frame, bumpers, cockpits, and other internal components in lightweight design. So, this was their big opportunity to show off their latest innovations to Ford, directly, and potentially win a lot of new business for years to come. Furthermore, they had an absolutely massive space to fill – 5,000 square feet within the Dearborn plant itself! We couldn't even visit it directly beforehand; we had to design the booth based around pictures of the space.
Plus, of course, we had to do all this in the most cost-effective manner possible. But you know what? We did exactly that, and KIRCHHOFF were thrilled.
A Closer Look at The KIRCHHOFF Automotive Project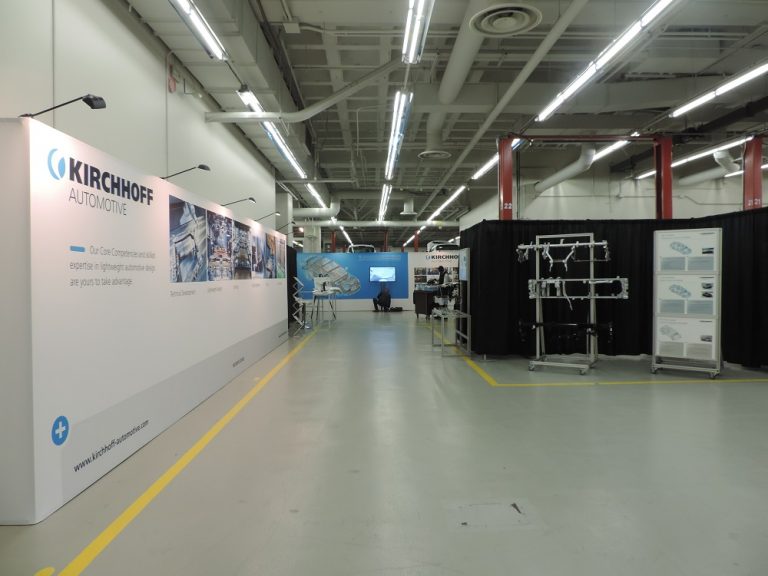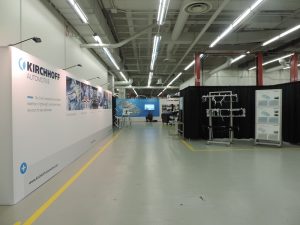 From our point of view, the good news with KIRCHHOFF is that they had a lot of existing pieces and devices to show off. When their display objects include an entire car frame, it starts filling up the space quickly. They also needed room for what was expected to be several hundred Ford execs, engineers, and employees milling around and looking at materials.
So much of our design work was in layout and flow-through, taking what they had and creating a structured environment that allowed each showpiece to tell its own story.
However, we did need to define the space. KIRCHHOFF wanted the walls to be clean and seamless, so we went with 8′ high black Fabrame backings. These are quick, easy, and affordable to buy and to set up, as well as leaving ample opportunity to hang signs and video monitors. Then we enhanced the interior space with a series of dividers with informative signs meant to partition the various environments and create paths around the exhibit.
We also built an 8′ across branded counter for them, draped in printed fabric, located near the entrance to the display. They wanted clear branding and plenty of printed materials available right from the start.
By keeping our materials simple, and relying on Fabframe to simplify setup, we were able to use the space quite effectively on a minimal budget!
Our Extra Services Keep Costs Even Lower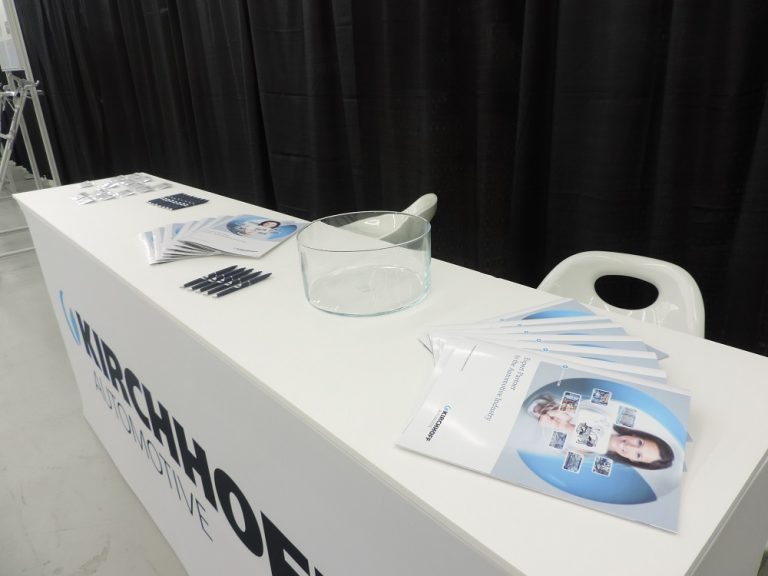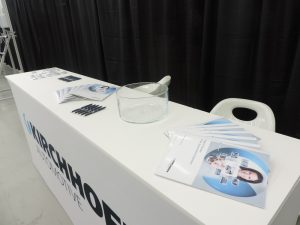 We wanted to make sure KIRCHHOFF got as much possible value, we leveraged our value-added services to reduce their spend considerably.
Much of the materials used in the booth construction were rented from us. Fabframe backing and standard cloth can be used and reused repeatedly, so it was no problem renting out parts from our own stock. The only custom work was on some custom-branded printing, which is inexpensive to produce.  Additionally, we sourced and provided several pieces of rental furniture as part of our services – including three cocktail tables and nine stools.
On top of that, they got on-site expertise. While we weren't able to visit the plant beforehand, we sent an expert to supervise setup and teardown. This was particularly important given the size of the overall exhibit and the limited timeframe they were working under. Since the exhibition was using what would normally be working space for Ford, they obviously wanted to minimize the amount of time it was disrupted.  
All told, this is a great example of how Best Displays & Graphics one-stop-shop approach to exhibition booth design can really cut costs!
Another Satisfied Customer
So, what did our contact at Kirchhoff have to say?
"I was originally working with Reid and Laurie on another project for our Corporate Showrooms, saw how capable and helpful the team was and when the opportunity at Ford presented itself for us, it was a no-brainer going with Best Displays. I really appreciate the flexibility and reliability. Laurie was a great project manager and I'm looking forward to working with her in other upcoming projects. She was incredibly knowledgeable, especially working with a space she had only seen from pictures. Thank you, Laurie, Reid and Shawn, our success is your success!"
No matter what challenges you're facing, big or small, Best Displays & Graphics can see it done affordably, professionally, and to great effect.  Contact us today to discuss your next display project!