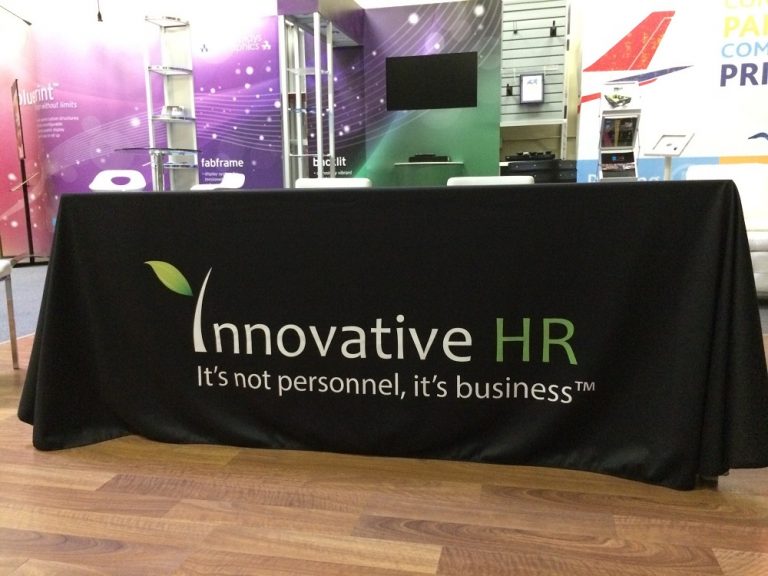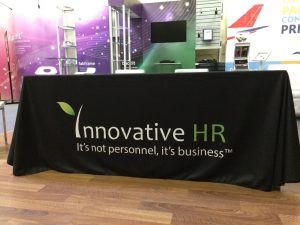 March 16, 2017 – For many trade show and exhibition booths, their tabletop display also functions as the centerpiece of the entire display. There's a high likelihood it will be among the first things a potential visitor sees, even before they actually enter the booth itself. It's going to be where most of the literature is located, along with some employees. It may also be a point of sale or contact information collection.
In other words, a great tabletop one of the single most crucial aspects of a great trade show display.
Unsurprisingly, there's an art to setting up a great tabletop display… and plenty of ways to mess it up. So today, we wanted to talk about what we find to be the most effective elements in a tabletop display, as well as potential pitfalls to avoid.
The Art of a Great Tabletop Display
Minimize Use of Text
A tabletop display should not be used to convey a lot of hard information by itself. That's for the literature and other information sources nearby, along with your staff. Much like a movie poster, a tabletop display's text should be restricted largely to your brand name and a very few words, such as a motto or tagline.  First and foremost, it should appeal on a solely visual and motional level to draw people in.
Too much text defeats that purpose, and risks making it look stodgy, cluttered, or even plain boring.
Make the Graphics Big, Bold, and Clear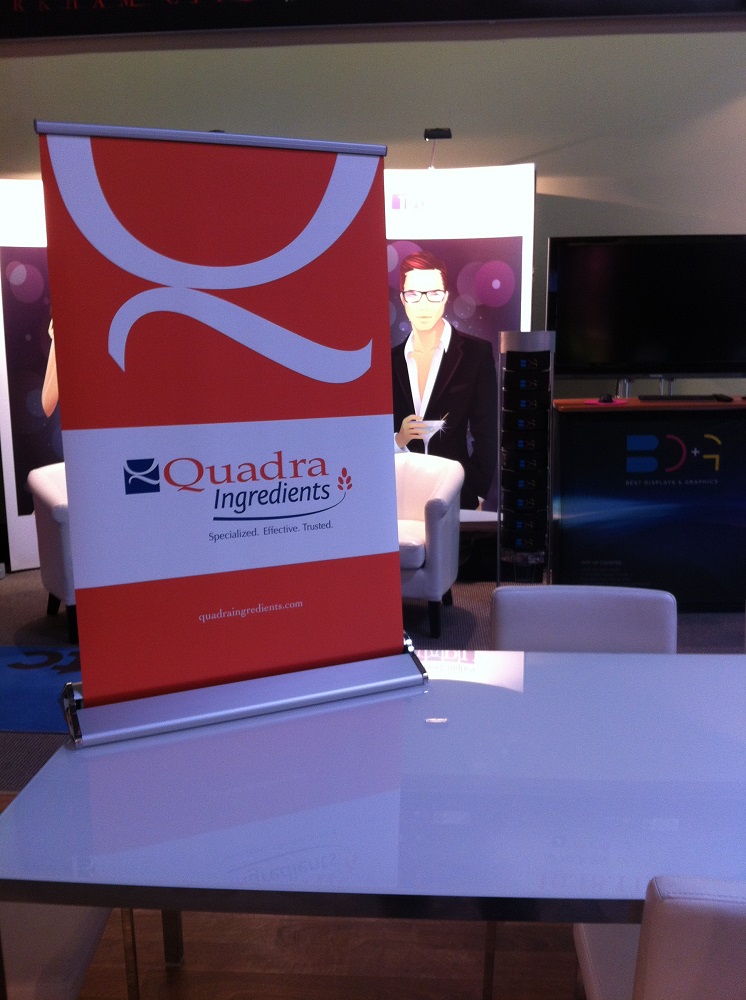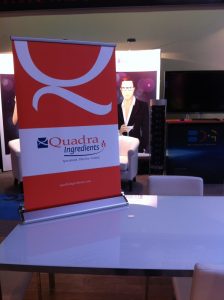 On the other hand, your graphics are front and center. Again, like a movie poster, you want to try to visually convey a message such as what your company is about, the big problem your product solves, or the sort of feeling, vibe and image your product is trying to inspire. Don't rely solely on your standard logo to carry the graphics – custom work will really pay off here.
In addition, try to color-coordinate your tabletop graphics with the rest of the display. Or, to make it really "pop" use brighter or even contrasting colors so it stands out even more from the environment. Either way, make the images as high-resolution as you can afford. If they are blurry or pixelated, it's going to look cheap.
Lighting Sets the Stage
Another great way to ensure your tabletop display stands out from the environment is with good lighting. A well-lit set of graphics and table will draw people in, and make it more clearly the center of attention. Use a framework, such as FabFrame, which makes it simple to attach point lights to highlight your central graphic. Consider also using overhead or stand lights to add more lighting to the table area, particularly if you're in a darker space.
Don't worry about the lights potentially looking "messy" or distracting from the display. They won't.  Most people won't even notice them directly.
Add A Professional Touch with Throw Fabric
You know how you can instantly tell if a person's pants are well-tailored based on how low the cuff hangs on their leg?  It's actually the same with tabletop displays. A relatively simple piece of fabric thrown over the table, draped to the floor, makes it look much more professional and "well tailored". Particularly if the legs and feet of the table aren't visible.
This also means you can "get away" with using as cheap a table as you like, since it's covered up.
Integrate Information Sources Nearby
It's generally not a good idea to clutter your table up with too many brochures and other printed materials – it has too much of a "high school science fair" vibe. Use some simple literature display stands flanking the tabletop display to hold anything intended to be taken away. However, you might think about integrating a tablet stand or two around the edges of the tabletop, particularly if you're using it for collecting contact info.
Extend Your Tabletop's Space with Retractable Banner Stands
Retractable banner stands are some of the most cost-effective and repurposable pieces you can add to an exhibition booth. By putting them either next to or parallel to your tabletop, you make it appear larger while also having more opportunities for graphics and branding.
Additionally, once you have a good setup of tabletop, display stands, and banner stands, you've got a basic layout that can easily be put into either larger or smaller configurations for future displays. All these materials are highly reusable.
Need more display layout tips? Contact the experts at Best Displays & Graphics!