This year has certainly been an unpredictable one due to the COVID-19 pandemic. However, as many go back to work and businesses reopen their doors, you might be wondering how you can wow attendees at your next event or trade show. Do you want to harness the latest in modern technology to make a one-of-a-kind trade show design? If so, then the team from Best Displays & Graphics is here to help.
Below, you'll find some of today's leading trade show booth design trends to help you wow guests at your next event!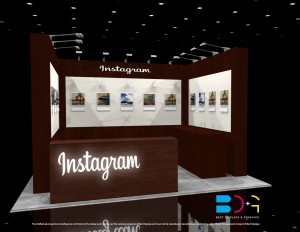 Create a Multi-Sensory Experience
One great way to entice trade show attendees is to give them something with sights, sounds, and more. Offering a multi-sensory experience at your trade show booth can really make yours stand out. Things like different forms of ambient lighting, textures and textiles, sound, and video installations, and even scent marketing are all ways to do something utterly unique that potential customers will appreciate.
Using Technology to Connect
In 2020, technology is going to be more important than ever before when it comes to trade shows. Many displays will be integrating apps like Twitter, Instagram, Snapchat, and more to give their attendees a more immersive experience. Digital displays and signage are also going to be another big component, so look to increase your technology offerings to keep up with the competition.
Invite Attendees in for a Little R&R
Turning your trade show booth display into a little home away from home for attendees is a great way to get their attention, as well as show current and potential clients how much you're committed to their well-being. Trade shows can be overwhelming for some, especially if people are on their feet all day, so why not provide them with a place to kick up their legs and relax for a few moments? Including things like lounge chairs and free phone-charging stations can make your booth one that will stand out.
New, Unique Materials
Using new, unique materials is another great trend we're seeing a lot of this year at trade shows. Gone are the days of those old, bulky plastic trade show booth displays. Nowadays, in 2020, people are getting inventive with materials, like metal surfaces that add a more sleek, futuristic appearance, and natural wood and earthy materials to create a sense of the outdoors. The use of organic materials can also be sustainable, another big trend that many trade booth designers are following this year, illustrating their commitment to the environment.
Large-Scale Digital SignagePiggybacking off the technology trend mentioned above, many booth designers this year are employing large-scale digital signage as a way to grab the attention of trade show attendees. They offer a wide range of options, blending colour and style, and offering a visual appeal that can easily highlight your brand. Things like LED video walls and touch screen displays can go a long way in keeping your booth busy all weekend long.
Go Big, or Go Home!
Want to really wow trade show attendees? The sky's the limit…ok, well maybe not the sky, but building up and out is one of the best ways to really catch the eye of trade show-goers. This year, many are building displays that are tall and sprawling that can be seen from the other end of the showroom floor. Don't have enough floor space to stretch out? Try building upwards by installing hanging signs or creating a multi-story trade show booth.
Immersive Technology
Nowadays, there are so many technological advances that enable trade show booth designers to offer a totally unique experience with their products. For example, want to give potential customers a feel for how things look on your showroom floor? Create a virtual reality experience where they can tour your showroom and try out different products. Auto manufacturers could offer a virtual test drive of their latest models; the possibilities are nearly endless!
Contact us for more trade show trends and social distancing signs & products!
If you want to keep your staff and trade show attendees safe this year, the team from Best Displays & Graphics offers a range of social distancing signs and products in addition to their modular trade show displays. Things like social distancing decals are a great way to help direct customers throughout your modular display.
We also offer graphic design services for those in need, as well as trade show installation and dismantling solutions, making it easy for you to set up and take down at your next trade show; let us handle it!
Contact Best Displays & Graphics online for more 2020 trends or call (905) 940-2378 to speak with our trusted representatives.