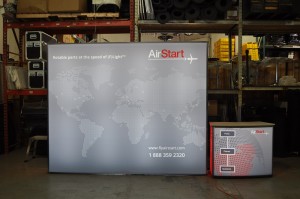 November 3, 2015 – Tension fabric displays are now becoming exceptionally popular across the trade show and business event marketplaces. These high class display products are helping both growing companies and established firms increase their brand recognition and appeal to a broad audience base during their business events. In this post, our trusted marketing experts will highlight the benefits of harnessing tension fabric displays.
Versatility
Tension fabric displays offer brands a greater degree of versatility compared with laminated panels. They allow organizations to vary their display design's opacity and texture. And they also allow brands to illuminate their displays through compatible backlighting products. This helps companies secure their branding originality within the trade show environment.
Lightweight
The lightweight feel of the tension fabric displays means that brands can cost-effectively use them at business events across the country. Instead of having to spend thousands of dollars shipping bulky displays, companies can now reduce their costs with lightweight materials that offer lasting resonance with event audiences.
Branding Flexibility
A great advantage of tension fabric displays is that the fabric panels can easily be swapped out from event-to-event. This means that companies promoting a broad range of products at events across the country can change their promotional materials to suit each event audience. It allows for a level of customization that few other systems can provide.
The team here at Best Displays & Graphics can help you capitalize on the use of tension fabric displays within your marketing campaigns. To discover more on these products and their functional advantages, contact our trusted team directly today!