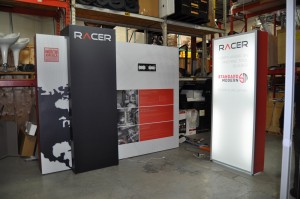 March 3, 2016 – FabFrame displays have become one of the leading choices for growing brands looking to make a lasting impression in their business events. Their lightweight quality and easy assembly is the ideal addition to any promotional campaign. But now business leaders are looking to use FabFrame products within their event marketplace. In this post, we'll provide our three tips for effectively integrating your FabFrame displays within your event marketing campaigns.
Use for Large-Scale Event Impressions
One of the leading challenges for growing companies is buying large, high quality displays cost-effectively. The FabFrame systems are designed harnessing power stretch fabric, which comprise 10 inches of fabric display that can cover a 20 inch stand. This means exhibit hosts can reduce their display costs while offering a large, powerful impression at their events.
Choose Backlighting to Maximize Engagement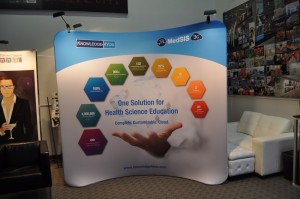 Event displays must be built for optimal impressions at the event venue. But it can be difficult for some companies to stand out with hundreds of brands competition for attention. The right lighting tool can help to maximize engagement on the show room floor. Choose lighting systems that highlight the unique quality of the fabric, and work directly with the FabFrame specialist to select a system that blends well with the fabric material.
Consider Transportation Between Events
For companies taking their FabFrame displays across the country to multiple events, it's important to carefully consider all transportation issues. The FabFrame systems can be easily broken down into small storage cases. Business owners should consider how to transport these cases carefully from event to event to ensure safe arrival in ideal promotional condition.
The team at Best Displays & Graphics has many years' experience working with FabFrame display products. To learn more on the displays and their uses, speak with our team today at 905-940-2378.