July 23, 2015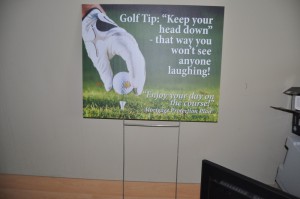 To make their brands more appealing at outdoor events this summer, many companies are now utilizing high quality golf signage. Golf signs are still rarely used within the marketing field and brands can leverage this unique element within their marketing to bring attention to their products and services at events. Within this blog post, the team at Best Displays & Graphics highlight the leading benefits of utilizing golf signs for brand promotion.
Durability
One of the leading requirements of any marketing materials is product durability. The durability of a marketing product will determine the value it brings to the brand over several campaigns. Companies don't want to risk losing their investment after just one event and so they must select highly durable golf signs that offer exceptional protection against weathering and other outdoor elements. The products offered through Best Displays & Graphics have each been tested to offer outstanding performance in a broad range of environments.
Simple Assembly
In addition to being reusable, the golf signs from Best Displays & Graphics are also easy to put together on-site. There are only a few steps involved in connecting the required pieces together and this means that event reps can minimize the time required to set up and take down the golf signs and spend more time creating new business for the company. And because each of the products is lightweight, event reps can easily transport the golf signs from event to event without having to worry about injury. It's the type of captivating branding all growing brands require.
The team at Best Displays & Graphics has a comprehensive understanding on the needs of the modern small business owner. To learn more on the company and our range of display flag options, contact our offices directly.