September 24, 2015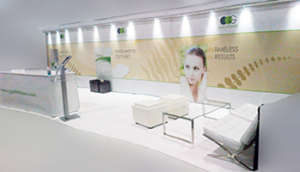 If you're not familiar with Best Display & Graphics' products, then you've probably never heard of their Blueprint and Fabframe displays. Each year, thousands upon thousands of people attend tradeshows all over the world and each year countless people experience problems during the day of the show. Best Displays & Graphics was first established to help exhibitors make astounding displays that will attract trade show attendees. Since first establishing itself as a graphic design/display-making business, Best Displays & Graphics has developed a reputation across Canada as the fastest-growing trade show company in Canada. This year, they are encouraging sponsors to consider using their highest-quality products: The Blueprint and The Fabframe.
Like The Blueprint, The Fabframe is 100% made in Toronto, Ontario, Canada. The major benefit of these display solutions is that they have the potential to create displays of any shape and size! If you're looking for a display that will leave a positive impression on your booth attendees, the Fabframe or the Blueprint may be the right product for you.
The Fabframe
The Fabframe features:
High-quality 4-way power stretch tension fabric graphics
The option of customizable back-lighting features
Different size options (10', 10' that convert to 20', 20', and 30'+)
Sturdiness/reliability
Other benefits of the Fabframe include:
Easy tool-free assembly and disassembly
Versatility
A simple, yet attractive, display
Environmentally friend
Rich digital graphics
Cost-effective
Lightweight
And more!
The Blueprint
The Blueprint, on the other hand, offers the following features:
A fully modular system that can be adjusted from anywhere between 40' to 10'
Graphics that are printed on high-quality 30pt styrene
Graphics are laminated with a 5mil clear, scratch-resistant protectant
Backlighting, shelving, and auto as well as video options
Benefits of the Blueprint include everything from:
Stress-free assembly/disassembly without the use of any tools
A lifetime warranty to ensure that your product lasts a long, long time and can be used at many conferences
Portability – businesses can save on shipping and storage expenses
Affordability
And more
If you're thinking about making your display with the Fabframe or Blueprint display, consider contacting Best Displays & Graphics. Best Displays & Graphics staff have 30+ years of experience and can help you with all of your specific trade show needs. Not only will you receive the best-looking product that money can buy, but you will also gain access to all of Best Displays & Graphics turn-key solutions. We are your one-stop source for all of your display and exhibiting needs.
…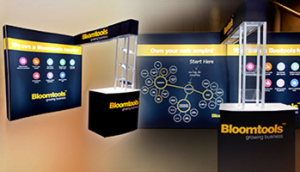 At Best Displays & Graphics, we take care of all your trade show needs to make sure you don't have to. We specialize in designing all kinds of graphics for booths and displays and have many products that our customers are welcome to choose from including pop-up displays, banner stands, flag banners, literature racks, flooring, kiosks, tablecloths, and drug identification kits. We can also help you with construction, installing, dismantling, furniture rental, internet, booth repair, storage, shipping, and more.
Contact the professionals at Best Displays & Graphics today to see for yourself why companies continue to come back to use our trade show services time and time again. If you would like to learn more about how Best Displays & Graphics can help you properly plan your next trade show, contact us today by email at sales@bestdisplays.com or over the phone at 905 940 2378 or directly at our Markham office and showroom address. Information about all of Best Displays & Graphics' products and services can be accessed by visiting our website at http://www.bestdisplays.com. Read our blog or view our gallery to see some of the interesting projects that we have completed in the past. In order to stay on track, download our complete checklist today.