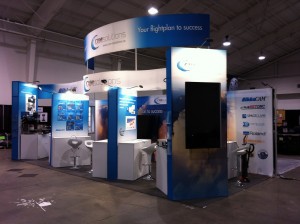 April 26, 2016 – The blueprint and fabframe displays from Best Displays & Graphics are an easy, affordable way to stand out on the trade show floor with a completely customized, and brand optimized booth or display. The blueprint and fabframe displays offers customers 7 key benefits.
Design Flexibility
Best Displays & Graphics blueprint and fabframe displays are completely customizable to meet any brand's needs and desires, including incorporating storage areas into the booth. Displays can be either expanded or reduced for future use, allowing for greater location flexibility throughout the trade show seasons. Installation requires few tools to complete, reducing the need for extended setup times, which allows for more time to educate staff and increase their selling potential.

Reduced Operating Costs
Thanks to the simple installation and dismantling of Best Displays & Graphics' fabframe booths, blueprint displays take less time to set up, which reduces operating costs. Each display comes with a lifetime warranty on the hardware, which prevents the need for shelling out repair fees. The fabric graphics provide easy washing in a standard machine so expensive cleaning maintenance doesn't become an issue. When not in use, each lightweight display is disassembled into easy to store and ship dimensions. This feature of the booths allows for lower storage fees and shipping costs.
Environmentally Friendly
At Best Display & Graphics, we put the environment first, and do our best be as eco-friendly as possible when it comes to our products. To help accomplish this, Eco-Solvent inks are used during the eco-friendly printing processes. Fabframe and blueprint booths and displays are constructed using recycled and recyclable materials. Back lighting and other accents use LED lights to minimize energy consumption.
In recent years, more and more customers have begun to place greater importance on businesses providing environmentally friendly solutions, and Best Displays & Graphics has risen to the challenge through innovative technologies and environmentally friendly business practices.
Branding Opportunities
The high quality, attention grabbing graphics at Best Display & Graphics provide eye catching branding opportunities throughout the entire display area. The large format vinyl or tension fabric graphics are highly saturated for lasting beauty. Using mindfully placed backlighting, these graphics can stand out amongst the crowded trade show floor.
Saturate your area with eye catching flags, banners, and signs. Logo's can also be printed on event tents, and table throws for additional brand exposure. Branding remains consistent regardless of how large or small the configuration is and greater flexibility is provided through multiple graphic placement options.
Innovative Technologies
Using the latest in structural technologies, and graphic and lighting options, these sleek and modern displays provide easily accessible booths with organic flow and an eye catching attractiveness that draws in potential customers from across the trade show floor. Due to the customizable nature of the architectural elements, your booth from Best Displays & Graphics will stand out from the crowd. The team at Best Displays & Graphics work hard to stay on the forefront of new processes and technologies so they can offer clients the highest quality service possible.
Optimized Traffic Flow
When the traffic in a display can move organically, customers are less likely for forgo that booth. The open concept of Best Displays & Graphics fabframe and blueprint displays pull in customers and smoothly moves them through the display, and allows for easy access from all adjacent aisle ways. Depending on each businesses' unique needs, architectural elements can be used to create natural feeling meeting areas or product display spaces. When used with strategically placed graphic design elements these booths allow for maximum brand exposure in an easy to navigate area.
High Quality and Durability
Every display at Best Displays & Graphics is 100% Canadian made at their facility in Markham, ON, using anodized aluminum extrusions that are extremely durable and attractive. These high quality materials ensure that each display will remain structurally sound with minimum maintenance. The four-way power-stretch tension fabric, for example, is made from a heavy-duty poplin polyester that is both wrinkle free and machine-washable. Best Display & Graphics vinyl graphics are mounted on 30pt styrene and are laminated with a clear, scratch resistant coating to ensure durability and longevity. To extend the quality and lifetime of the images, graphics are highly saturated and provide maximum visual effects.
To learn more about how blueprint and fabframe displays can help your product or service stand out in the crowded trade show floor, or to request your free quote, please contact the experts at Best Displays & Graphics today!