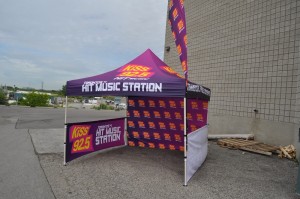 April 12, 2016 – As the weather warms up, outdoor trade shows become ever more prevalent as they offer a much welcome exchange for the stuffy indoor areas of the winter season. Attending these outdoor trade shows may be a pleasant break from the traditional locations, they are not however, without their drawbacks. Sun glare, wind, and unpredictable spring showers can all wreak havoc on display booths unless they have been properly prepared. Here are a few things you can do to get the most out of your outdoor trade show this spring by choosing Best Displays & Graphics.
Offer Sun Protection
The sun can cause issues in two main ways: risk of sun burns and decreased visibility due to glare. There are a couple easy ways you can provide protection from the sun and its glare.
Umbrella's: Placing a few large umbrellas' around your event space allows you to move them throughout the day to provide protection where and when it's needed.
Event Tents: Erect them over your display booth for a more hands off approach to sun protection and reduced glare. Event tents, such as the ones at Best Displays & Graphics, can be designed to blend seamlessly into the rest of the display, providing additional brand exposure.  The weather-resistant material and high quality graphics can last up to seven years, making them ideal long-term solutions to sun protection and glare reduction at outdoor trades shows.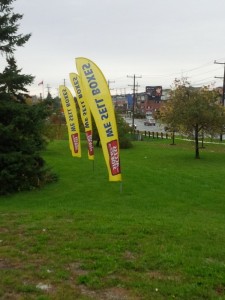 Grab Customer's Attention
One way to get the most out of outdoor locations, is to take advantage of their unique characteristics, such as the wind.  Best Displays & Graphics' flags are a great way to harness the wind and make it work for you. When placed at the front of your space, they can draw attention from across the trade show area, and pull potential customers your way.
At Best Displays & Graphics, they offer both one-sided and doubled-sided flags made from weather-resistant material that is designed to grab your customers' attention as they flap in the wind. Golf signs, which are available in a number of sizes and shapes, are another way to draw attention to your brand with high quality graphics.
Using an event tent is a great way to help expose your brand from a distance, while offering protection against the pitfalls of outdoor events, such as the unexpected spring showers.
Keep Your Materials Secured Against the Wind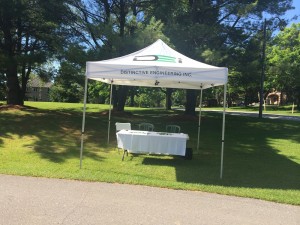 A sudden gust of wind can disrupt a presentation and potentially cost you the sale as you scramble to collect loose papers, flimsy table signs and throws, and tipped displays. Best Displays & Graphics has several products designed to prevent wind from messing up your trade show display. Please contact Best Displays & Graphics for more information on the types and uses of outdoor display products.
Table Throws – These take advantage of additional brand exposure through high quality printed graphics, and can be ordered as a fitted throw to hug the table and prevent the wind from catching it.
Sign Weights – Water bags designed to rest over the feet of signs and banners to hold them in place in the event of a sudden gust or sustained winds.
Tent Stakes – When using tents, pavilions, or even umbrellas, it is important to make sure they are properly secured with the correct number and style of stakes to prevent tipping and potential injury.
About Best Displays & Graphics
For over 30 years, Best Displays & Graphics has built up the reputation as display experts and will strive to do whatever it takes to ensure their customer's have a successful trade show, including providing:
Innovative and Turn Key Solutions
In-house Booth Modifications
Lifetime Warranties
Rush Order Graphic Printing
Lease to Own Opportunities
The experienced and dedicated team at Best Displays & Graphics have the skills needed to take a concept and make it into a beautiful, eye catching, one of a kind trade show display that will last season after season. With dozens of options to pick from, each display is completely customizable to your individual needs, desires, and brand. From concept, to construction, Best Displays & Graphics offers the "BEST" display solutions regardless to scope, budget, or timeline.
To learn more about how to get the most out of outdoor trade shows this spring, or to request a quote for your next trade show display or booth, please contact the knowledgeable staff at Best Displays & Graphics.