November 2, 2017 — Here at Best Displays & Graphics, we love seeing familiar faces walk into our offices, so we were more than thrilled when we saw representatives from the Canadian branch of Wenglor GmbH show up.  We'd worked with them a couple years ago, making a booth and set of display items for an appearance they were making at the 2015 Canadian Manufacturing Technology Show (CMTS).
Sure enough, they were making plans to attend the 2017 CMTS show, September 25-28, and wanted to make use of our services yet again. This was a terrific opportunity for us, since Wenglor is a major global innovator in the field of non-contact sensors – we got great exposure, and we got to work with a highly innovative company that already knew how to leverage trade shows well.
These sorts of collaborations are truly a win-win all around.  Their booth vision, coupled with our skill and turnkey services, created yet another successful appearance at CMTS.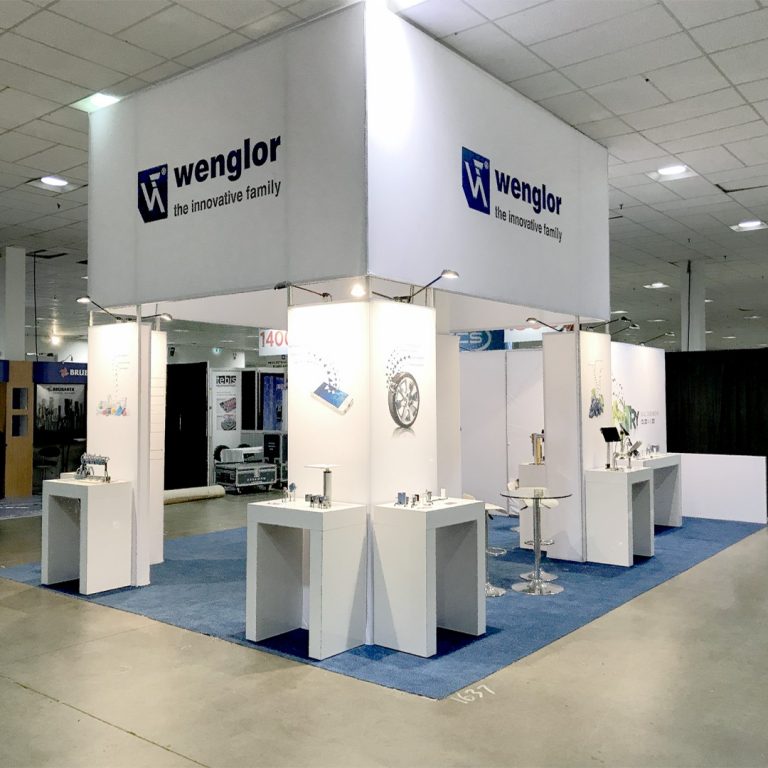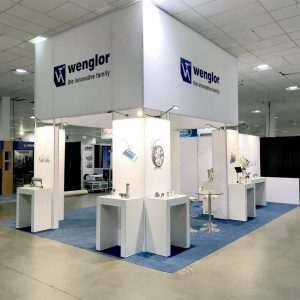 How Best Displays & Graphics Built another Great Showpiece for Wenglor
This trade show booth was truly a collaborative effort.  We were given blueprints for the basic design, which had originated in their corporate HQ back in Germany.  However, of course, blueprints are just the starting point.  Their Canadian representatives were relying on our expertise to flesh them out into something truly special. So that's just what we did.
As you can see from the picture, this was quite the impressive display!  Much of that is due to the custom gloss-white stands we created to go onto the four corners, complemented by our own in-house printing work on the fabric graphics.  We went with fabric so we could provide seamless clean lines throughout the booth, making it feel like a single cohesive space.  All this was complemented by spotlighting, intended to draw direct attention to the graphics.  As we've mentioned before, great lighting is one of our "secret weapons" for creating eye-catching displays, and this was certainly no exception.
Aside from the custom corner pieces, the majority of the booth was constructed from T3 FabFrame pieces – one of our go-to solutions for flexible, lightweight, and easily-transported building materials.
We also loved the overall design.  The outward-facing corner pieces drew in interested passers-by, who could then be invited into the spacious central area for more intimate conversations or a sit-down chat.  It's extremely clever use of space, and one we may borrow in the future for new booths to come.
All in all, the intention – and the execution – was to create a "high end" feel to complement their high-end innovative products… but still on a reasonable budget.  This is exactly the sort of challenge we excel at, and Wenglor was quite happy as well!
Leveraging Best Displays' Turnkey Services
Beyond our existing relationship, the other big reason that Wenglor returned to us is for our wide range of trade show logistics and support services.
We didn't just build the booth, create original set pieces, and print out all the graphics – we handled transportation, setup, and teardown as well.
This is one of the reasons working with Best Displays & Graphics can be such a good value for our customers.  Because of our long experience in the industry, and our knowledge of trade show logistics, we can almost always arrive at logistical solutions which are significantly less expensive than what a client would be paying if they wanted to do everything themselves. Plus, of course, when we handle the logistics that takes all the stress off the client.
The Wenglor Canada reps were able to focus 100% on their presentations and their interactions with visitors, because we were taking care of all the heavy lifting.
 Turning One-Time Customers into Long-Time Clients
We have very little doubt that Wenglor Canada will be coming back whenever they need their next set of display materials.  As they said in their post-show survey:
 "Best Displays designed the whole plan according [to instructions] and made it happen! They shipped all the products, installed the display so it was ready for our show, etc.  Our company would definitely recommend Best Displays to provide quality service and cater to any company's request and requirements."
If you have a trade show coming up, and want to make the best possible impressive, Best Displays & Graphics is here with our entire range of services. From booth conception and building, to installation and teardown, we can help make your next public appearance a tremendous success.
Contact us today for a full consultation on your trade show needs!