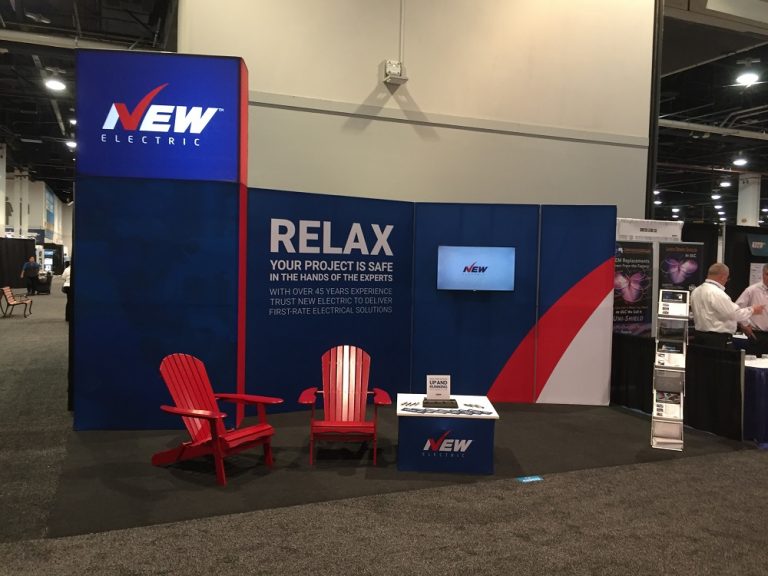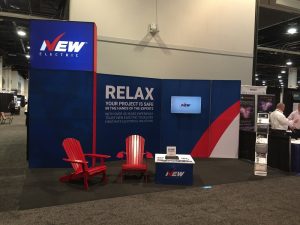 February 1, 2017 – Sometimes a project is interesting because it is simple.  
When New Electric – an electrical contractor with offices in Canada and the States – contacted us about creating a booth for their appearance in Las Vegas last November, the challenge was a common one:  They wanted a nice-looking display, but simply didn't have too much money to put into it.  Vegas floor space is pricey, so they didn't have the budget to do an elaborate display.
So how could we make the most of a limited budget and limited floor space?  The result was, in our opinion, one of our most striking designs in awhile.  It wasn't flashy, but its sheer minimalism actually made it stand out amongst the bustle of the show floor and become an inviting space.
And, of course, that's one of the great things about working here at Best Displays & Graphics – every day brings a new challenge.  
Let's take a look.
Effortless Minimalism:  The New Electric Booth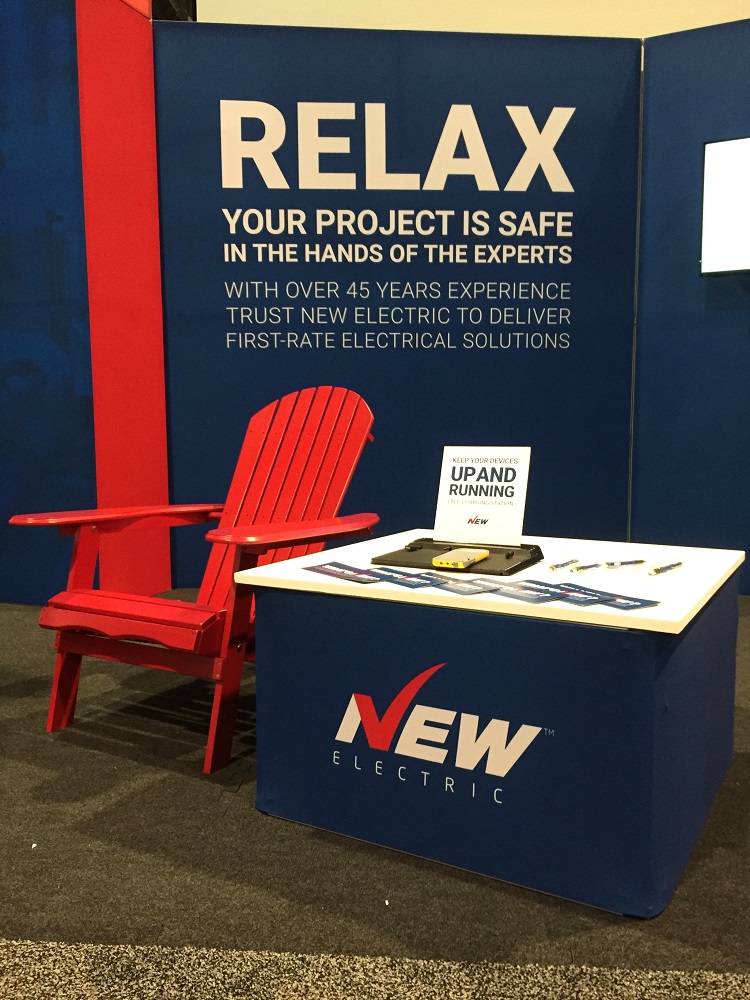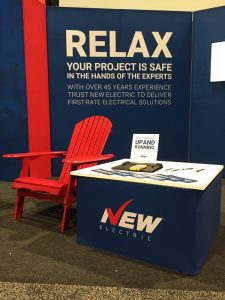 As you can see, there's really not much to the booth.  
The primary construction was the back wall, which we made almost entirely out of T3 FabFrame pieces.  We love FabFrame, and it's one of our go-to construction elements.  It's easy to work with, effortlessly modular, and can be used to build set pieces of just about any size or shape.
FabFrame made it simple to get that "W" shape with very little work, as well as allowing the left side to "pop out" into a full 3D structure while still connecting directly to the rest of the back wall.
We wanted it to have a little extra flair, so we added the lightbox in the top left, specifically to illuminate the New Electric logo.  FabFrame is surprisingly strong, given how lightweight the components are, and can easily support lighting solutions and even video displays!  It's a remarkably versatile building tool for creating low-cost/high-impact displays.
In this case, the video display towards the right was running a loop of promotional videos for New Electric, with frequent appearances of their logo and the word "Relax."  Because relaxing was, of course, the major theme for the booth.
We were able to source comfy-looking rental deck chairs at a low cost, while still matching them to New Electric's color scheme.  The overall effect was to create a trade show display that invited passers-by to stop in and just take it easy for a moment.  The lack of too many other design elements really reinforced that.
The Little Details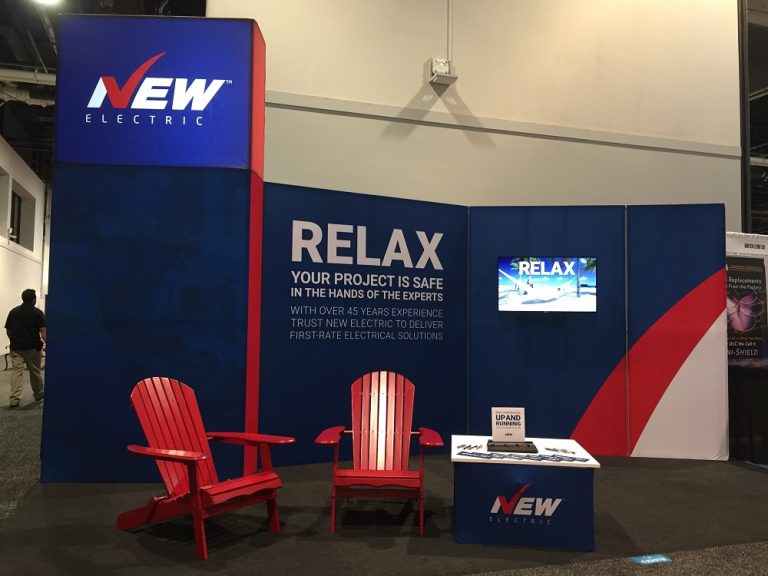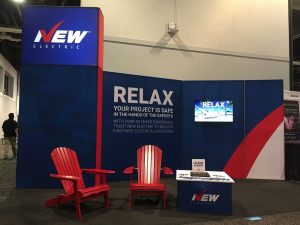 We didn't want New Electric to be without a place to put their literature, so off to the side on the far right (balancing out the lightbox on the top-left) was a simple literature rack.  It was placed that far out from the center simply to help have as much inviting space within the display as possible.
It's also hard to see in the pictures, but we included a small cell phone charging station on the desk.  Visitors were fully welcome to stop by to recharge their phones and take a load off on the chairs!  As a gimmick, it also reinforced their core business – providing electrical services and keeping all devices running.
Finally, it's worth noting how incredibly simple the display is to transport and set up.  The entire display (aside from the furniture, which was sourced locally to cut costs) fit into two shipping cases, and only needed two people to put it together.  New Electric should be able to keep using this design for a long time!
Another Well-Satisfied Client
All in all, we were completely happy with the final design, and so was our contact at New Electric.  In the end, they said:
"We chose to work with BD+G because they promised to deliver exactly what we were looking for in both quality and design, within budget and on time. BD+G came across as very professional, demonstrating a clear understanding of visual design principles and trade show expertise.
What I liked best about working with BD+G was how much could get done with a single conversation. They asked pertinent questions, warned of typical trade show pitfalls to avoid and were able to apply my requests, demands and changes to create a finished product that was precisely what I had in mind."
Whether you have a trade show project in mind that's big, or one which needs to make the most of a small budget, Best Displays & Graphics can make it happen.  Our turnkey "one-stop-shop" approach and extensive experience make us an unparalleled value.