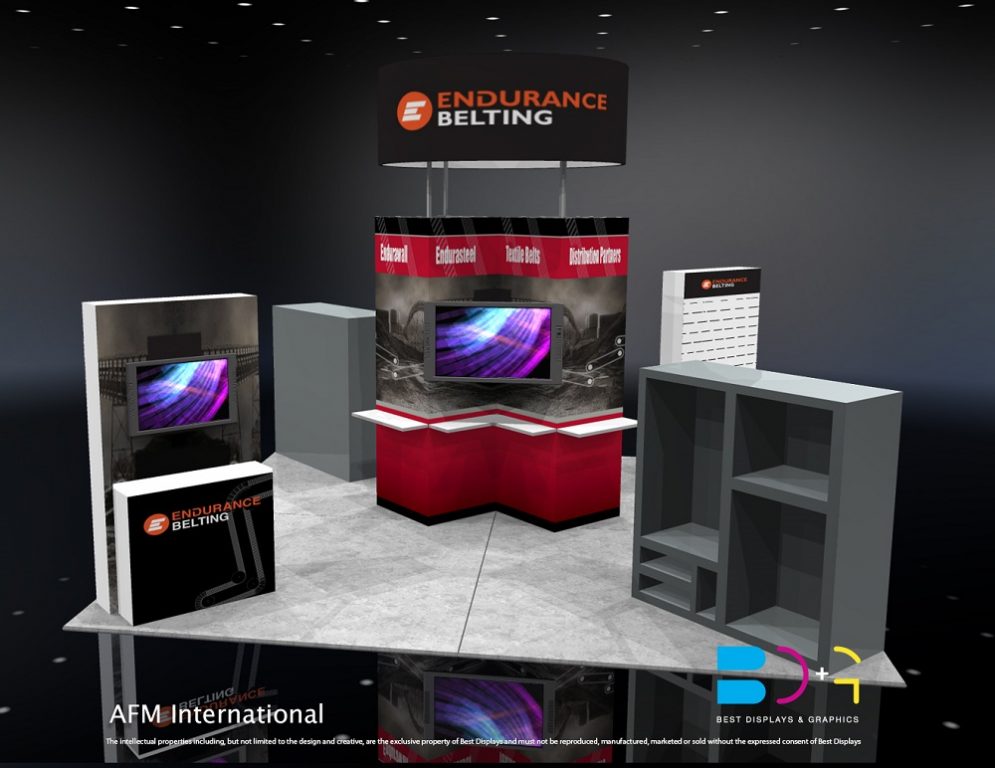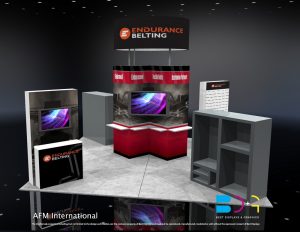 September 13, 2016 – One of the toughest problems traditionally associated with building in three dimensions is that you would be working off of two-dimensional plans and blueprints. Whether you're talking about a trade show display or a building a property, this can often make it very difficult to visualize what the space will actually look like when it's constructed.
Luckily, advances in 3D rendering technology have made many of these problems obsolete. It's now entirely possible to build your exposition booth in a CAD program, creating an extremely nice-looking virtual model of the entire display before a single physical item is manufactured. In the best of cases, the program may have an interactive camera which allows simulated walk-arounds, to get an idea of the space ahead of time.
Not every trade show design company offers this service, but when you partner with one who does renderings, it can greatly enhance your booth as well as save you money in the long run!
How a Graphic Rendering of Your Display Improves Results
See Your Exact Vision Realized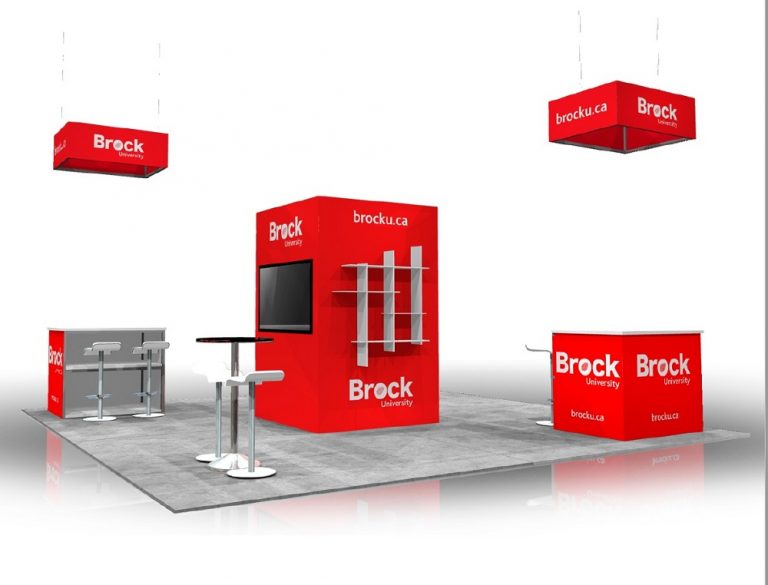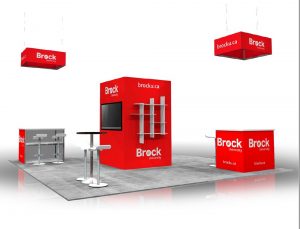 Do you have a specific vision or idea for your display, but you're not 100% certain that what's in your head would translate into a workable real-world space? That's exactly the kind of situation where a pre-rendered 3D display mock-up is so useful. Graphic designers can show exactly what it would look like if constructed, allowing you to know ahead of time whether it's actually a good idea.
Try Out Several Designs Ahead of Time
On the other hand, do you only have a vague idea what you want, and aren't sure what the implementation should look like? It's relatively easy for a graphic design company to throw together a few primitive mock-ups of potential booth designs, allowing you to pick between ideas -or even mix-and-match- to create a great display. Rendering can be an amazing brainstorming tool, starting with a loose set of concepts and refining them into a fully-realized coherent vision,
Refine Your Design Before Money Is Spent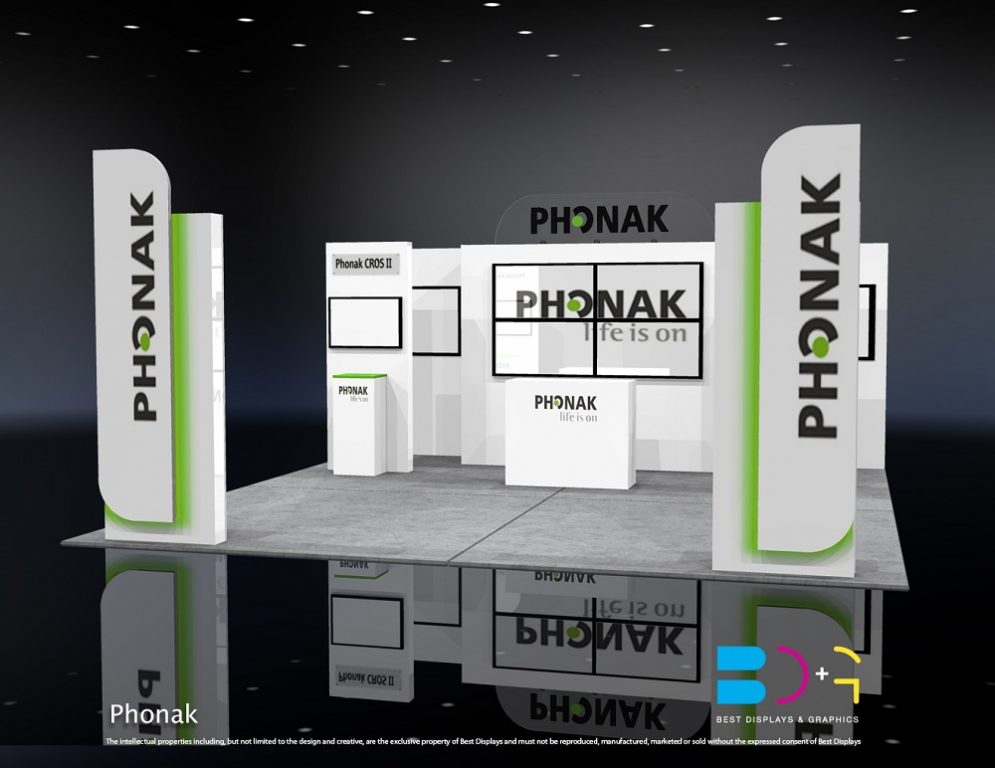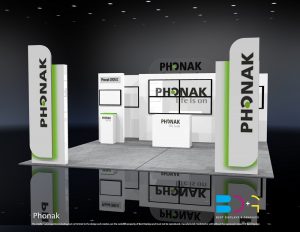 One of the big risks of designing a trade show display straight from blueprints is you never know exactly what the end result is going to look like until it's built. Did you forget to include enough storage space? Did you accidentally exceed the height maximums for the venue? Does it suddenly become clear you didn't leave enough room for visitors?
A 3D rendering mostly avoids these issues. You can use the model as a basis to double-check every element -including regulations set by the venue- before committing real cash for real merchandise.
Preview The Visitor Experience
If the CAD software being used is robust enough, you could be in for a real treat – the ability to virtually "walk around" your booth before anything physical is constructed, to get a real idea what the experience would be like for a visitor walking around it for the first time.
Is there enough walking space? Are there enough interactive attractions? Are prominent features like large monitors fully visible from outside the booth? Are there 'choke points' where a crowd could potentially block access to the booth? Does the color scheme look as nice in 3D as it sounded when you were laying out the style sheet?
There's never been a better way to ensure your visitor experience is exactly right beforehand.
Discover Space for More Elements
If you've put together the 3D rendering and suddenly you realize the booth is feeling a bit sparse, you've got plenty of time to update the plans. Elements of the booth can be moved around in virtual space with a couple mouse clicks and swipes. You can play around with the interior design, rearranging furniture and kiosks to create more space inside the booth which fit extra features.
Again, this is vastly cheaper and easier to do in a 3D mock-up than it would be once you started hauling physical hardware around the trade show floor.
Get Your Design Right, the First Time
We love the rendering process here at Best Displays & Graphics. It allows us to explore more possibilities in booth designs, while ensuring every display layout is perfect before asking a client to invest real money in its construction.
If you'd like to learn more about how rendering results in better trade show displays, please contact us for more information!