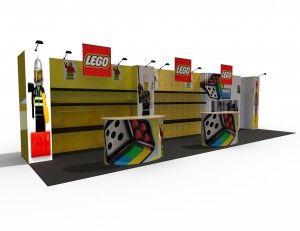 The well-known LEGO toys have marked generations of kids and 'older' kids. The construction toys have certainly been one of the most popular brands for decades and continue to have a great influence on young ones all around the globe. We are incredibly proud of being selected (through one of our agents, ACT Displays) to create a Custom Portable Display for LEGO. The display will be mainly used for exhibitions and other events of that type. For this order, we will be using our Blueprint solution, a versatile and reliable solution for Custom Portable Displays of all styles and sizes.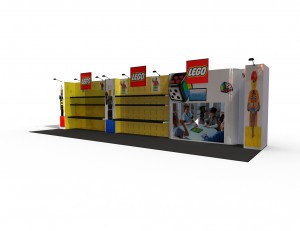 The Lego Group was formed in Denmark, with founder Ole Kirk Christiansen, in 1934. Christiansen was a carpenter – the whole story began with wooden toys in the early 1930's, then, the company expanded to plastic toys by 1940. The plastic toys unfortunately did not have a good impact on sales at that point. In 1949, LEGO started producing interlocking bricks, although still without any noticeable success, until the modernized interlocking bricks went on the market in 1958. These bricks are now universal – every piece can be assembled with another one coming from a different set. Your grandparents LEGO blocks can still be assembled with the ones bought in stores today, which creates infinite possibilities for LEGO builders! Since the early years, LEGO has manufactured many themes and styles of construction: pirate boats, spaceships, cities, robots, dinosaurs, cars, castles and so much more.
With such a prosperous history and worldwide reputation, LEGO is one of the most popular brands of toys for all ages – we, at Best Displays, are honored to be working with such a reputable name to create one of our quality Custom Portable Displays. As mentioned above, in order to offer them the best solution possible for their new display, we have decided to go with our Blueprint displays. The Blueprint displays are designed specifically for exhibit and tradeshows and offer great versatility and configuration possibilities. The LEGO display, following our Blueprint standards, will be made out of square aluminum tubes and connectors. The final design will feature the recognizable LEGO logo as well as pictures of LEGO characters and the background of the display will give the impression to be made out of LEGO blocks. We are hoping to be able to transmit their glorious history and market the LEGO image in our Custom Portable Display by representing the brand and image of LEGO as accurately as possible.
Because LEGO blocks and toys have influenced more than one of us at Best Displays, we are feeling very proud to have the chance to use our Blueprint solution to create a Custom Portable Display for this incomparable brand that has entertained kids and adults for generations. Our entire team is currently working very hard to make this display one of our best works to date and take pride in knowing that our display will give justice to the important reputation following the name LEGO.