July 9, 2015
The end goal for companies attending industry events is to capture the attention of interested customers at the venue. But without engaging materials it can be difficult to capture the attention of event attendees when so many other brands are competing for the spotlight. Now, Best Displays & Graphics is inviting clients to review the benefits that their flags can bring to tradeshow event campaigns.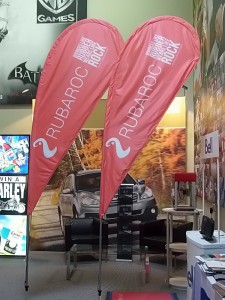 Flexible Display Options
As a leader within the marketplace, Best Displays & Graphics offers clients a high level of flexibility in selecting their display products. The company's flags can be designed to be either single-sided or double-sided, to suit unique event marketing demands. In addition, the Best Displays flags can either be used indoors or outdoors. Their indoor flags are designed with a cross stand to keep the flag looking its peak best throughout an indoor event, while their outdoor flags are designed with aluminum alloy and fiberglass hardware to ensure optimal durability against the impact of the weather.
Easy to Transport
The lightweight features of the company's flags means they can be easily transported across the country for growing businesses conducting nationwide marketing campaigns. This is a critical benefit for many growing firms as it allows companies to consolidate the cost of shipping their marketing materials to the event venue and means that event reps can simply transport the product themselves, ensuring the flags are protected throughout their journey.
Simple Assembly
Each flag offered through Best Displays can be set-up and dismantled in mere minutes. This prevents event reps from having to take time away from talking with potential customers. The company's team will help all clients understand the process from setting up and taking down the flags so they can complete the process quickly.
The display flags from Best Displays & Graphics bring clear value to promotional campaigns. To learn more on the benefits offered by these products, speak with the company's experts directly today!