Event tents are a critical aspect of your outdoor marketing events. They help you bring in more attendees to your display and provide you the ideal promotional environment for showcasing your brand. Many companies struggle with the process of choosing event tents for their campaigns. To make this task a little easier, we've put together a guide to help.
Here are some tips for helping you find and choose quality event tents for your next trade show or event.
First, consider your budget
Your budget should be carefully considered when evaluating event tents. For example, you might consider increasing your budget to include tents that can be integrated into your campaigns throughout the year. You might also consider multiple tents for a range of marketing objectives. For example, some tent systems offer greater value for product displays, while other tents are designed as meeting spaces to welcome customers and explore new business relationships.
Review your marketing objectives
Make sure your tent matches your marketing objectives and goals. What message are you trying to convey to the trade show audience? How will you explore this messaging and what would be your ideal result from your campaign? Make sure the tent is designed with these objectives as the leading consideration throughout. For example, if your goal is to introduce your company to new buyers, you might add updated branding in high-visibility locations throughout the tent. While, if you're promoting a new product, you might allocate more resources to demonstration areas, and displays that showcase product benefits.
Choose the right style of printing for your tent graphics
Tent graphics should be printed with an understanding of what the final product and print will look like. For example, full dye-sub printing allows you to print directly into the fabric for a direct marketing approach. While thermal imprint services allow you to imprint onto a solid colour background over structural areas, such as peaks and valances in the tent. Working with our design experts at Best Displays & Graphics, you can select a graphic style that suits your brand.
Add accessories that complete your tent
Capitalize on the full range of accessories to finalize your tent design. You can use flags to capture the attention of arriving guests at your summer events, for example. Or you might consider adding full or half walls within the tent for added marketing opportunities.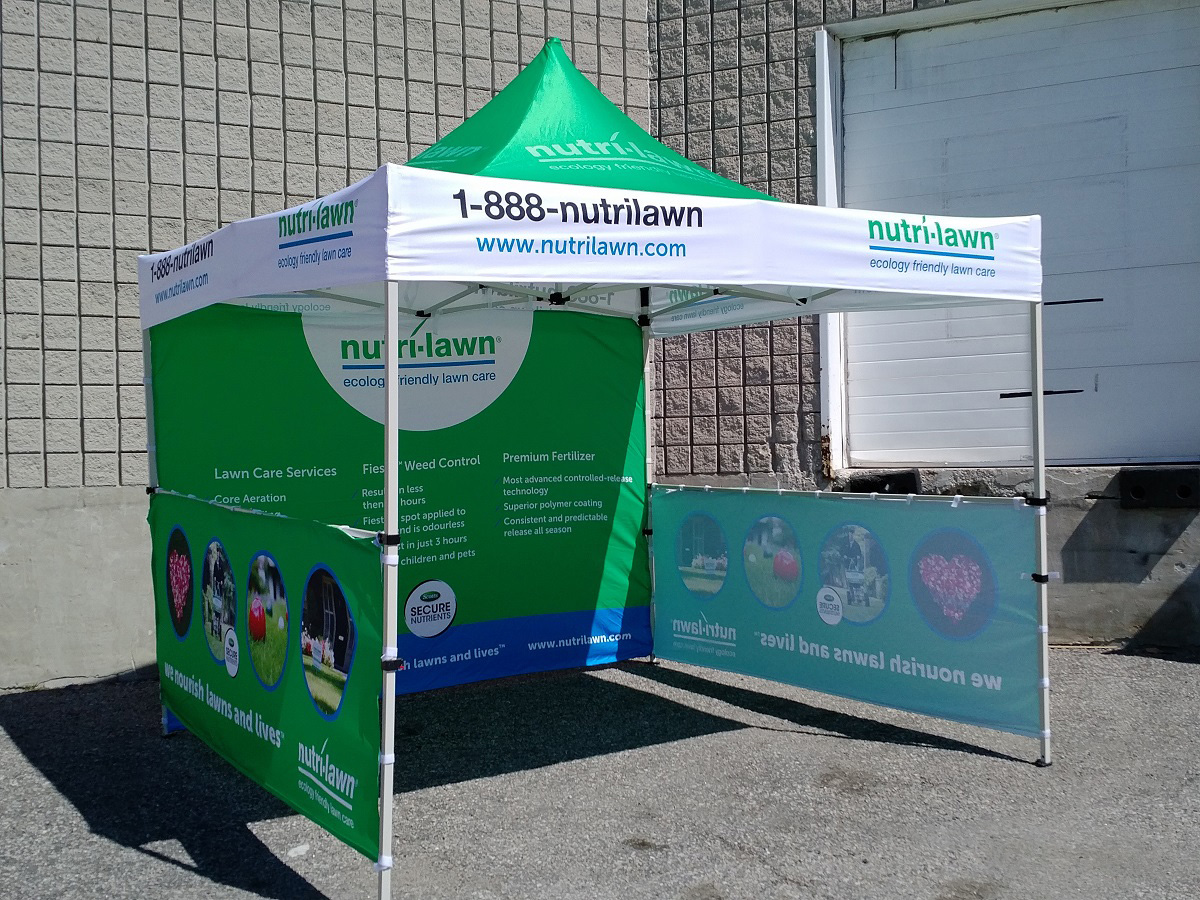 Let Best Displays & Graphics Help
Our trusted team at Best Displays & Graphics has decades of experience in the trade show display industry and we can help you design and build unparalleled tents for your summer marketing events. To discover more about our full range of options, contact us today.