Tradeshow flags are great tools for companies to harness in appealing to a wide audience. They can showcase company branding at a product unveiling. They can also be used to display company contact information at trade show events and other corporate functions. However, it's important for business owners to understand how to select the best trade show flags for their unique marketing requirements. In this post, we'll highlight 3 tips for choosing tradeshow flags.
Teardrop Flags Ideal for the Beginner Tradeshow Host
For companies hosting a tradeshow display for the first time, teardrop flags can offer the requisite balance of ease-of-use and durable performance. One of the leading benefits of teardrop flags is that they are easy to set up and can be eye-catching when chosen as part of a full trade show display design.  An additional benefit is the unique shape helps to keep the message simple and stand out on the trade show floor.
Match Flag Branding with Trade Show Display Design
It is important tradeshow flags are created in order to match the design of the display. The branding can then form part of a unified appeal that highlights the brand's professionalism and leading class design aesthetics.
Consider Storage Options Before Purchasing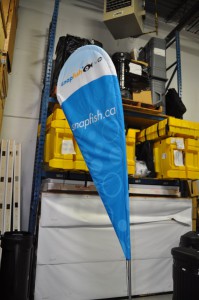 When buying tradeshow flags, it's imperative for business owners to review the available storage options for the product before they complete the purchase. This can ensure all stakeholders understand the storage requirements for the product and can help the business owner include storage pricing within their budget.
Tradeshow flags can help brands captivate large audiences at their tradeshow events. But selecting the ideal product takes time. To learn more on the product selection process, speak with our trusted experts directly.