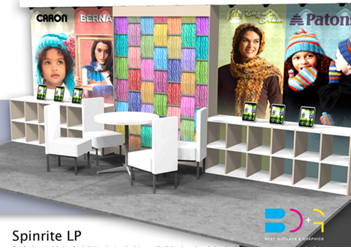 January 8, 2015 – It's the new year, and on top of your resolutions list (if you are a tradeshow marketer) is planning for 2016 events and shows. With everything that needs to be done for the festivities, planning your next, upcoming conference or trade show is at the top of your to-do pile.
At Best Displays & Graphics, we care about reducing your stress levels which is why we are committed to helping you with every aspect of your trade show. This year, consider taking it easy; hire a professional company to help you out along the way. We suggest choosing our company for any of our services, including installation services.
The Benefits of Hiring the Best Display & Graphics' Professional Install Team at Your Next Conference
There are numerous benefits to using a professional install team such as the following:
It Saves You Time & Resources
There is nothing more important than your time and hiring a team to install and dismantle your booth can save you both time and resources.
It Ensures Your Display is set up Correctly & Undamaged
Often times when you are in a hurry or you have a new employee setting up your display, damages can occur. While this is not really anyone's fault, there are certain measures that can be taken. A professional installation company like Best Display & Graphics will not only ensure that your booth is not only set up correctly but that it remains undamaged for the entire show and many other shows to come. What's more, is that at Best Display & Graphics we can also store your display and graphics for as long as you need (and we will make sure they stay in mint condition for your next show).
Our Team Can Make Quick, On-Site Repairs if Necessary
At a trade show, a small disaster can strike at any moment. Fortunately, the team at Best Display & Graphics can help you prevent everything from falling apart. Moreover, our install team can make a quick on-site repair to prevent any major emergencies from happening. In doing so, you can feel comfortable ushering interested passersby to your booth without worry.
A Professional Install Team Can Save Your Business Money
Furthermore, hiring a professional install team like Best Display & Graphics can even save your company money! How? Well, unlike show management (who work for the venue), a company like Best Displays & Graphics will save you up to 50% on installation costs.
In 2016; don't worry yourself with trade show planning. Instead, focus on the more important things in life: family, friends, and good times. Contact the team at Best Displays & Graphics for all of your trade show needs in 2016.
At Best Displays & Graphics, we take care of all your trade show needs to make sure you don't have to. We specialize in designing all kinds of graphics for booths and displays and have many products that our customers are welcome to choose from including pop-up displays, banner stands, flag banners, literature racks, flooring, kiosks, tablecloths, and drug identification kits. We can also help you with construction, installing, dismantling, furniture rental, internet, booth repair, storage, shipping, and more.
Contact the professionals at Best Displays & Graphics today to see for yourself why companies continue to come back to use us for our trade show services time and time again. If you would like to learn more about how Best Displays & Graphics can help you properly plan your next trade show, contact us today by email at sales@bestdisplays.com or over the phone at 905 940 2378 or directly at our Markham office and showroom address. Information about all of Best Displays & Graphics' products and services can be accessed by visiting our website at https://www.bestdisplays.com/. Read our blog or view our gallery to see some of the interesting projects that we have completed in the past.