April 25, 2014
In the current competitive environment, almost all business owners look for innovative, cost-effective ways to stand apart from their competitors. While some companies go for costly marketing campaigns, others prefer low-cost yet effective promotional solutions to bring their products into the limelight.
While searching for economical, impressive, and functional marketing tools, you can't simply ignore the importance of BluePrint and Fabframe trade show booth displays. Having different characteristics, both display systems enable businesses to promote their products and offerings with style. Continue reading to look into the special features of BluePrint and Fabframe trade show displays:
BluePrint Trade Show Displays
BluePrint trade show stands are one of the latest products in the display systems category. If your organization needs a modern, sophisticated display unit at a reasonable price, then BluePrint display can satisfy your needs. Usually available in 30ft, 20ft, and 10ft configurations, these displays allow you to choose the trade show booth according to your specific requirements.
Modular Design
Since BluePrint displays are modular units, they can be reconfigured as many times as you want. This feature not only gives you great design freedom, but also helps you make substantial savings. Having a durable tube and connector made of aluminum, this display unit can be designed in numerous ways. With this modular trade show booth display, you can utilize a distinctive design approach at every event you attend.
Versatile Features
BluePrint displays allow you to use the same components to create floors, towers, counters, or curves. While some users cover this display system with graphics, others highlight the framework with exquisite lighting. This framework system can be assembled and dismantled without many tools.
A Low-Cost Option
A BluePrint display unit involves numerous small pieces that have to be assembled to construct the entire system. Since these systems are easy to set up, companies can make great savings on labor and transportation expenses. After the event, they can dismantle the display and store it for the next trade show.
Bonus Benefits
A few special benefits of BluePrint trade show displays are listed below:
Easy to disassemble and rebuild.

Reduced labor and transportation expenses.

Can be used multiple times.

Flawless graphic design.

Have enough strength to support huge display items or plasma screens
Fabframe Trade Show Displays
Fabframe displays are low-cost, fabric-based units. The main features that make these displays an innovative option include reduced prices, exceptional print quality, convenient construction, lightweight, and easy transportation. These washable display systems enable you to design 3D structures. They give you a chance to create dramatic designs and shapes to attract more visitors to your trade show booth.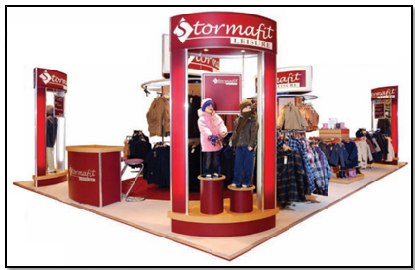 Flexibility
The flexible Fabframe displays can fit almost any display area. They can even support display stands of up to 6 meters. It is possible to create hanging signs, light boxes, towers, and back wall displays with Fabframe. In fact, you can create a trade show booth of almost any length with this display option
Strong Framework
Using Fabframe display units, you can adjust fabric panels easily and quickly. It is easy to achieve backlit illumination with this system.
Based on fabric panels, the Fabframe display system is lightweight and compact. It can be assembled and taken apart quite easily. You'd be surprised to learn that you can fit a lightbox stand in two different cases and each case would not weigh more than 25 kg.
Reusability
It is possible to use a single stand at multiple events. You can even choose additional components for your special needs.
Load Bearing Capability
Fabframe trade show booth displays can support a vast array of accessories. For instance, you can arrange shelves or a television unit without worrying about your booth's functionality. These display systems allow users to make structural amendments according to their unique requirements.
If you're looking to highlight your business products and services using quality, reasonably priced, and eye-catching display systems, go through the promotional solutions of Best Displays & Graphics. The company maintains a vast inventory of flexible, versatile, and innovative trade show booth displays that not only capture the audience's attention but also deliver the ultimate results.