December 22nd, 2014
While they might have ordered the ideal product and planned every element of their tradeshow to perfection, companies can still lose value on their investment in tradeshow displays when they don't follow the best practices for display installation. Oftentimes, the installation of tradeshow displays can become exceptionally complicated. Here are two common mistakes brands make when going through the tradeshow display installation process.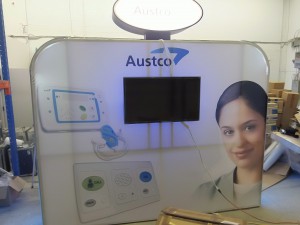 1. They Choose Those without Experience for the Installation Work
Business leaders can be caught-up in the planning for their tradeshow event. In this haze they might select an installation professional that is not experienced within the industry. They might, for example, choose to work with the management of the tradeshow for the required installation work. While this might help save money in the short-term, it can often lead to rushed installation work as the show management team try to get each company's displays set-up before the event begins. Show installation services are often much more expensive and may lack the experience to work with custom display elements.
2. They Set-Up the Displays without Considering Safety
A crucial element involved in installing tradeshow displays is safety. It takes a simple loose bolt or screw in the system to cause the entire display to fall, potentially leading to injury. It's imperative to work with a displays specialist that takes their time during installation while ensuring that each element of the work is planned and executed to perfection.
By entrusting their tradeshow display installation work to the team at Best Displays, companies can reduce their costs and improve the results of their event marketing. To learn more, contact our expert installation team directly.