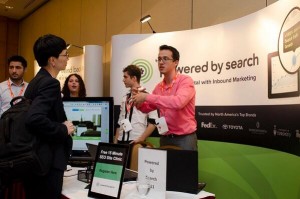 March 31, 2016 – Once the award-winning team at Best Display & Graphics produces a company-focused, alluring trade show booth, the next step on your way to trade show success depends on you and your team. You'll have everything in place you need—dynamic graphics, flooring, literature racks, table cloths and more—but it's up to you to greet, retain and convert attendees into business for your company. Chances are you aren't the only person in the booth, which makes it essential to ensure everyone is on the same page. Training is a crucial part of knowing the product, selling the product and connecting with potential clients to obtain leads. Here are the steps you can take to assure that you and your fellow booth mates are well prepared to create a successful trade show experience.

Know the Product Inside Out
Nothing will turn someone away faster than the inability to answer simple questions about a product. Anyone who is part of your booth should have basic knowledge of your product, what it does, where it can be found, a brief history and the mission/values of your company. A pre-show training session can be an excellent way to familiarize your trade show staff with the company and product, and prepare them to answer a wide array of possible questions.
Convey the Marketing Strategy for the Company and the Show
These days, companies are more than their product. Companies are a brand, persona and mission. Two companies selling similar products might approach things in a very different way. For example, a company may be into promoting subtly and encouraging a lifestyle that can be enhanced with a product, while another company is more forward, and insists they have a product people can't live without.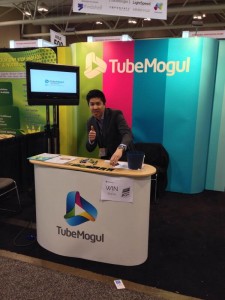 When your company has developed marketing strategies and campaigns, it's helpful to get your trade show staff familiarized with them. Staff are ambassadors of your brand, and that standard is set forth in your marketing plan. Some of the information you can offer is company objectives, key messages, and the product and its purposes. Also, apprise staff of vital people within the company; they should be able to direct attendees to the people who can best serve them.
Feel free to assign roles for the staff at the show as well, such as media liaison, demo staff, someone to scope the competition and a booth captain. Feel free to place cheat sheets within the booth with product information (including specs, availability, pricing, features and applications), people at the company, a list of FAQs and company messages.

Trade Show Booth Behavior
Prior to the show, talk your staff about booth behaviors and what's acceptable. Some things to consider are dress code, cell phone etiquette, reading, eating and drinking. Discuss the importance of first impressions, and techniques for engaging attendees or drawing them over. Body language will play an enormous role, which is why practicing positive and negative body language is invaluable. Practice opening speeches, non-verbal cues, disengaging at the end of a conversation, eye contact and anything else that can elevate booth behavior and make the trade show a success. 
Orienting the Trade Show Booths
When your staff arrives at the show, a short orientation will allow them to navigate the booth comfortably when it comes time to engage attendees. Show them where the booth is in relation to registration, bathrooms, food and drink and other key spaces. Go over literature, demo area and overall layout. Point out press kits, company information and phone numbers. Let the staff make suggestions, which may smooth out unidentified issues or potential problems.
Cover all the Details
Often it can be easy to forget the most basic information. Make sure everyone has the details before the show. Send them time and location, check-in procedures, credentials, schedule, transportation and parking options, responsibilities, dress code and address personal belongings and storage. Decide whether you'll schedule floaters. Floaters can be useful on a number of levels, as they can cover any last-minute staff shortages, pitch in during busy times and perform any unplanned tasks.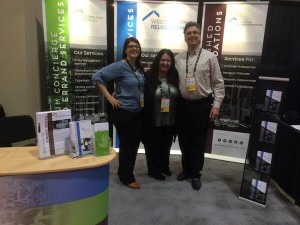 Meet and Debrief
Throughout the course of the show it's wise to meet and debrief. Talk about what's working and what could be improved. Brainstorm, gather feedback and make any necessary corrections. Meetings can happen whenever you find a spare moment, or at the beginning or end of a day.
About Best Display & Graphics
Many aspects go into a successful trade show experience, but the first and foremost is your booth concept, design and construction. Your first impression, both of the booth and the staff, is critical. Let Best Display & Graphics focus on the trade show booth services you need so you can train your booth staff to become the ideal voice for your company. Contact the Display & Graphics team today for more information.