July 5, 2016 – Occasionally, at Best Displays & Graphics, we have clients come to us with big ambitious plans for their booths, full of bells and whistles and gimmicks.  Unfortunately, the one thing they never seem to stop and consider is whether they were designing a booth that attendees would actually want to enter.
When designing a booth, it's all too easy to get caught up in what you want, without thinking about how attendees will look at it.  To a large part, the art of designing a great trade show display is in performing a balancing act: Presenting the information you want to be presented and otherwise advancing your brand identity, while still catering to attendees who are perusing dozens or hundreds of booths all trying to reel them in.
So today, let's take a look at what's going on in the head of an attendee, and the ways you can make your booth especially attractive.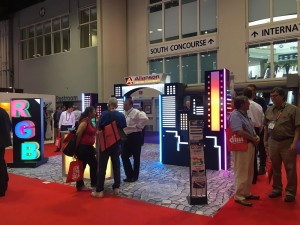 The Attendee Experience
First, just think back to all the times you've been a visitor at a trade show, rather than hosting a display.  It's crowded.  It's noisy.  The air conditioning probably doesn't work very well.  Depending on how high-tech the show is, the air could easily be filled with a bewildering din of powered amplifiers and flashing lights everywhere.
Trade shows can be chaotic and sometimes overwhelming.  Even the most adventuresome attendee is probably going to get fatigued relatively quickly.
They're also people with a purpose.  They have plans for booths to visit and information to collect.  They're also going to be quite aware that they are commodities from the point of view of vendors, and as the show wears on, they're going to be more and more protective of their own time and effort.
With that in mind, here are key areas we believe every booth should consider when trying to get attendees in.
Six Key Attendee Needs You Should Address with Your Display
"What's in it for me?"
Let's be honest:  Whether we're talking brochures or product demos or ever-popular free swag, no one ever walks up to a trade show display without wanting something from it.  And the rare exceptions – booths so strange and novel people visit from sheer curiosity – don't often generate too many quality leads specifically because of their lack of targeting.
Just like a good sales pitch or call-to-action, every booth should have a value proposition that's clear to anyone walking by.   Give them self-interested reasons to visit.
"Hello?  Is anyone home?"
We see far too many booths whose staff become lazy about actually staying in the booths.  It is absolutely vital a trade show display be continually staffed, with workers clearly available.  Too few workers suggest a lack of commitment, or can even dissuade visitors entirely.
"OK, that's way too crowded."
On the other side of the coin, a booth that has "too many" people in it may also encourage people to stay away.  Now, in many cases, this isn't a problem at all – if your booth is crammed full of good leads, you're clearly doing things right!
However, this can also be caused by poor layout.  A cluttered display with little walkable floor space can fill up too quickly.  Be sure to leave plenty of room for visitors in your plans!
"Look, that's cool!"
The most tried-and-true method of getting people into a booth is generally to have something really awesome on display.  Whether it's a giant screen, flashing lights, or truly unique design, people are going to gravitate towards booths that are going out of their way to be flashy.  Subtlety rarely pays off at trade shows.
"What's new in the industry?"
Among those who aren't actively shopping, they're most likely there just to keep up with the latest trends in their industry or areas of interest.  Smart booth designs cater to these people by putting the latest-and-greatest someplace it can easily be spotted by those walking by.  The best options are either towards the front of the display, or in a large elevated back-wall position that's easily seen from the floor.
"But I just want some information."
Finally, take pity on those who are truly shopping around, and basically looking to collect info – either for later perusal or for higher-up decision makers.  Try to make life easier on them, and have a clear area where brochures, demo discs, and other media are easily collected.
Trust Best Displays & Graphics
Best Displays & Graphics can take your booth to the next level, with cutting-edge designs and smart attendee targeting. No matter what you have in mind, our professional and friendly team can work with you to ensure your vision becomes a reality.
Contact us today for a free consultation.