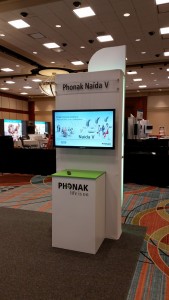 June 28, 2016 – Investing in trade show displays can cost Ontario businesses thousands of dollars a year. Many are now looking for a way to improve upon their existing display architecture in order to cut costs in 2016. Our specialists here at Best Displays & Graphics have significant experience in this area, and in this latest article we present three ways Ontario companies can improve upon their current trade show displays.
Upgrading Accessories
Oftentimes, a trade show display is only as effective as the accessories used within the system. Companies today have a full array of options for adding to their displays. They can use flat screens to promote a new product. Or they can use new lighting features to highlight the entire display area for improved engagement levels at the event. By speaking with event specialists about the various additions that can be made to their displays, business owners can ensure long-term success with their current system.
Enhance Branding
Older displays may suffer denting and scratching over time that can limit the appeal of the branding. Companies can resolve this issue by turning to a professional graphic design firm to have their displays upgraded with newer branding to reflect the modern appeal of the company.
Fix Hardware Issues
Some display models lose their aesthetic value when the hardware that comes with the displays begins to wear away over time. With normal wear and tear, the display can then become damaged more easily. To protect their system and to enhance the appeal of their displays, companies should purchase lifetime warranties with their displays, such as the one offered from Best Displays & Graphics, to ensure any hardware improvements to standard wear and tear are covered free of charge.
The team here at Best Displays & Graphics has years of experience helping companies capitalize on their older display models. To learn more, call our office experts directly at 905-940-2378.