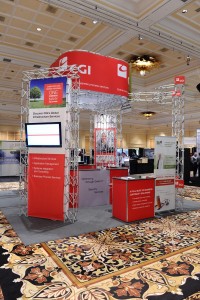 January 14, 2016 – A truss display system provides companies with a flexible structure for their trade show events. But it's important to ensure each element of the system is designed for optimal safety within the event venue. Our team here at Best Displays & Graphics has significant experience in this area, and in this article we'll highlight three tips for ensuring the safety of truss display stands.
Only Work with Professional Setup Teams
While companies may find it more cost effective to install and set up their stand for their truss displays alone, they could face structural problems during the trade show. Truss displays require the use of specific tools during the setup process and only the leading teams in the marketplace can ensure that each system is built solidly and for optimal event safety.
Train Staff Members on Stand Use
When purchasing a new truss display, it's important that company leaders explain to their event staff how to safely use the stand. They should be taught the weight restrictions for the stand as well as how to respond to a potential safety concern during the event. This will ensure staff members can play a proactive role in assuring event safety.
Remove Obstacles Surrounding the Stand
At the event, exhibit hosts should refrain from placing objects such as speakers and stages next to the truss display stand. Otherwise, an attendee may knock the object over and cause damage to the stand, potentially impacting the structural security of the entire display.
Truss display products are designed to assure a refined branding appeal at business events. To help maximize your display's safety, speak with our experts today at 905-940-2378.