September 10, 2015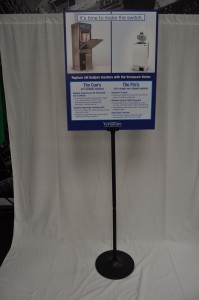 Banner stand products can help a company to define their brand at public events, as well as in store showrooms. But the banner stand suppliers selected must have a trusted reputation in the marketplace, to ensure the optimal banner stands are created and delivered. The team here at Best Displays & Graphics has great experience within this marketplace, and in this post, we'll highlight three resources Toronto companies can use in researching banner stand suppliers.
Online Listings
The online marketplace continues to provide a comprehensive suite of information on local market specialists. Through the online listings, researchers can discover information on the company's current experience levels as well as the types of products they offer. But before making a final decision, it's important to analyze all online reviews carefully to determine the source of information.
Customers
For those within the business-to-business marketplace, a company's customers can often be a rich source of information on the available trade show display options. Oftentimes, customers have used banner stand suppliers for their events, and can speak to the quality of the options within the local region. Try to speak with trusted customers and those whose businesses are widely renowned throughout Ontario.
Local Trade Shows
Oftentimes, business owners can access the information they require by visiting local trade shows directly and asking business owners where they bought their banner stand products. This can help ensure a comprehensive suite of information on banner stand suppliers in Toronto, as well as help the business owner make direct connections with like-minded owners across the community.
The ideal banner stand supplier will offer a product that can transform your brand and support lasting success in your marketing campaigns. To learn more, contact the team here at Best Displays & Graphics directly.