January 14th, 2015
Once their trade show has been completed and their display has been packed up, many Toronto companies leave their trade show displays in storage for the next event. Companies are missing out on many promotional opportunities when they don't make effective use of their trade show displays. And in this blog, we'll highlight three ways in which Toronto companies can use trade show displays outside the event venue.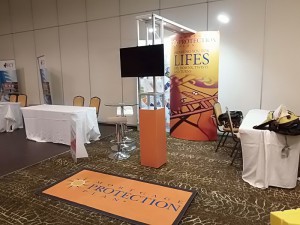 1) Storefront Promotions
Trade show displays are designed to capture attention within a busy environment. And that's why many consider them the ideal tool for storefront promotions. At the storefront, they can advertise the company's products while interesting passers-by with promotional content.
2) At Sales Conferences
Sales conferences could represent the ideal opportunity for companies to use their trade show displays in highlighting a company innovation. They could help sales teams understand the company's new products and ensure the team gets excited about future company plans. At sales conferences, trade show displays can also be used to highlight top performers and give them the star treatment that inspires others on the team.
3) During Sales Campaigns
Companies require in-house promotional content to inspire action on behalf of the customer. What better way to accomplish this action than with expertly constructed trade show displays? In using their trade show displays during sales events, Toronto companies can highlight their products and capture shoppers' interest with engaging graphics.
Effective use of trade show displays throughout the year can help companies achieve a lasting return on their investment. For each sale the system achieves for the company, the value of the display rises. Consider how your organization is making use of its trade show displays.