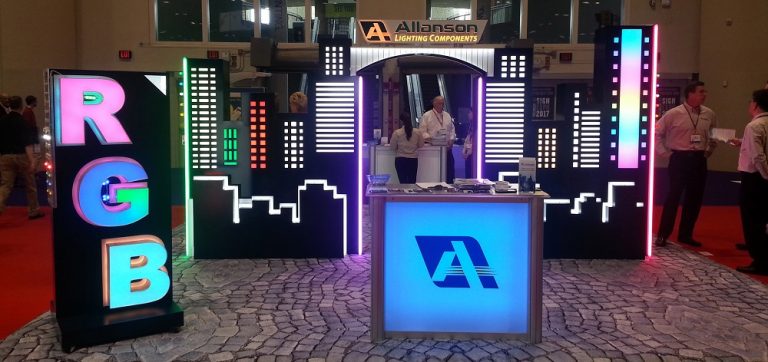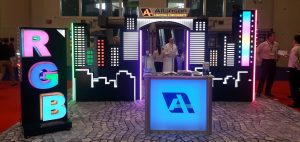 November 10, 2016 — It's one thing to set up a display at a major trade show, but it's another thing entirely to get people to visit!
When sitting in our offices at Best Displays & Graphics, planning trade show displays in the abstract, it's sometimes easy to forget the reality that is a trade show in full swing. The noise. The bustle. The heat. The press of the crowds.  The seemingly-endless booths all trying to people people's attention.
Very often, one of the best ways to overcome these distractions and pull people into your booth is by thinking a bit outside the box. By adding elements that may not relate too much to your core business, you can often make the booth far more attractive to people in general – and that can be a big boon, if you're trying to use your trade show appearance for awareness-building.
If you're mostly interested in strict sales numbers, it's generally best to stick to good pre- and post-show lead-focused techniques. But for becoming the talk of the show, get creative.
Ideas to Get Your Booth Noticed and Attract More Floor Traffic
Add a lounge.
Sometimes, one of the hardest things for a trade show visitor to do is simply get off their feet for awhile.  Consider segmenting part of your exhibition space as a dedicated lounge, with several comfy seating options. Put some literature or a video display nearby, but don't pester the people who are just taking a breather. They'll appreciate it, and likely tell others about your booth.
Have some good refreshments.
A lot of booths might have branded water bottles or packets of peanuts, but we're talking about a trade show – not an airplane. Spending a little extra for some food\drink that people want to consume is another great way to build word-of-mouth. If you've got a cooler/freezer full of little ice cream cups, while everyone else has water, you'll have plenty of visitors.
Create a games area.
Still on the theme of "rest and relaxation," another great option is having some games available. These could be traditional physical games, like a ping pong table or pinball game. Or, haul in a video game system and set it up on one of the TVs to the side. Pick a game with multiplayer capacity, like racing or sports.
You might even consider organizing a little tournament, with prizes related to your business for the best players.
Selfie stations.
Folks love taking pictures of themselves, no matter where they are. Encourage this with some banner stands or pop-up displays that would make great picture backgrounds. Look to make them fun or comical; something people would want to share on Instagram or other social media services.  
For that matter, it's possible to create custom Instagram filters which are geo-targeted to the exhibition space. You could turn those selfies into ads, if you make them fun.
Craft a mood\atmosphere.
Nothing says your trade show display must simply be decked out in your corporate colors. Consider giving it a bit more of a theme. Try to make it an experience to simply stand in your booth. Taking advantage of holidays is a great option here. Look to fully enclose your trade show display so you can create a more intimate atmosphere that's separate from the main floor.
Add human attractions.
We're not going to tell you to add "booth babes," since that's a practice which is increasingly frowned upon as exploitative and pandering, whether it's guys or gals. However, there are still plenty of other options, such as sketch artists, clowns, balloon-benders, even live music. If you've got a clown on a unicycle playing a kazoo, there will be people coming to see.
Make memorable giveaways.
If the only swag you're planning to take to a trade show are pens and calculators, you might as well not bother. You'll be lucky if they aren't thrown away by the time the guest leaves their hotel room. Get creative with your swag, and make stuff people will enjoy.
Stand Out to Get Noticed
This is just the tip of the iceberg, in terms of tricks and stunts you can pull to make your booth distinctive. What are the best "gimmicks" you've seen brands deploy? At Best Displays & Graphics, we can help you create the trade show exhibit of your dreams. Contact our team today for more about our services and a consultation.