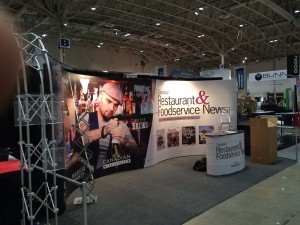 April 21, 2016 – If you're in the middle of designing a trade show for an upcoming event, you're likely finding the process quite challenging. As a business leader, you may not have time to craft a booth design that aligns with your company's branding objectives. Fortunately, there are many techniques to help streamline the event booth design process. In this post, our experts look at the elements you need to know to craft standout trade show booths in the coming months.
Your Customers
The end goal of designing your booth is to compel your customers to buy your products and services. This means it's important that you know your customers. What are their concerns? What do they want to achieve in the coming months and years, and how can your business help them reach these achievements? Who is your ideal customer? Are they creative or do they have more classical, and professional tastes?
Trade Shows
Trade shows are a unique promotional environment. In no other branding space will your organization be faced with quite the same amount of direct competition for visibility. Trade shows are designed to provide a stage for your company's products and for your team to meets it core customer base. Consider how to build your trade show booth to orchestrate the connection between your employees and buyers, and how to engage buyers surrounded by competing branding.
Design Space
In designing a trade show booth, you should also learn more on how to use the space within your booth to empower your team. What equipment will they need? How can the space be designed to ensure your teams and their customers interact successfully? What equipment will they need? These are leading considerations when assessing the design space as your upcoming trade show.
By learning more on these three important factors, you can maximize your brand's chances of achieving a compelling booth design. To discuss this topic with a specialist, call our team today at 905-940-2378.