Thursday, December 7th – One of the things we pride ourselves at Best Displays & Graphics is our ability to adjust to the budget and needs of every client who comes through our doors.  Big or small, we always strive to make the best possible trade show displays every time!
Sometimes that means helping a client put together a display designed to be put into virtually any space imaginable.  That's exactly what happened when Peikko Canada came to us with their latest booth project.  We're already one of the go-to sources for this world leader in construction materials, so we're quite familiar with them and happy to do more work on their behalf.
In this case, though, they weren't asking for too much.  They wanted a booth set up which could fit into a 10'x10' space. Of course, the advantage here is portability.  It's a booth that could be deployed anywhere, at virtually any show, as long as they have at least 10' of space at minimum.
And of course, big or small, we always do our best!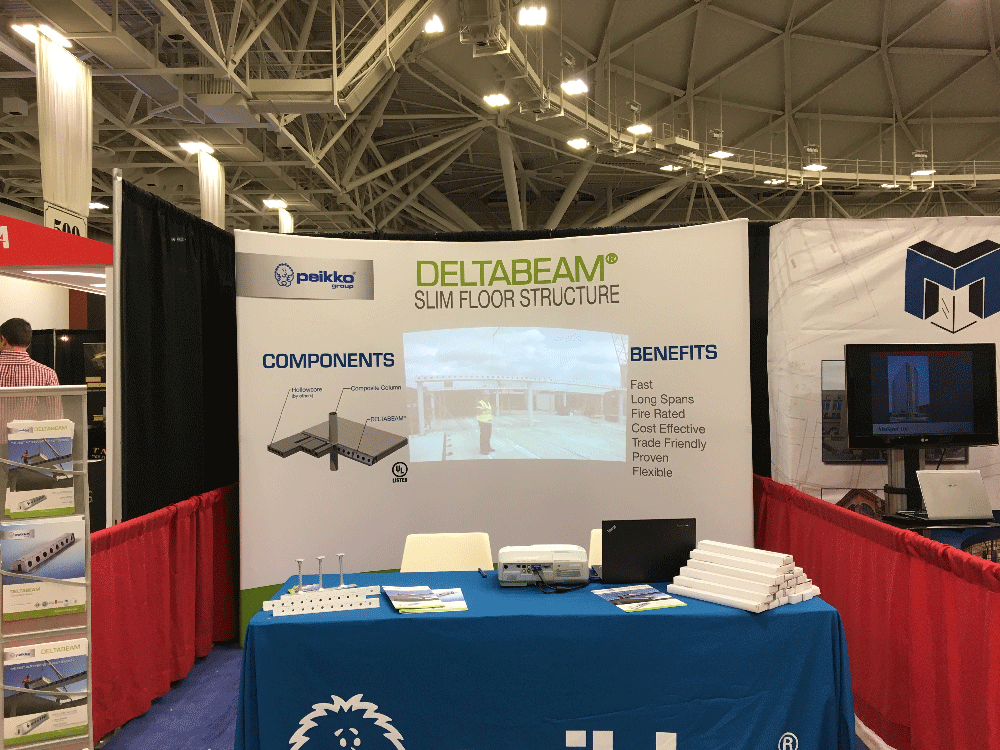 A Quick Look at Peikko Canada's 2017 Booth
They wanted a very tight focus for this booth, only advertising their "Deltabeam" flooring structure.
In many ways, this is an excellent example of how a booth can be created on to be light, portable, and easily moved from show to show, while still being extremely effective.  The entire booth is only 45 pounds when packed and quite easy to assemble. The frame connects together, and the fabric slides over it like a pillow-case.
At most two people would be needed to assemble it.  A single person could do the assembly easily. That adds extra flexibility in its deployment.
Peikko also had a clever and easily-implemented idea for how to integrate a little technology into the display: a portable projector putting video onto their back wall, without the need for heavy and costly display equipment.
Another Job Well Done for A Regular Client
As usual, Peikko was entirely pleased with our work.  As their representative said in the follow-up survey:
"We are always satisfied with the way our booths turn out- Best Displays seem to have better quality products than other companies we have worked with in the past.  Yvonne is always very helpful and knowledgeable."
So, we have little doubt we'll be doing more work for Peikko Canada in the future!
In the meantime, if you are working under tight budgetary or space requirements – or just want a booth that's highly portable – our Best Displays & Graphics team can help!  Contact us today to talk about making a great booth on a budget.