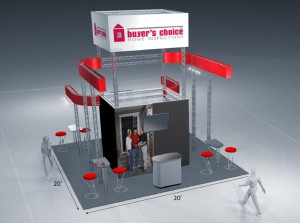 Best Displays did it again! Our wonderful sales team has scored a new exciting client: A Buyer's Choice. We are very excited to be working on creating and building a new Truss Display to be used for Trade Shows and Exhibits to showcase A Buyer's Choice.
A Buyer's Choice is one of the most respected home inspection franchises all throughout North America. The name has been doing well for years and Best Displays truly feels honored to be part of their success by building top notch Truss Displays for them. The Truss Displays are the perfect solution for any Trade Shows and Exhibits as they offer unlimited configuration and can be set up in a matter of minutes. The easy assembly process does not require any tools and is completely lightweight, which is great for transport and shipping. The A Buyer's Choice display that we are currently working on will feature the franchises usual colors, with a mix of bright red, white and silver, and will also include stools and tables.
Here at Best Displays, we certainly pride ourselves in catering to the biggest names in the industry and offering the best Trade Shows and Exhibit Display solutions to our clients. We are certainly very proud to associate ourselves with A Buyer's Choice to produce one of our biggest Truss Display to date and our entire team hope that this is the beginning of a long collaboration!